By John Bedard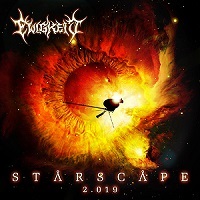 This is the first I have heard of Ewigkeit, so even though this was a re-recording and re-release of an album from 20 years ago I went into this rather blind. Before I talk about the new one, though, I want to take a second and talk about the original because I did go back and check it out to compare and I really don't think it is something that I could have gotten into. It was harsh and muddy, the vocals were completely lost and you could not pick out one instrument from another very easily. The bones were there but with the quality of the recording, it was hard to tell. The 2019 re-release has none of those issues. The quality is fantastic and really lets the music shine. It was absolutely worth it to reproduce this album. I loved every minute of it.
I know I have said this before in other reviews, but I have to say it again here. I absolutely love it when there is a piano in metal. It is probably why I tend to lean toward the symphonic side of things. The piano just adds something that other instruments cannot, there is this contrast between the soft gentle tone of the piano that makes the heavy guitar and dark vocals that much more impactful. It is such a nice effect and it is used extremely well here. Beyond the piano though all of the rest of the composition is also very well put together. There are some interesting effects used that I'm not entirely sure how to explain. They fit more with a psychedelic style than what I would have expected with symphonic or black metal. This psychedelic influence sprinkled in makes the album sound very unique.
With the vocals, it is a little more into what you expect to hear with black metal. It is hard to describe but when you hear it you will know the effect that I am talking about. The best way I think I can say it would be it is kind of a hollowed-out sound with heavy compression. It is not the most unique sound but it is a great effect and it is done really well and is enjoyable to hear. It is also nicely contrasted by some other styles of vocals. At times there is a pleasant deep spoken word vocal and a vocal effect that I can only describe as being similar to the intro effect from 'Iron Man'. These styles contrast each other nicely and work with the music style.
The source material for 'Starscape 2.019' might be 20 years old but the music is timeless. It still very much feels like it is looking to a future that we are not yet in. However, the use of older recordings from NASA launches and historical speeches also helps to keep the music grounded in the present. This is a must-listen. Especially if you are a fan of Ewigkeit and especially if you are familiar with the original album. It is just an excellent release that will be hard to top. Every track sounds like it was made with true passion from the artist.
'Starscape 2.019' is released on 23 September. You can get your copy HERE.
https://www.facebook.com/ewigkeitofficial/
All content © Über Rock. Not to be reproduced in part or in whole without the express written permission of Über Rock.