By Bona Pjarren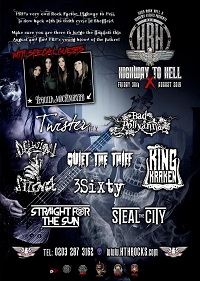 It's Friday night at the O2 Academy in Sheffield. Hard Rock Hell are staging their Highway to Hell talent search final. The winner will be given the chance to take their careers to another level. Jonni Davis has got Amazon Prime on board and HRH are streaming live to a worldwide audience. This is the type of event the scene needs, ensuring that a steady stream of new talent are given the sort of exposure that is often denied to rock bands by the mainstream media. I have to applaud HRH for doing this.
First up are Straight For The Sun, hailing from the home of metal itself, Birmingham. They are very tight and incorporating roving time signatures with clean vocals, they are a hard rock band with a stoner nu metal twist.
Bad Pollyanna are drawn together from a few towns, including Huddersfield, Manchester and, most importantly, Sheffield. I have got a bit of a soft spot for this band. Female-fronted, heavy and tight with dark, dancy elements. There were some very nice funky bass riffs being laid down at times. They were probably the most unique band of the night.
3Sixty are a rock band from Worcester. They are decent musicians, but I didn't feel they were producing anything new. However, they may fit well with the hard rock movement that's making a comeback at the moment, particularly in Sweden.
King Kraken are next. A heavy rock band from Wales. Their vocalist has got quite a range from clean to metal grunts and screams. Very tight band with almost a doom element at times. And they exhibited some neat vocal harmonies. Their cover of 'Mississippi Queen' was superb.
Delusional Silence are an interesting band with a great sense of humour (well, they are from UR's home city of Belfast): check out their Facebook page. Very tight heavy pounding riffs backed by a decent rhythm section. They are hard rock with attitude. They did a world-shaking version of 'Devil In Blue Jeans' for their cover.
Next up are Quiet The Thief, coming from Stoke on Trent and having a five-year history of gigging together as a band, and it shows. They are well-drilled and adrenaline fuelled; consequently they soon had the crowd eating out of their hands. They did the best cover of the night, which was a mash up of 'Fight For Your Right To Party' and 'Smoke On The Water'. Could be the next stoner anthem.
Twister are a Durham four piece with an impressive history. They used a Zeppelin track for their cover. They showed that they are a very talented hard rock outfit displaying some really great vocal harmonies. I can see why they have been so successful.
Arriving on stage to close off the competition phase of the night are Sheffield's own Steal The City: the clues to their origins are in the name. I first heard this band on a 'Day Of The Riffids' compilation CD. So, it was good to see them doing so well in this competition. Very tight set and possibly one of the most impressive rhythm sections of the night.
While the judges deliberate and votes are counted, our special guest headliners are Tequila Mockingbyrd. What a good choice that was. They put in a fantastic performance. You just know that they have been playing on the scene for a while because it shows in their performance. With classic rock 'n' roll tracks like 'Jagerbomb' and 'Good Time', they are always worth catching. They finished with 'I Smell Rock 'n' Roll'.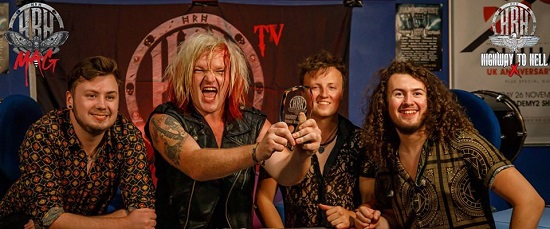 So, onto the result. In third place were King Kraken, second were Delusional Silence, and Twister were deserved winners. What a superb night. Don't miss it next year!
www.facebook.com/hrhhighwaytohell
All content © Über Rock. Not to be reproduced in part or in whole without the express written permission of Über Rock.