By Jonny Bakes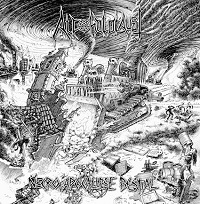 I'm the first to admit that I'm easily suckered in by controversial band names and song titles. A good fifty per cent of the time that often leads to me finding some absolute hidden gems, the other fifty per cent of the time it results in finding some juvenile rubbish. So, when I got the opportunity to review the latest release from Alcoholocaust, I was keen to see which like they would end up in.
You just have to look at the Alcoholocaust's lineup to realize that these guys are not messing around when it comes to alcohol-fuelled carnage. With Blasphemator on vocals, Possessus and Speed Bastardo shredding the guitars, Sordidus on bass and the powerhouse that is Thrashminator on drums, you can tell that they mean business.
Jim Jefferies describes an Alcoholocaust as "the aftermath of a drinking party, usually resulting in every available horizontal surface being covered in empty booze containers and a general sticky alcohol residue." Now after living in some right student hovels in my time, this is something I can really relate to – wild nights that are a complete blur where the only reliable evidence that anything happened is the trail of destruction throughout the house. And you know what? That's what exactly what 'Necro Apocalipse Bestial' sounds like.
After three fuzzy demos, I'm glad that these Portuguese black speed thrash metallers have finally released a full-length album and can safely say that it's right up my street. From the first track I'm instantly reminded of Gehennah's 'Piss Off I'm Drinking" and there's clearly heavy influence from German Teutonic thrash greats such as Kreator and Sodom throughout the album as well. It's raucous, it's fast and it's heavy, and that's exactly why I love it.
All the songs on this album are sung in the band's native language, but you don't need to be fluent in Portuguese to get a real feel for what the music is all about. Partying: just balls out, hedonistic, alcohol fueled partying! These guys definitely belong up there with Municipal Waste up in their party thrash mansion (that probably looks like a squat these days). And to top things off, pretty much every song is comfortably less than four minutes long which is perfect for that alcohol induced short attention span!
First single to be released from this album was the relentless 'Blasfemia Total' which starts with some frantic shredding paired with some classic thrashy rhythms. Blashpemator's vocals are harsh and guttrall which work perfectly with the rest of the band's sound. There's a great amount of grunts and "bleugh" (I'm sure you get what I mean!). This combination of elements is a pretty common theme throughout the album, so it's safe to say the Alcoholocaust have a formula and they stick to it well!
If you give this single a whirl and love it, then the whole album should end up in your order basket pretty quickly. And if you're really keen, 'Necro Apocalipse Bestial' is available in the strictly limited (30 copies only!) Die Hard edition which consists of the album on both LP vinyl and cassette with a postcard, a T-shirt, a pin, a patch, a sticker and a poster – all for the bargain price of €35!
So, if you like Teutonic thrash and Municipal Waste, like me, this album will definitely get your party juices flowing. If you prefer your party music to be light-hearted and comical then maybe this won't quite do it for you, or just maybe it'll turn you into a hardened party thrash machine! And in case you hadn't realized by now, I most definitely consider this to be in the hidden gems pile of controversial band names – although I think I've made that clear.
'Necro Apocalipse Bestial' is released today (Thursday 5 September). You can get your copy HERE.
www.facebook.com/brigada.anti.posers
All content © Über Rock. Not to be reproduced in part or in whole without the express written permission of ÜberRock.