Interrogated by Jonny Bakes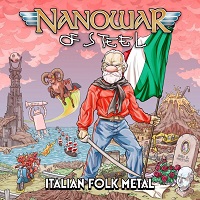 I recently had the chance to catch up with Gatto Panceri 666, bass player and founding member of Nanowar of Steel (who have been Über Rock favourites for a good while and are so far the only band to have won our coveted #VideoOfTheWeek award three times) to talk about the new album, 'Italian Folk Metal', and ask a few burning questions of my own…
And even though my camera decided to shit the bed part way through the interview, we carried on like true professionals to talk about:
abandoning their pop music fans and selling out to return to the metal world where the real money is
Giorgio Mastrota – the Italian hero who collaborated on 'La Polenta Taragnarok', and the prized pot lid signed by the man himself
who would win in a fight between Vegan Velociraptor and Captain Findus? The result may surprise you…
the eerily coincidental burning of the Cathedral of Notre Dame while filming the video for 'And Then I Noticed That She Was a Gargoyle'
Gatto's previous day-job in astrophysics and the art of hiding puns in simulation titles…
a hint at some pretty big collaborations in the pipeline too… but not giving too much away at this point!
'Italian Folk Metal' is out now. You can get your copy HERE.
All content © Über Rock. Not to be reproduced in part or in whole without the express written permission of Über Rock.