By Jonny Bakes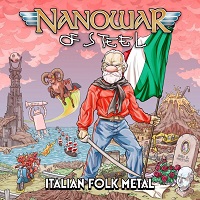 Nanowar of Steel have been an Über Rock favourite for quite some time now, and regularly make their way into our singles and videos features with their sublimely ridiculous metal; indeed, they were the first band to win our 'Video Of The Week' award three times. Those who follow this Italian crew will be aware that a little while ago Nanowar of Steel committed themselves to be an out and out pop band when they released the track 'Formia'. It was a completely different direction from the outlandish comedy metal we were used to, but we bought into it anyway and got taken along for the ride. But then a couple of months ago came an announcement that really warmed my cockles… "NANOWAR OF STEEL CHANGE STYLE AND WILL START PLAYING HEAVY METAL! As a famous pop band, we grew up and grew tired of having to deal with millions of billions of fans and euros. That's why we decided to harden up our music and move towards a brand new style – HEAVY METAL." It's almost as if the pop career was just one long joke, well I admire the commitment to the joke lads but now I'm keen to get stuck into 'Italian Folk Metal'.
Despite its deceptively English title, the lyrics in 'Italian Folk Metal' are almost entirely in Italian with a bit of pan-European flair in the form of Spanish and German too. Which just goes to enforce what I've always said about comedy metal – to really pull it off you've got to be pretty clever and have a fair amount of musical talent… in most cases anyway. Unfortunately, my Italian is pretty limited to the basics, like how to order beers so some of the jokes will have gone over my head until the English translations are available! The music is pretty much what we grew to expect from Nanowar of Steel in their 'Stairway to Valhalla' days with a strong lean towards power metal. But with 'Italian Folk Metal' you may be surprised to hear that there are elements of Italian folk music from across the country that seep into the tracks resulting in a bit of a musical tour of traditional Italian music!
There's quite a few tracks that stood out on this album, so let's have a look at a few of them and we'll start out with the double whammy of 'La Maledizione di Capitan Findus' and 'Der Fluch des Kat'n Iglo' (or 'The Curse of Captain Birdseye' to us Brits). These are, for all intents and purposes, the same song with the exception that one is sung in German to "make it more METAL." It's a great jovial metal sea shanty that sounds like a cross between label-mates Alestorm and Gloryhammer (which is funny considering the origins of Gloryhammer). From the moment this track was released, with the accompanying music video featuring animation on a similar level to 'Vegan Velociraptor', it grabbed my attention and wormed its way into my regular plays pretty quickly!
Next is another leading single, 'La Polenta Taragnarock', which is a track that's heavily influenced by the Nordic flavours of folk metal with liberal use of the bagpipes and other folk instruments. Rumour has it that the lyrics for 'La Polenta Taragnarock' were crowdsourced which means that, even if we were to translate these into English, they would make very little sense. Fortunately the Youtube captions on the video do this job for us and I can confirm that, yes, the lyrics make no sense but it doesn't stop this being catchy as fuck! It was even accompanied by a run of merchandise in the form of branded packs of polenta so you can really show your commitment to 'La Polenta Taragnarock' and serve some up to your friends and family!
There's a sheer abundance of ridiculousness going on in 'Italian Folk Metal' and I wouldn't want to spoil them all for you, so here's a brief list of some of my highlights: The instrumental cover of Seal's 'Kiss From a Rose', the childish sounding track about the 'Gabonzo Robot' inspired by Japanese anime, the strong Weird AL polka vibes emanating from 'Sulle Aliquote Della Liberta' and what could easily have been the soundtrack to the Euros, 'Il Signore degli Anelli dello Stadio'. 'Italian Folk Metal' is just the gift that keeps on giving, the more you listen to it and the more you dig into the lyrics and translations, the funnier it gets!
I think I always knew that I was going to love this album, and I was absolutely correct! The bunch of Italian misfits who have continually set out to push the boundaries of the ridiculous with their music (I'm looking at you 'Barbie MILF Princess of the Twilight') have taken things that step further and seem to be flourishing on the Napalm Records label which seems to have become the home of almost all of my favourite "dumb metal" bands! If you think you're too cool for silly metal, first of all get over yourself, but, secondly, I would probably give this a miss as it will only make you angry and feel a need to vent about it on social media! But if, like me, you have a sense of humour then you need to get yourself a copy of 'Italian Folk Metal' right now! Unfortunately, the special edition Italian flag-coloured vinyl, with pizza slipmat, has sold out but there's still plenty of other formats and associated merch to spend your hard-earned money on. Inject some fun back into your life with 'Italian Folk Metal' and rejoice in the grand return of Nanowar of Steel after their adventures in the pop music industry and just have a good laugh!
'Italian Folk Metal' is out now. You can get your copy HERE.
www.facebook.com/nanowarofsteel
All content © Über Rock. Not to be reproduced in part or in whole without the express written permission of Über Rock.