By DJ Monk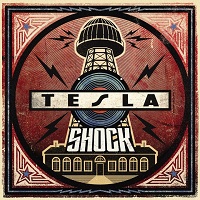 Talk about the wheel of life turning full circle… I first came across Tesla back in early 1987. I was about 18 months into my journalism career and writing the only rock column being published on a regular basis by any Northern Ireland newspaper. A copy of an album called 'Mechanical Resonance' by an unknown band from Sacramento plopped onto my desk. I was immediately drawn to it – and to say it blew me away would be the understatement of the millennium!  I reckon I burned out three copies of the album, and I still rate it as one of the best pure hard rock albums ever, never mind one of the classic debuts of all time.
Six months later, I had the pleasure of spending the afternoon with the five Californian lads in question, showing them around ÜR's home city of Belfast when they pulled into town for the first of two nights on the UK leg of Def Leppard's 'Hysteria' "comeback" tour… which is where we come to the bit about the wheel of life and all that stuff, because, here we are a little more than three decades later and Tesla are about to drop their eighth studio album – produced and co-written, no less, by one Phil Collen.
One thing which had impressed me about 'Mechanical Resonance' all those years ago was how the opening snarl of 'Ez Come Ez Go' immediately grabbed you by the balls and held you with a grip of steel. Well, you know what? 'You Won't Take Me Alive' has exactly the same effect, it's riff as fresh and vibrant as its predecessor of three decades gone. 'Taste Like' struts and swaggers with confident aplomb, Jeff Keith's vocals delivered with the sort of lascivious leer that many of his hair metal contemporaries would sacrifice their favourite pair of spandex to achieve. Underneath, the music grunts and growls with more muscle than a bodybuilding champion.
'We Can Rule The World' sees them ease off the pedal with a power ballad in the best Eighties tradition, complete with lighter-in-the-air gang vocals on the chorus; while it borders on the cringeworthy in that latter department, it is saved by another exemplary musical performance, especially in the twin acoustic guitar trade-off between Frank Hannon and Dave Rude.
The title track has a very Leppard feel to it, especially in its use of layering and vocal harmonies, while 'Love Is A Fire' is another ballad, which perhaps follows its predecessor a tad too quickly but has a slightly tougher edge, coupled with a sweet simplicity to both its delivery and its message.
As I was writing up this review, a notification popped up in my inbox about the latest single to be extracted from the album: 'California Summer Song' lives up to its title, in that it is a bright and breezy little ditty, yet possessive of a slightly mournful feel as Keith longs for the long, carefree days about which he sings, suggesting that this was written during a particularly homesick moment on the band's exhausting tour schedule. One thing which characterizes 'Shock' is the preponderance of ballads, especially in quick succession, and we're immediately confronted with another one in the form of 'Forever Loving You': to be honest, the effect is of the album starting to drag in its mid-section and I have to fight to resist the urge to hit the 'skip' icon on this advance stream.
'The Mission' goes some way towards restoring the balance of what we might expect from a tesla album: a slow burner which builds into a multi-layered mood swinger, combining acoustic guitar, head-nodding interjections and a gritty performance from Keith. 'Tied To The Tracks', meanwhile, takes us into the album's last third in traditional Tesla style, turning it full circle with its thump and groove, its chugging main riff possessing more balls than a Premier League dressing room. As the guitars punch you into submission, Keith turns in another magnificent vocal performance, helped by the menacing undertone he seems to have adopted in the latter part of his career. A definite highlight moment.
'Afterlife' makes you forget all about the discrepancies of the earlier ballads, showing just how they should be done: celebratory in its tone and delivery, it's built on thrumming rhythm and a snappy percussive beat from Troy Lucketta, while the touches of mandolin add an extra dimension to the sound… all it needs is a touch of cowbell and it would be nigh on perfect! 'I Want Everything' sounds like it should be another ballad – but, lordy lordy, hell no: it's a rowdy, rambunctious, balls-to-the-wall hard rocker, rattling along faster than a Nascar champion with the finishing line in sight and guaranteed not only to get your feet tapping and head nodding but also grabbing your favourite air guitar and rockin' like a loon around your living room while your wife shakes her head in dismay, before she herself joins in the action! Now this is what I call rock 'n' roll and this is why I fuckin' love it!
Brian Wheat's thick as treacle bass riff snakes us into the closing track, 'Comfort Zone' – and the guys are most definitely stepping outside theirs… but then that's something they've never been afraid to do.  A funked-up, bloozed-out jam, it combines heaviness and languidity, soaring vocal harmonies with growling melodies, it's the logical conclusion to an album which, while a bit patchy, especially in its middle section, is enjoyable on virtually every level.
'Shock' may not come as a shock to the system, and it may not quite achieve the heights of 'Mechanical Resonance ' or 'The Great Radio Controversy', or even the more recent 'Simplicity', but, the foibles highlighted above apart, it is a solid slice of classic hard rock which pays homage to its roots while sounding fresh, modern and relevant, and, in its heavier moments, possessing enough gristle to chew on and salivate over.
When Tesla quit the stage at the end of their sold-out, headlining return to Belfast in June 2009, Jeff Keith promised that it wouldn't be another 22 years before they visited this little corner of the Überverse again… well, bai, it's been nearly a decade already, so how about getting yer arses into gear and getting back here?
'Shock' is released this Friday (8 March). You can get your copy HERE.
Tesla play the main stage at the Download Festival on Friday 14 June.
All content © Über Rock. Not to be reproduced in part or in whole without the express written permission of Über Rock.