By David O'Neill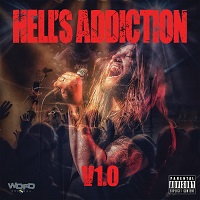 Hells Addiction have been beating down doors and getting in the faces of Rock fans since 2010.  Self-proclaimed bastard child of a three way between GN'R, AC/DC and Motley Crüe (now that would be a match I'd pay to watch!) the influences are easy to hear on their previous album releases, 'Raise Your Glass' and 'Broken' so the opportunity to hear the pre-release tracks drew me like a moth to a flame (and a big flame it is too!).
Four tracks after two albums is a bit of a disappointment, but only because of the quantity.  The quality, however, is another league! Beautifully mixed with banging drum/bass lines and screaming guitar solos, this is not going to disappoint long-standing fans and may even convert a few new ones on the forthcoming promotional tour.
Imagine Bon Scott and Axl Rose changing places on the same set – and even duetting!  Then that's what you're going to get from this EP.  Then add in the soaring Slash-like guitar riffs and solos and you get Hell's Addiction.  I have to say though the instrumentation on the opening of the first track 'Free Your Mind' reminds me of the sadly defunked Bigfoot track' The Fear'.  Vocals that are undoubtedly early AC/DC lie on top of the instrumentation like Caesar on a throne.
'Masking The Pain' takes on the GN'R mantle, with the vocals definitively modelled on the enigma that is Axl Rose, a great talent but a real prima Donna at times.  'If Time Stood Still' opens with a mellow shimverb guitar riff and solo before the vocals carry the GN'R throne further forward to a lovely crying guitar solo and chorus that is definitely GN'R.
The final track, 'Running Away', starts off with an Angus Young style guitar riff before the Bon Scott like vocals interchange with a backing vocal/chorus that is definitely not AC/DC.
Altogether a very good demonstration of UK r'n'r that is going to get everyone crying "damn, these boys are good!"
'V1.0' is released on Friday (8 March).
Hells Addiction are playing the following dates: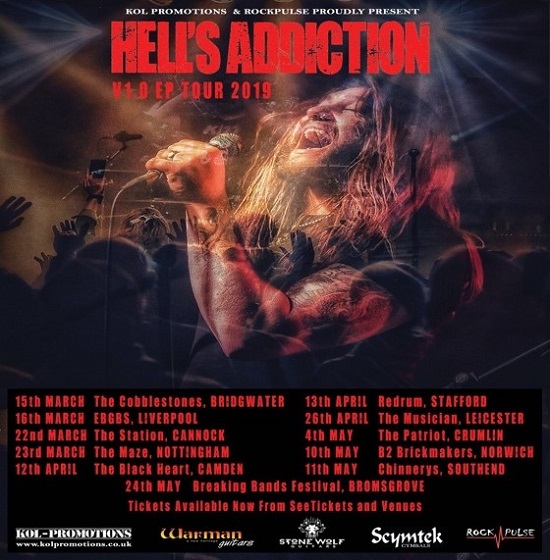 www.facebook.com/HellsAddiction/
All content © Über Rock. Not to be reproduced in part or in whole without the express written permission of Über Rock.