By David O'Neill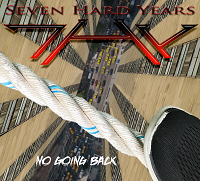 This is the third release from ex-Shy drummer Alan Kelly. Having written some of the 80s' band's songs, the melodic hard rock style continues in this album.  Having parted company with them in 2002 Kelly has been busy writing and recording and with Shawn Pelata (ex-Line of Fire vocalist) to get the last two albums released.  Almost three years has passed since the second album and we are now presented with 'No Going Back'. 
Nine tracks kick off with 'Stay Gone', an acapella opening vocal quickly progresses into a typical melodic upbeat rock/hair rock track.  Pelata has a good range and demonstrates it well over the top of solid instrumentation.
'Deep Dark Blue' continues in the same vein with good hook, backing vocals and playing there appears to be a theme continuing through the lyrics which makes itself more apparent as the music progresses through the rest of the album. 'No Going Back' carries on the theme but is a bit more melodic than rock that could make some impact on the right radio channel.  There is a very nice guitar break in the middle and a catchy almost singalong chorus.  'Every Moment' takes a break from the relationship breakup theme to express life's difficulties in a typical hair rock style similar to early Europe.
I have always (and will always be) a sucker for a well played acoustic guitar so the opening of 'Still Falling' is well carried by the guitar and piano playing underneath the vocals of Pelata before the rest of the instruments kick in with a very nice sax solo in the breakdown.  'Your Reality' returns to the theme with another upbeat 80s rock style track.  Despite my assertion that some of these may get to radio play the next track 'Can't Trust The Radio' may not get airplay on the title alone! However, its not actually a criticism of radio just the impact that radio (and music) can have on raw emotion after a breakup and it is probably the one most likely to achieve this.  I think by now you you realise the theme here!
'I Love You' is a bit like a teenager's lyrical first attempt at a love song but there is nothing wrong with the simplicity of this.  'Can We Try?' continues with the relationship breaking up theme.  On the whole, there is nothing wrong with the album, it could do with something else in the mix beyond what is the obvious theme.
It's easy Sunday morning listening (I know, cos its 7.30 am on a Sunday when I'm writing this).  It is what it is: typical 80s melodic rock. Nothing of any great offence (as can be in some current rock offerings) and one or two earworms. Solid song writing, good playing and good vocals.  First time for me with 7HY and, if they are in my area, I wouldn't turn my nose up at a chance of a gig.
'No Going Back' is released on 29 March. You can get your copy HERE.
All content © Über Rock. Not to be reproduced in part or in whole without the express written permission of Über Rock.