By DJ Monk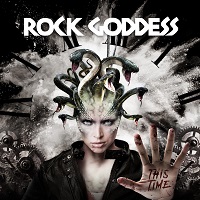 As for most of us, it started in 1977. That's when two young sisters from Wandsworth in south London, Jody and Julie Turner decided to start what can justifiably be regarded as one of the first all-female heavy metal bands. I say they were young… they definitely were: Jody was only 13 and her younger sibling was nine when she started battering the shit out of a drumkit! They chose a very apt name for their pet project: Rock Goddess! Having recruited school friend Tracey Lamb on bass, the girls, under the tutelage of father John, quickly started to make a name for themselves – one which was emblazoned large at the 1982 Reading Festival, which saw them perform a set which landed them a record deal with A&M.
Success followed quickly. Their self-titled debut album proved that that had as big balls as their male counterparts, if not bigger. Follow up album 'Hell Hath No Fury' consolidated their position… but, things quickly went wrong. First Dee O'Malley, who had replaced Lamb in the space between albums, quit on the eve of their 1986 US tour; then they were dropped by their record company, forcing them to release their third album on a little-known French label. A year later, the dream was over and Rock Goddess disappeared, like so many others into the "what might have been" chapters of heavy metal's annals…
Until 2013, when the classic trio of the Turner sisters and Lamb re-united for a series of "comeback" gigs. Four years later, the first new songs in three decades emerged, in the form of the outrageously good 'It's More Than Rock And Roll' EP: it was a defiant return from the ladies, a massive statement of intent, which I described at the time as "screaming out of the speakers with the vengeance of a rejuvenated Valkyrie", a "fist-punch in the face to young pretenders" who had sought to steal their crown as the original rock goddesses, affirming that the sisters could can still kick the arses of all-comers, and especially nay-sayers, up and down the nearest alley.
So, with all of this in mind, 'Are You Ready' for the return of the Turner sisters (now accompanied by Jenny Lane on bass, although Tracey Lamb's bass parts are featured on the album, as she left the band after it had been recorded)? Well, the answer is definitely, and defiantly, in the affirmative, as they have picked up almost exactly where they left off three decades ago, with a collection of rowdy and rambunctious heavy metal tunes which do exactly what they should and make no bones about it.
The main thing that grabs you about 'This Time' as soon as you press that "play" button is the combination of aggression, energy and hunger which pervades Jody Turner's vocal. You can almost see her snarling into the microphone as she spits out her lyrics with a venomous intent, and you know that every word is coming from the heart. Yes, her voice is much deeper, and grittier than on those earlier albums, having lost that teenage whine, but she has lost none of that youthful enthusiasm as she stares you straight between the eyes and declares "this bitch is back – live with it"!
As for the songs themselves? Well, they're exactly what you would expect. Good old-fashioned, old-school heavy metal anthems built on driving rhythms, big banger hooks and melodies, infectious choruses and plenty of fist-in-the-air, headbang-until-your-neck-hurts moments scattered throughout. However, this is not an album that is caught in the early Eighties: no sir, not at all. While it pays due homage to the background of its creators, it has a freshness and vibrancy which immediately draws you in and holds you in its leather-clad embrace. Yes, there is an inevitable familiarity, but there is also a sense of 21st Century nous to the presentation. Even the brave decision to round the album off with a ballad works, dammit.
Hopefully, this is indeed Rock Goddess' time. They deserve it.
'This Time' is out now. You can get your copy HERE.
Rock Goddess join Cats In Space on their forthcoming 'Tour Of Narnia':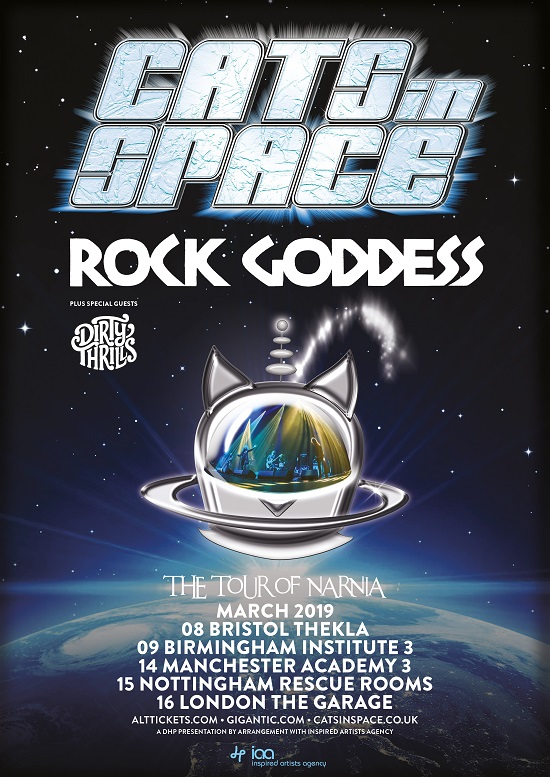 www.facebook.com/Rockgoddessrocks/
All content © Über Rock. Not to be reproduced in part or in whole without the express written permission of Über Rock.