By Jim Rowland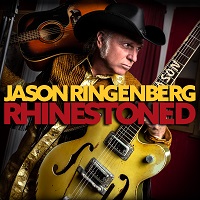 Often referred to as a 'godfather of Americana', Nashville's Jason Ringenberg has had a long and successful career mixing country with rock since the early '80s as frontman of the legendary Jason & The Scorchers, as a solo artist and even as his children's entertainer alter-ego Farmer Jason. After 2019's extremely well received solo record 'Stand Tall', Ringenberg had originally planned to take a break, but with a few songs left over from that project, and the onset of an unexpected Covid lockdown, the songs came gushing out again, and the result is his new solo album 'Rhinestoned'.
I've followed Ringenberg's career on and off for many years, having been captivated by Jason & The Scorchers' incendiary second album 'Lost & Found' in back 1986 and seeing them play an even more incendiary gig at Camden's Electric Ballroom that same year. I've caught him live several times in the intervening years, either with the Scorchers, or as a solo artist, and the reason he has endured all this time is his distinctive voice, endless energy and a real talent for song writing. It's safe to say all are present and correct on this latest offering of 'Rhinestoned'.
'Rhinestoned' combines some carefully chosen cover versions with a majority of new Ringenberg-penned songs to produce a country-soaked album that packs a serious punch. The chosen covers represent different phases of American country music, from the Carter Family's 'The Storms Are On the Ocean' and Hank Williams Sr's 'You Win Again' to the Ozark Mountain Daredevils' 'Time Warp', and a traditional Easter hymn from the 1800s, 'Christ the Lord Is Risen Today'. All are given the distinctive Jason Ringenberg treatment whilst respecting the vibe of the originals, perhaps with the exception of the traditional hymn which trades hallelujahs with thumping drums and power chords to great effect.
The covers are great fun, but it's the quality of the Ringenberg songs that shines through, especially on the outstanding opening cut of 'Before Love and War', an up tempo, uplifting country rock tune that must rank up there with some of the man's finest compositions. 'The Freedom Rides Weren't Free' follows in a similar vein and like many of the album's songs touches on elements of American history, with this one paying tribute to the civil rights activists the Freedom Riders of the 1960's. 'I Rode With Crazy Horse' is a six-plus minute footstompin' epic that goes back further in time to American folklore, whilst the slower paced 'Nashville Without Rhinestones' and the chicken-pickin' rockabilly of 'Stoned on Rhinestones' explore the musical history of Nashville itself. All are quality compositions, as is the excellent 'Keep That Promise' which rocks out in the true spirit of the heyday of the Scorchers.
'Rhinestoned' is proof positive that, 40 years down the line, Jason Ringenberg has lost none of his edge, the voice is in fine form and the song writing as good, if not better, than it has ever been.
'Rhinestoned' is released next Friday (2 April). You can get your copy HERE.
Jason Ringenberg will host a 'Homegrown Rhinestoned Jamboree' album launch show live from his farm in Tennessee on Saturday 8 May. You can get your tickets HERE.
www.facebook.com/jasonringenbergmusic
All content © Über Rock. Not to be reproduced in part or in whole without the express written permission of Über Rock.