By DJ Monk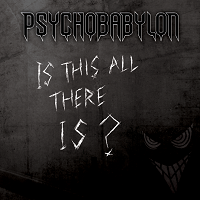 I first stumbled across Yorkshire stompers Psychobabylon when they appeared on the second stage on the middle of the Sunday afternoon at the 2017 iteration of the HRH Sleaze shebang in Steel City: I must admit to having been a bit confused by their image – "part ska, part classic rock, part horror punk" is how I described it at the time – but was impressed by their driving hard rock style. Almost exactly a year later, I was back, perched in front of the same stage, witnessing a band that had progressed significantly in the intervening 12 months: their sound was more cohesive and coherent… something which is even more obvious on this newly released four track EP.
In fact, 'Is This All There Is?' is virtually unrecognisable compared to the mish-mash of styles which bombarded my ears on that first encounter 18 months or so ago. What we have here is a quartet of tunes which ooze confidence and commitment, each thoughtfully crafted but not so much so that they sacrifice the dedication and enthusiasm of those who have produced them.
'All There Is' crashes out of the speakers with a forceful percussive barrage, before a squeal of geetar introduces a punky main riff which quickly evolves into a theme which oozes middle-finger-raising "fuck you" attitude, while 'Dead Time' has an absolutely huge sound that reminds me of my mates in Trucker Diablo as it storms its way out of the speakers and down that rock 'n' roll highway with its throttle wide open, accelerator to the floor and the brake cables severed.
'Die Alone' ensures you won't do that, as it is a riotous floor-filling anthem guaranteed to raise the roof of any venue in which it is played, it's dank riff pulled straight from the sewers yet possessing a joyous sense of in-your-face enjoyment, all topped off by another acerbic performance from Rusty D, who has one of those voices that sounds like he gargles with razor blades washed down with the rawest of 'shine. Closer 'No Means Of Escape' is the perfect way to round off a short collection of tunes such as this: from Rusty's Hetfield-style opening yelp through the infectious groove of the main riff and melody to the slightly gothic feel of its lyrical theme, it's a rampant and rambunctious rock 'n' rollercoaster ride that takes you to the summit of enjoyment – and then keeps you there. I immediately stuck it straight back on repeat, such is the sense of unbridled joy it brings.
'Is This All There Is?' is evidence that first impressions most often can be misleading, and it is sometimes worth persevering with something to catch a glimpse of its true potential. Let's hope it doesn't live up to its title and there is much more to come from these Leeds psychos!
'Is This All There Is?' is out now. You can get your free copy HERE.
www.facebook.com/Psychobabylon/
All content © Über Rock. Not to be reproduced in part or in whole without the express written permission of Über Rock.