By DJ Monk and The Dark Queen
It had been a busy, and needless to say expensive, few days for Belfast's punk veterans. First of all, The Stranglers were 'Back On The Tracks' by kicking off their latest tour in the city's iconic Ulster Hall, and now The Ruts/Ruts DC were bringing their 40th anniversary tour to its conclusion just a few short yards away. In between, The Duellists had brought their own brand of ska crossover to the neighbouring venue… who said gigs aren't like buses servicing that mysterious destination known as Not In Service?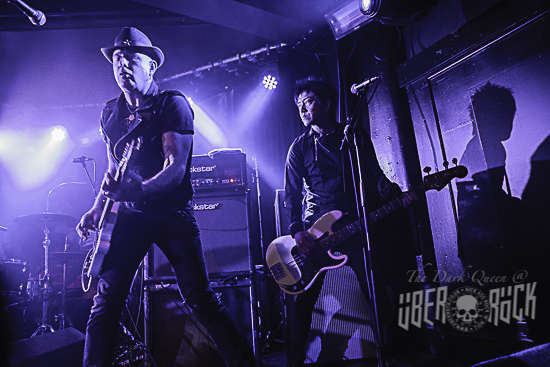 I must admit that I had been looking forward to catching The Professionals on their first ever visit to this corner of the Überverse more than I was to seeing the headliners… and, as they launch into their trademark opening rallying calling of 'Join The Professionals' it's obvious that I'm not going to be disappointed, as everything you expect and want from a punk rock show – it's exuberant, it's rowdy and by fuck it's LOUD! Which is more than can be said of the audience reaction, I'm afraid, as I've seen more life in a morgue.
However, the band are most definitely up for the cup, proving that you can't keep a 'Good Man Down' – or a bunch of veterans (new recruit Toshi aside in that department) such as these for that matter. This is high energy, old-school punk 'n' roll and the level of enthusiasm and sense of enjoyment emanating from the stage… well, let's just say that if I could bottle it and sell down the local market, I'd be a millionaire in no time (although it remains painfully obvious that many present tonight probably wouldn't buy any!).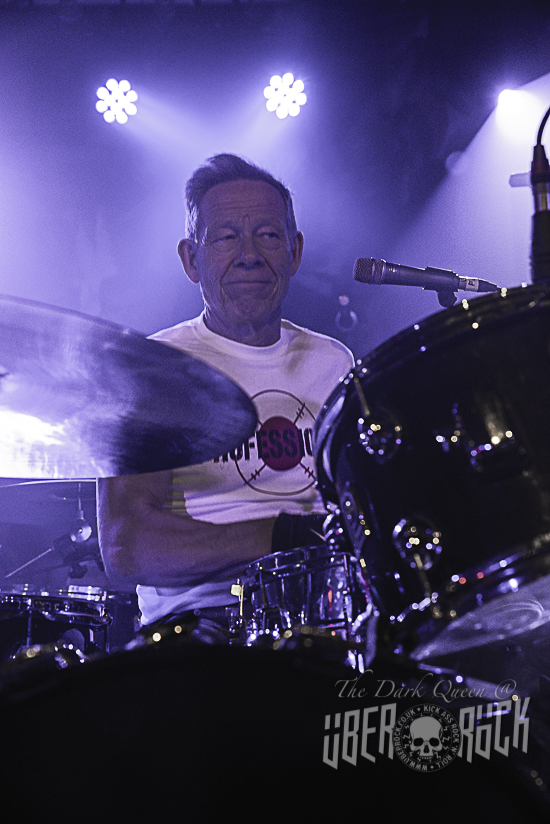 After weirdly dedicating 'Going Going Gone' to the Irish FA, you know there just has to be a nod to the band's heritage, and particularly that of drummer Paul Cook, and so we're treated to a brilliant blast through of the Pistols' 'Silly Thing', before towering frontman Tom Spencer advises us that "behind every punk rock song there is a message – this one is about getting old", hitting the 'Rewind' button to the glory days of the genre, a feeling which is continued on 'Just Another Dream', about which Spencer jokes "I bought it when it first came out" , another nod to the band's pedigree.
The "hits" and pops keep coming, despite falling on largely lethargic ears, as they rattle through their generous 52-minute support slot in exemplary, headline-worthy style, and leaves only one way to bring down the curtain (metaphorically) on an absolutely blinding set, and that's by counting '1-2-3'… altogether now… no? Well, OK then. Hat's off to yez anyway.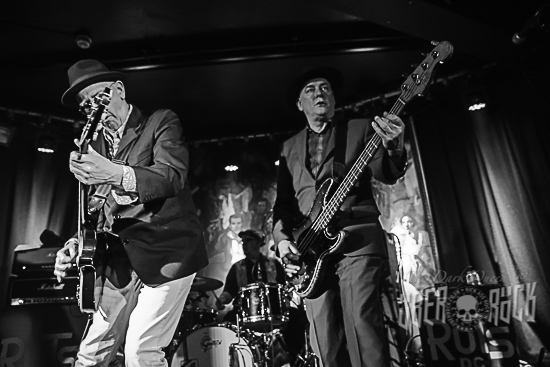 Despite the brevity of their initial career, the name of The Ruts/Ruts DC is writ large in the annals of punk rock history, as one of the true innovators of the genre, and especially in helping to crossover into the worlds of reggae and even heavy metal, which itself was undergoing something of an initial rebirth at the time. This was something which was demonstrated on their iconic debut album, 'The Crack', the 40th anniversary of which was being celebrated on this tour, and is clearly re-emphasized as tonight's set progresses.
Seven minutes late, the trio's spoken word intro booms out across the room before a wail of sirens and Segs' massive bass sound booms out, Dave Ruffy's snare snaps in and they declare that 'Babylon's Burning'. Certainly, they have upped the temperature in the room and the audience reaction is slightly more enthusiastic than for the openers, but still remains confined largely to the odd cheer and polite applause rather than singing along – something which Segs picks up on later in the set…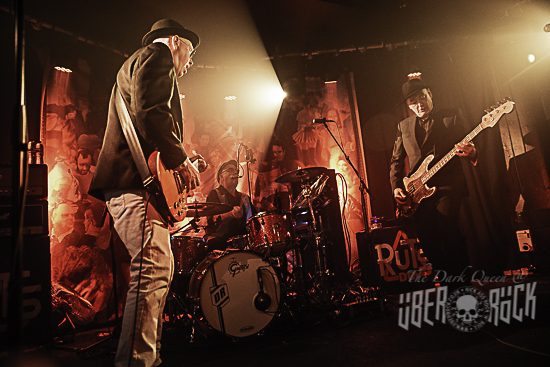 They rattle through 'Dope For Guns', 'SUS' and 'Something That I Said' in a tight and polished performance that clearly echoes their decades of experience, and shows a group of musicians clearly enjoying the second chance they once thought they might not have. While I'm not a fan of this particular style of punk, it is catchy and very danceable – but, once again, no one is dancing, although the volume of cheers at the end of each song is getting louder as the song progresses. It also demonstrates the range of styles they are more than capable of bringing to the mix, from the reggae ska of 'Babylon's Burning' and 'Jah War' through street punk to ear-shredding almost metallic guitar solos from Leigh Heggarty and even tinges of gothic horror darkness.
As Segs declares "that's the end of side one", he is prompted to as if "anyone actually has this album, as I'm seeing a lot of concentration on the faces out there". He's obviously picked up on the apathy of large sections of the crowd, and especially those closest to the stage, but he ploughs on with the troopership of a true professional, trying to spark a reaction as he asks for some "militant skanking" during 'Jah War': you'll be lucky sunshine… most people are probably more worried about dislocating a hip!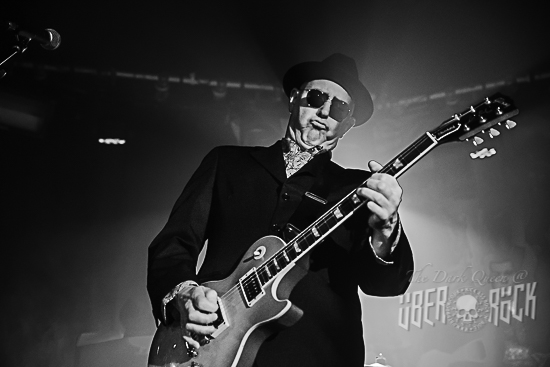 The lack, outside of a few pockets of genuine devotees, of a crowd reaction aside, it's a solid set which pays homage to The Ruts legacy and shows another band clearly enjoying a revival in fortune and continuing to bring it old-school style.
Ruts DC play the Strummercamp festival in Oldham on Sunday 26 May, Caerphilly Castle (with The Stranglers) on Friday 5 July and an acoustic show at the Rebellion festival in Blackpool on Saturday 3 August.
PHOTO CREDIT: All photos © The Dark Queen/Über Rock. You can view our full gallery of photographs HERE.
All content © Über Rock. Not to be reproduced in part or in whole without the express written permission of Über Rock.