By DJ Astrocreep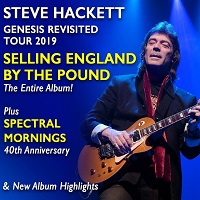 There are not many artists who can legitimately be their own support act, having such strength of material from both a solo and band point of view, yet that's what I have tonight in the form of Steve Hackett, touring to play the whole of Genesis' 'Selling England By The Pound', whilst also celebrating the 40th anniversary of 'Spectral Mornings'. The venue is once more the Bridgewater Hall, a building with renown for the quality of its harmonics and acoustics, so it's over to Manchester once more for an evening of much top-notch guitar wankery.
Our first set comprises of highlights of 'At The Edge Of Light' and celebrating the 40th anniversary of 'Spectral Mornings', with Steve proving himself once more a conpelling story teller, be it with his guitar or with his self-deprecating sense of humour that lights the room between tracks. He has also assembled quite the motley crüe of musicians to play alongside him, in the form of Nad Sylvan on vocals, whose latest album I covered earlier this year, Craig Blundell on drums and Rob Townsend as a multi-instrumentalist, with Steve's brother John on a couple of tracks, among the number, each of which makes a rather fantastic job of their instrument, taking the opportunity to exploit the harmonics of the hall to provide almost crystal clear clarity of sound, without needing to blast the volume for the sheer sake of doing so. Particular highlights of the set include 'The Virgin And The Gypsy', 'Spectral Mornings' and first set closer 'Clocks – The Angel Of Mons', which features a jaw dropping drum solo from Craig. Steve and co then take their leave for a short break, before coming back to entertain us with the 'Selling England By The Pound' rendition.
What a breathtaking rendition it is, too, as a steampunk bedecked Nad Sylvan takes his place alongside Steve, taking his leave when not performing, as do all members, to move to the side of stage and it's noticeable just how good the spirit is between the different musicians, as they can be seen sharing a joke or a facial expression, bringing smiles and winks back from their colleagues, something that just adds to the uplifting feel around the room, from the audience to the band and back.

When I was able to chat with Steve last year in London, he mentioned how he holds a special affection for 'Selling England…' and this is something that is abundantly clear throughout, as even when Steve sits on his stool between guitar parts, he just looks happy in himself, enjoying the rendition from the highly talented musician ensemble he has put together, something which cannot help but endear him to you even further, seeing the sheer delight he takes in something of such beauty that he helped to create so many years ago. We get two partial standing ovations, with the likes of 'The Battle Of Epping Forest ' a mid-set highlight, before the final two songs of the main part of the set in 'Deja Vu', which is a rare treat indeed, and 'Dance On A Volcano', which rightfully earns the band a full standing ovation.
We have the time for a single encore in 'Myopia'/'Los Endos'/'Slogans'/'Los Endos', performed with similar aplomb to the rest of the set, before they finally take their bow for the evening. A night of phenomenal musicianship which leaves all of the audience leaving with smiles on our faces.
www.facebook.com/stevehackettofficial
All content © Über Rock. Not to be reproduced in part or in whole without the express written permission of Über Rock.