By DJ Astrocreep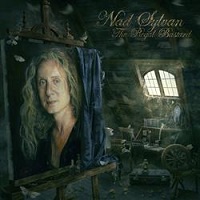 When you encounter an album such as 'The Regal Bastard', it's sometimes hard to know quite where to start with a review. I was previously aware of Nad through his work with Steve Hackett, though less so his solo work. After hearing this, I intend to remedy that as soon as possible. It's often hard to come straight into the last of a trilogy, so I had a listen through each of the previous before my first of this and immediately noticed the high standard Nad obviously sets for himself from the off. Finally, it was time to start on the album in question…
The feeling of warmth and sheer musicianship throughout the album are absolutely fantastic. Now on to double figures of listens through, I'm still as struck by the title track, 'The Regal Bastard' as when I first heard 'In The Court Of The Crimson King' – heady praise indeed, but deserved, all the same, even though it sits at not far off double the length of the next longest track. The entire album itself is of high quality, as you would expect from someone who has had the likes of Roine Stolt of The Flower Kings, amongst others, hear his work and seek him out for a collaboration, with the production values also ridiculously good.
The two singles released from this so far are the album opener, 'I Am The Sea', and 'Meet Your Maker'. The former of these is a touch different from the rest of the album, starting rather ponderously before eventually picking up somewhat, though this sitting at a juxtaposition to the rest actually makes for it being an interesting opener. The latter sits a bit further into the prog realm than 'I Am The Sea' and indeed a decent amount of the album, with the harpsichord like keys at times adding further depth to the sonic landscape Nad is weaving in this release.
There are no real weak points in this album, it is absolutely superb. I would highly recommend this to any prog fan, alongside anyone with an interest in melodic rock, or the more The Doors side of classic rock. It now sits firmly in my music rotation for the foreseeable future and Nad himself is someone whose work I will take a strong interest in from this day forth.
In a year when we have already had so many strong releases, 'The Regal Bastard' can be considered towards the forefront of such prog releases, maybe of the whole music marketplace overall.
'The Regal Bastard'is released on 5 July. You can get your copy HERE.
www.facebook.com/Nadsylvanartist/
All content © Über Rock. Not to be reproduced in part or in whole without the express written permission of Über Rock.