By Jason Walker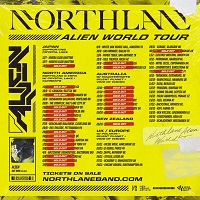 Northlane are a band that have gone through an interesting evolution, growing from their roots as a metalcore band into what is now almost an entirely different beast in its own right. Their latest album, 'Alien', showcases their latest change in sound by bringing in some heavy Industrial influences by way of heavy synth and, in some cases, dubstep inspired grooves.
First on is Void Of Vision, starting with the familiar metalcore calling card of open seven string guitars, grooves and harsh vocals on the verses. The choruses frequently feature higher-pitched clean vocals, very much a staple for a lot of metalcore right now with some light synths playing over the top. The songs sound a bit thin although this may be down to the venue only being about a quarter full at this point, have also just clocked that there isn't actually any bass player on stage!
The overall sound of the band seems a little bit off sadly with the snare being considerably louder than the rest of the kit and the lack of live Bass doesn't help to drive the overall grooves and rhythm of the songs. Unfortunately, the singer struggles a bit with some of the screams and either running out of breath on the longer ones or just missing the notes entirely.
Clearly there was some fans in the audience but they're not really doing anything for me.
Polaris wasted absolutely no time from getting on the stage to demanding a pit open and launching straight into a visceral onslaught of busy grooves. The pit is absolutely ecstatic, the crowd is screaming and clapping along, sub drops everywhere, clean-cut choruses and soaring tremolo picking is their way of greeting their audience. They're definitely glad to be back in Manchester after their dates at the start of the year with the Architects. It's a smaller stage but they sound every bit as massive as they did at Victoria Warehouse with delightfully tight playing and an amazing sound balance, you can hear and feel every single ebb and flow.
Demonstrating an ability to get an infectious chorus across, the build up to the breakdown delivers hype that is broken moments later with people going absolutely wild. Crowd participation is something Polaris know all too well, Jamie (vocals) actively talking to the audience and interacting with them as much as possible – every command is heard, everyone is absolutely wrapped around his little finger and loving every minute.
I don't think I've ever seen so many people on others shoulders at this venue, this is the sort of raw energy a metalcore band should strive to deliver – Tight song writing, massive riffs, intricate hooks and epic choruses. In a repeat of the same shenanigans as Victoria Warehouse, another massive wall of death spurred on by Polaris sends the crowd into a final frenzy before wrapping up.
Finally, it's time for Northlane, time to hear the bangers from their latest album, 'Alien', live. Admittedly 'Talking Heads' is not what I expected them to start with but it's all go from here, circle pits, crowd surfers, crazed headbanging, it's all kicking off! The pit looks absolutely brutal against a backdrop of atmospheric dark hues of red and smaller LED lights behind Northlane which sit on top of their amp stacks spinning like air traffic control radars, firing rapid beams of light in all directions.
Marcus's vocals cut through the wall of sound, raw and laced with emotion. Songs like 'Details Matter', 'Jinn' and '4D', all fantastic tracks from their latest have definitely landed with their fans and they are eating them up as it feeds the buzz. An odd false start on 'Citizen' as they end up playing it in the wrong key which is unusual. Out of nowhere Marcus invites someone up on stage to play it: not sure if this is intentional stage theatrics, but entertaining nonetheless. Josh swaps his guitar with this random guest and with that he decides now is time to do a bit of crowd surfing!
From the set they're kicking out, it's clear they've got a lot to be proud of with 'Alien', and so they should. It's a fantastic album and an excellent showcase of their evolution as a band. I can only hope their career escalates from here as I'd love to see them play bigger stages!
The tour continues at the O2 Academy 2 in Birmingham tonight (Saturday 30 November) and finishes at Electric Brixton tomorrow (Sunday 1 December).
All content © Über Rock. Not to be reproduced in part or in whole without the express written permission of Über Rock.