By Jason Walker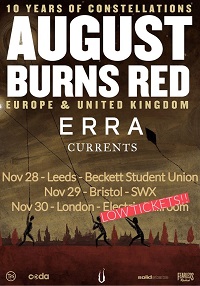 Because of my insatiable hunger for metalcore with a proggy flair to it, today's gig finds me in Leeds Beckett Students' Union for August Burns Red's 'Constellations' anniversary tour. Their more recent work, with 'Phantom Theory' being an album that I've grown to love, is a showcase of what aggressive metalcore has to offer.
Their main support, ERRA, have only very recently started making it over to Europe, with their last time in the UK being when they supported Northlane. ERRA are an intensely melodic band which stems from guitarist Jesse Cash's unique writing style which jumps from brief groovy chugs to stylish tapping melodies with ease.
Currents, not bothering with a grand entrance, walk on and get straight into it to a roughly half full room and they sound fantastic! The guitar tone is raw, the bass solid and the drums thunderous, however for some bizarre reason the backing vocals are way louder than the main vocals. About mid-way through the set the crowds sufficiently warmed up and starting to move, couple of sub drops here and there as well as the groovy chugs from Currents has got people jumping around.
Time for ERRA. I won't lie, I am absolutely infatuated with this band. Keen to show off the numbers from their latest album, 'Neon', Jesse's guitar playing is unmistakable. Grooves and elastic melodies abound, harsh vocals mixed with Jesse's soaring cleans – the ERRA identity right there. Spinning off a couple of numbers from their previous album, 'Drift', they opt to smash out their latest standalone single, 'Eye of God', and it sounds massive! A quick call back to an older song off 'Augment' scratches the itch for some nostalgia, but I really wish I could hear more older stuff, specifically the song 'Ultraviolet' but there's always next time eh?
With a roughly even mix of tracks from 'Neon' and 'Drift' they show off how incredibly tight they've become as a band over the years, and with their latest offering how they continue to develop. They're another band I hope continues to see success as time goes on and go on to play ever bigger shows.
August Burns Red step up and waste absolutely no time in going straight into their 'Constellations' album playthrough and within the first few minutes it's already sounding epic. The balance in sound is outstanding, every chug and shred is crystal clear, you can feel every single drum fill. The crowd is headbanging hard but oddly seems a bit tame to start with. I'd have thought with the way the band is going absolutely balls to the wall that there's be a bit more movement by now.
After a bit of provocation from the singer, the pit finally starts moving but people still seem a little uncommitted. Seems this crowd is a bit more concerned with focusing on the band rather than going berserk. By the midpoint the crowds started picking up a bit, the songs are also hitting fever pitch with stronger hooks and choruses and the attitude of the pit certainly reflects this.
With the end of the 'Constellations' album playthrough, August Burns Red treats the crowd to a Drum Solo playoff between two members of the band, a nice unique twist to this set. Lastly, a fairly lengthy encore sees off an incredibly tight show from all three bands, a great show all round. It's a shame the crowd didn't seem more engaged until the very end of the show.
The tour concludes at the Electric Ballroom, Camden, tonight (Saturday 30 November).
All content © Über Rock. Not to be reproduced in part or in whole without the express written permission of Über Rock.