By DJ Monk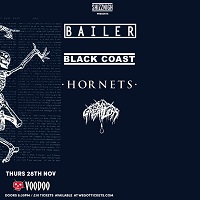 So, it's once more into the back streets of Belfast city centre for another night of rock 'n' roll misadventures, this time of the punkier, more hardcore variety, with a four band bill guaranteed to suck the wax from yer ears and make your pints shake themselves into your gullet without you even touching them.
First up are No Great Loss, a band I've managed to avoid coming into contact with until now: yes, they were on the bill for the only Siege Of Limerick myself and her majesty attended a couple of years back, but the inevitable stage clashes precluded us catching their set. And, on the evidence of tonight's performance, the band's name was quite appropriate. Their twin vocalists spend the entirety of the first "song" doing nothing but yelling "yeah" at each other – and things don't improve much. The musicians themselves are tight enough and deliver basic, no nonsense hardcore with little regard for stylistic variation or cleverness – just pushing it straight into your face, old-school style. Despite starting 15 minutes late, they try to prove they're "real hardcore" by over-running and then trying to play on past their allotted 30 minutes, only for the sound guy to refuse to let them do so… well, his own band are on next…
Hornets definitely don't fuck about as they deliver a wall of beautifully discordant noise, with no sense of melody or rhythm, but then neither is needed. It's just a sheer tsunami of post-punk mayhem, uncompromising and unapologetically so. There's no sense of conjunction or harmony; just a barrage of sound that takes no prisoners and asks for no quarter and gives none in return. It's loud, it's unrelenting and it goes down a storm with the extremely appreciative crowd…
…most of whom seem to have wandered off elsewhere by the time Black Coast take to the stage, some 45 minutes after their advertised start time. It's a real shame that the audience numbers have dwindled, but it doesn't stop the Stoke quintet bringing the party, as they hit fast and intense, opening up the throttle to a furiously fast pace. Vocalist Charlie quickly realizes that the stage isn't big enough for the five of them and takes to the floor to try and incite the small crowd that have remained to do more than stand there with their arms folded and their heads nodding. Unfortunately, he by and large fails, as the reaction is lukewarm, to say the least, which is another real shame as it is an impressive performance and an exemplar of a band rising above the odds and still delivering the goods to the best of their individual and collective ability. I definitely would like to see these guys again, and in a more receptive environment.
Like their predecessors, headliners Bailer don't fuck around either. Thankfully, the audience numbers have swollen (albeit slightly) once more as the Cork crüe explode into life with their energetic and hard-hitting hardcore, heavy on the d-beat, aggressive yet charismatic. This is the second time in about eight months that I have seen this mob, and once again they impress right from the off, with their balance of intense anger and angst-ridden passion for what they do. As tight as a coiled spring in every department, they actually comes across like a post-hardcore version of RATM, but that is no bad comparator and an indicator of the intensity and fury which Bailer bring to the stage. Great stuff and the perfect start to a busy weekend of gigage for the ÜRHQ team…
All content © Über Rock. Not to be reproduced in part or in whole without the express written permission of Über Rock.