By DJ Astrocreep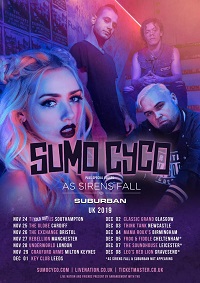 A three band bill awaits me in frequently visited venue Rebellion as Canadian punk metallers Sumo Cyco roll into Manchester, supported by Australian rapper Suburban and Keighley alt-rockers As Sirens Fall. Luckily the train issues I had the previous day are not repeated, so the journey is rather smoother across for something a little more feisty than the previous evening's melodious warblings and guitar wankery had been. 
It's Suburban's first UK dates and he's certainly into his own music, blending rap, hip hop and an occasional electronic metal aspect, the mix of which should be pretty good for a busy and diverse crowd. While he is pretty good at what he does, it's not my thing, so I try to look at the performance objectively. There is certainly plenty of passion from him and a few heads in the busy opening crowd do nod along, but it seems to be a bit of a leap for many others, like myself. The crowd pay attention and give him due regard, in fairness to them, but it just doesn't seem to work too well with this crowd overall. It's a well delivered set, just not one that appeals to me too well.
As Sirens Fall are a quite different prospect, though, with a sound that goes between melodic alt-Rock and a quite My Chemical Romance feel at times, taking to the stage to a cover of Nick Cave and the Bad Seeds' 'Red Right Hand'. Musically, I generally quite like what they have to offer, but find the vocals a touch grating at times too, leaving me a bit hesitant in knowing quite how much I can appreciate them. They do seem to work with the crowd, in fairness, so it's potentially just something that bothers me rather than being a more widespread issue for people. They have a decent stage presence and work well with the audience around the stage area of the venue, getting some decent applause and cheers as they reach the end of their set, so it certainly seems to be job done!
One thing you can say about Sumo Cyco, energiser could certainly learn a lot about energy from pocket rocket frontwoman Skye Sweetnam! Be it jumping about the stage like a maniac, crowd surfing whilst still singing, her high-octane performance is a good mirror for the band's energy behind her, as their fusion of punk, metal, hardcore, dancehall and beyond makes for a non stop show. While guitarist MD has a technical issue as he doesn't plug in properly, which Skye seems to take delight in as they take to the stage, the band are tight through their performance in a manner that is a lot trickier than it may initially sound, given their blended styles. Skye opens a pit up herself, as she veers between soft vocals and growling hardcore vocals, provoding a mix of melody and aggression in equal parts as the songs demand, a far cry from her younger teen pop and pop-punk days!
Songs such as 'Fighter', 'Free Yourself' and 'Passengers' work well with the crowd, whose energy has picked up no end during the headline set, with plenty of headbanging, pitting and a good atmosphere generally being felt by everyone in the venue. Sumo Cyco are a highly compelling live act, with the sheer force of their music, made even more of an accomplishment when you consider their fiercely DIY band ethic, which adds so much more pressure on them to constantly deliver in a live setting. Tonight is no exception to this, as they once more provide a formidable live music force that you can't help but be swept along by. Even when they visit Manchester as much as they do, the sheer infectiousness of Skye and co proves too much for people not to turn up and support, further emphasising the level that they are performing at. A great headline set.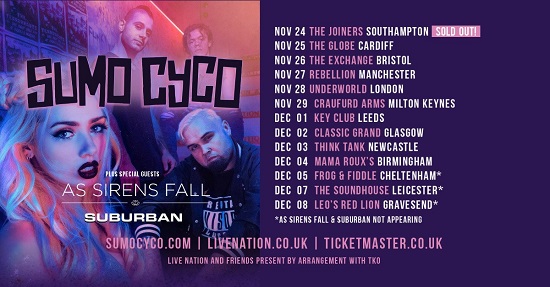 All content © Über Rock. Not to be reproduced in part or in whole without the express written permission of Über Rock.