Written by DJ Monk. Photographs by Wayne Donaldson.
The Easter weekend holds a very special place in the hearts of metallians here on the island of Ireland. Not because of any religious reasons – well, perhaps of a different kind, as it marks the first instalment of the Siege Of Limerick, the bi-annual celebration of all that is great about the genre in this corner of the Überverse, and the closest thing the island has to a proper metal festival. It has also become traditional for some of the visiting bands from other parts of the Überverse to turn their trips into something of mini tours – which is why this show, originally booked as two different gigs but intelligently brought together, came about.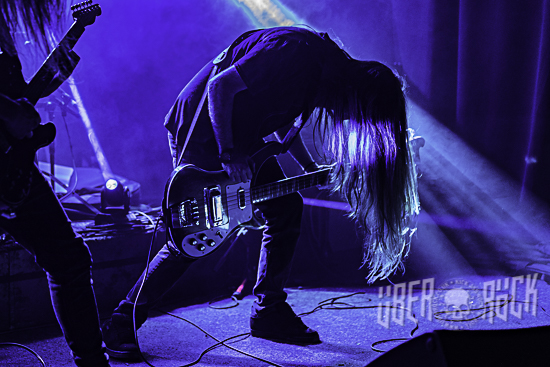 And so it is that, on the warmest day of the year so far (it's a massive 19 degrees!), as the offices nearby disgorge their grateful workers into the surrounding streets, we climb the narrow stairs into the darkened confines of one of our favourite venues. And, with the sun still beating down on the paving stones outside, threatening to give the al fresco drinkers a tan, the appropriately named openers So Much For The Sun bring the darkness early, with their massive, sewer-dank sludge groove and riffs so heavy that they threaten to bring down what's left of the fire-gutted Primark store just a few yards away at the end of the street.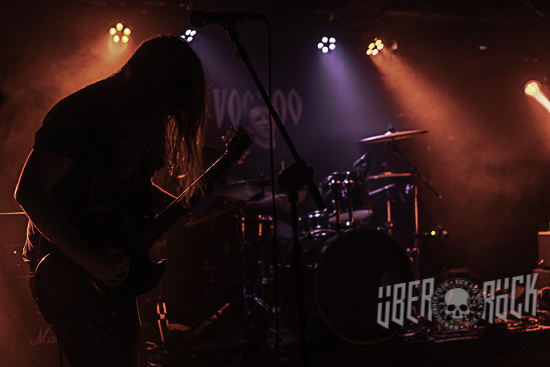 A wash of red light suits the devilish roar that summons the start of Tome's set. Their massive bass sound rumbles with the inevitability of a tsunami hitting a Pacific shoreline, with their thick, dolorous doom-laden drone, overtopped by snarling vocals, providing a strangely hypnotic and cathartic experience.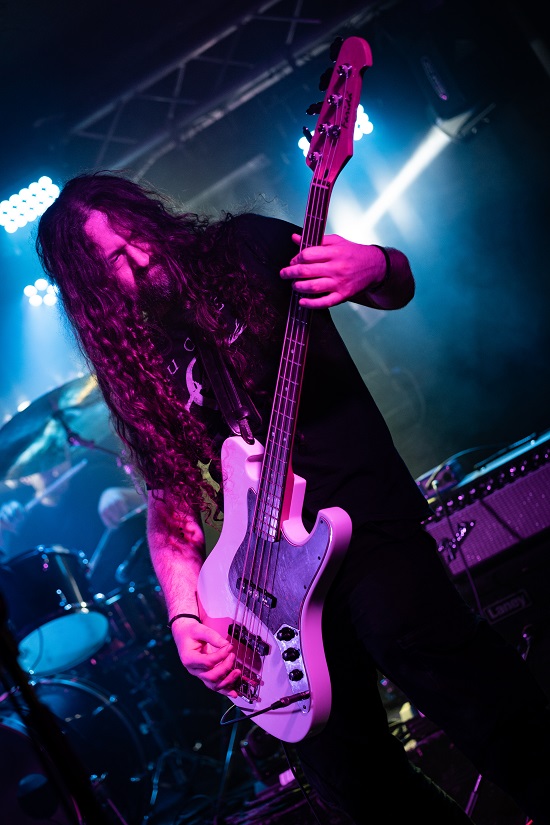 By the time our third successive power trio of the evening (it's still only 7.30) take to the stage, the venue is starting to fill up, as people finish work for the long weekend, and shoppers are running for cover as the venue's walls start to shake with the immensity of the riffage barely contained behind them. Owlcrusher deliver a huge wall of sound, characterized by more crushing bass riffs, crashing cymbals, thick guitar and devilish vocals guaranteed to curdle cream while the milk is still in the cow's cud. It's been a while since I've seen these three guys live, and they don't disappoint, with a bruising and enervating, not to mention enervating, set of pure, dark joy.
Owlcrusher support Waylander at Voodoo on Friday 10 May.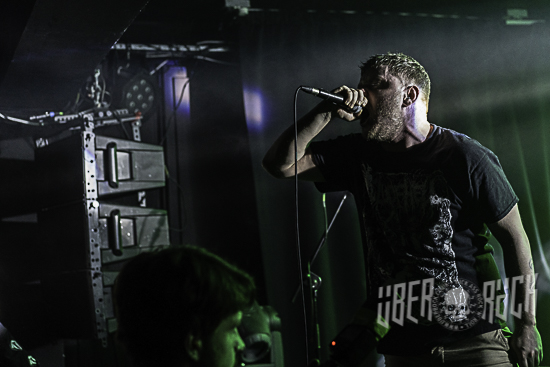 There's a total change of mood with Cork hardcore bruisers Bailer, as they up the pace and lighten the atmosphere, but deliver no less intensity – it's just on a different level: energetic, frenetic and furious, they possess that primal punk attitude that is all-important to this particular sub-genre, as they keep up an incessant pace throughout their set and are rewarded with some of the few pits of the evening.
Bailer play The Cowley Club in Brighton on Thursday 23 May, Crowley's in Hastings on Saturday 24 May and The Unicorn in Camden on Saturday 24 May.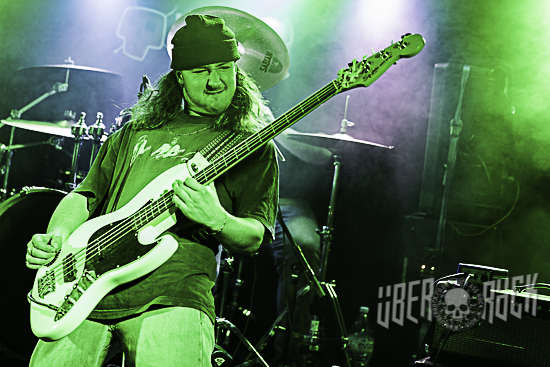 With the light now fading fast outside the venue's few windows, Elder Druid are out to prove that they are on something of a roll, following their recent UK tour and subsequently qualifying for the NI final of the annual Bloodstock Metal 2 The Masses competition. To be honest, I find the Druids to be something of a curate's egg: when they are at their best, they are on blinding form, but when they are off kilter, then… Fortunately, tonight they are again in the former category: tight and passionate with plenty of movement, especially from frontman Gregg McDowell, whom I've accused in the past of being too static in his onstage demeanour, but this evening really throws his all into the performance as his bandmates deliver riffs heavier than a concrete truck and greasier that the bottom of a chippy's fryer. It's a glorious cacophony of doom-laden noise and a fantastic performance.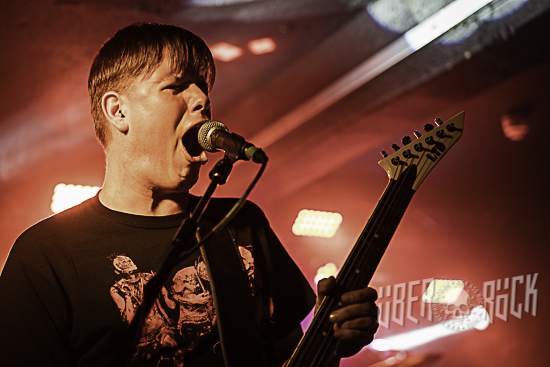 A mate had been ranting at me about Midlands quartet Conjurer for more than a year – ever since the release of their 'Mire' album last March: somehow, however, both the band and album had managed to pass me by – a mistake rectified this very evening. Around 15 minutes into their set, said mate wanders over to my perch, gives me a massive thumbs up and mouths "holy fuck": and, by all the gods of metal, he's right – this is right up there in the "fuck me holier than a man on a stick" stakes.
Conjurer are most definitely one of those bands that defy classification: brutal, head-flailing, neck-breaking riffs mix nonchalantly with dense atmospherics, light melding seamlessly into shade and back out again. Animalistic beats backtrack moments of genuine beauty, from which a cathartic rage is in turn unleashed. It's a breath-taking, hyperbolae defying set; it may have taken me quite some time to fall under their spell, but I'm now a definite convert.
Conjurer play The Black Heart in Camden on Friday 17 May, the Dogtooth Stage at Download on Friday 14 June, the 2000 Trees festival on Thursday 11 July and ArcTanGent on Thursday 15 August.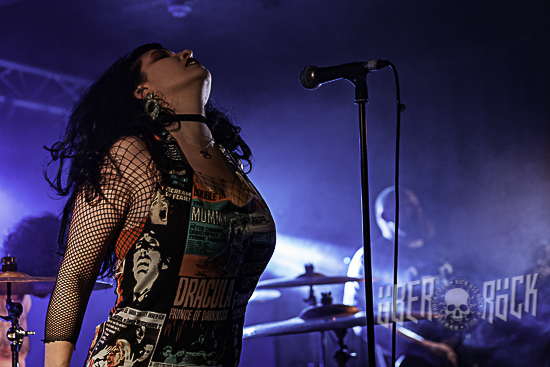 So far, every one of the bands has behaved themselves, in terms of tight turnarounds, starting on time and, especially in the case of the local acts, even finishing their sets early; after all, it is no mean feat squeezing seven bands into a six-and-a-half hour window, with a strict curfew enforced by Northern Ireland's inanely arcane licensing laws. But, it seems nobody told Dead Witches about the legal side of things, as they go on just shy of ten minutes late.
Stripped to the waist, towering guitarist Oliver Irongiant certainly lives up to his name as the band launch into their brand of dense, classically-influenced doom, which draws deep from the wells of the ancient goods but does so with the verve and vim of modern interpretation.  Moving Mark Greening's kit from the drum riser to the stage floor is possibly a mistake, as it severely limits the among of movement by the other band members: nevertheless, Soozi Chameleone does find enough space to gyrate like a belly-dancer enticing John The Baptist to his demise (sorry, another stupid religious reference, but we were on the cusp of Easter!).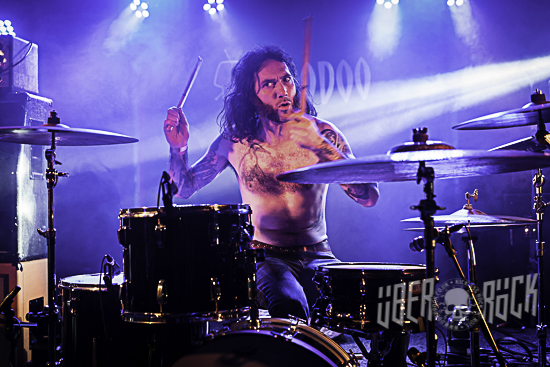 Although they were perhaps going to be on a highway to nowhere as far as many were concerned, especially after Conjurer's stunning set, the result is nevertheless a competent and well-received performance, with plenty of psychedelic atmospherics and enough aural and visual interest to keep the attention of those who have stayed behind.
Dead Witches play the 'Revenge Of The End Of The World' festival in Plymouth on Saturday 6 July.
PHOTO CREDIT: Photographs courtesy of TWKOM Photography. You can view a full gallery of photographs HERE.
All content © Über Rock. Not to be reproduced in part or in whole without the express written permission of Über Rock.