By Monk
It hasn't taken long for life to start getting back to some semblance of normality in the last part of the Uber Kingdom to lift restrictions on audience numbers, etc., at shows. On the downside, however, the turnout for tonight's show, which celebrates the relaunch of the Distortion Project Records imprint with co-headlining performances by the label's first three signings, is slightly lower than one might expect, especially giver the calibre of the acts. But then, it is the first in an (un)holy triptych of gigs over the course of the weekend, with Alestorm and Gloryhammer bringing their particular bands on in(s)anity to town the following evening, hotly followed by the Chris Jericho-fronted Fozzy the next night. With both bigger league shows sold out weeks in advance, I suppose it was only to be expected that the local lads would be the ones to suffer… Not that stops any of them trying to rip the roof off our favourite rock club!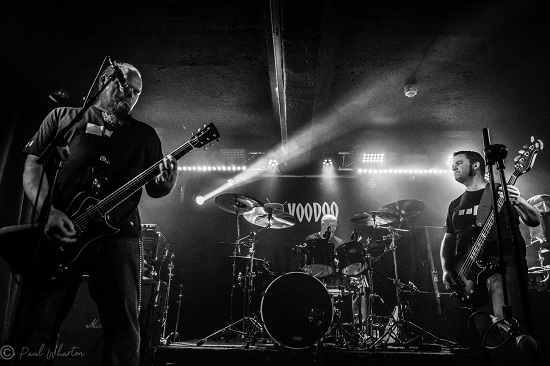 With each band playing for 45 minutes, first up are heft mongers Skypilot, returning to a Belfast stage just two weeks after their last visit to the city. To be honest, they start off slightly more restrained than on that last occasion, but nevertheless don't fail to disappoint, as they once again deliver big fat riffs with easy aplomb. As frontman Dave had pointed out during the Limelight show 13 days earlier, the Doagh trio had spent much of the lockdown period writing new material, and that is given a significant airing, with impressive lead single 'Octofuzz' perfectly complementing the album's dank and title track' 'Simple Beasts', which is given its first airing this evening, while 'Whatever Hates You Destroys' is another concrete-heavy sledger packed to overflowing with hefty riffs. I've never seen Skypilot perform anything other than exemplary sets, and this was another of those.
Skypilot play The Railway Bar in Cookstown on Saturday 27 December alongside Cursed Sun, Puresonic Outcasts, Blurred Reality, The Victory and Hannemans. They will also be heading to the mainland for a series of co-headline gigs with Blind River in April. See their Facebook page for further details.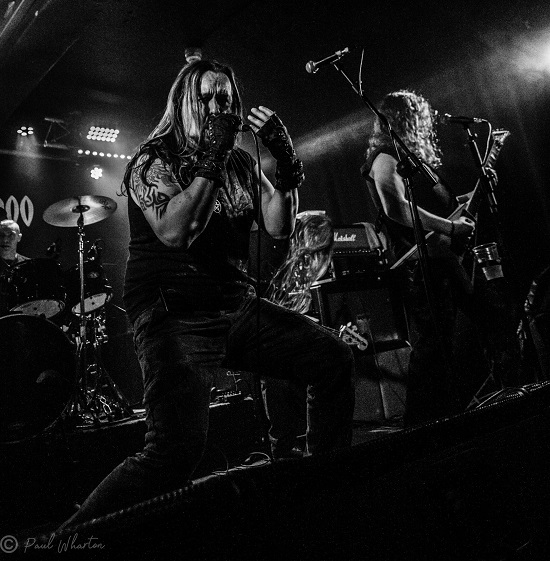 To be honest, Bakken were the one band on the bill I was slightly nervous about, especially as I know three of the five guys very well. Part of my nervousness stemmed from the fact that, as far as I know, this was only their second gig with their revamped and expanded line-up. My nerves were somewhat calmed in that regard, as they interact well together and are undoubtedly a tight unit, despite the Covidications of the past 20 months or so. But my trepidation is also justified, as the set is plagued with technical issues, with first Shaun and then Simon having problems with their guitars, resulting in the latter having to change instruments halfway through 'Cold Blooded Murder', The major, problem, however, is Frank Levi's vocals, which, after his first declarative scream, are muddy and indistinct, especially when he drops to the lower end of his register. The mix nevertheless draws out Niall's huge drum sound and Thomas' thundering bass work, which drive the songs forward with undoubted energy, with their move towards a more NWoBHM-sound adding new dimensions to older songs such as 'Sasquatch' and set closer 'Dying Day'.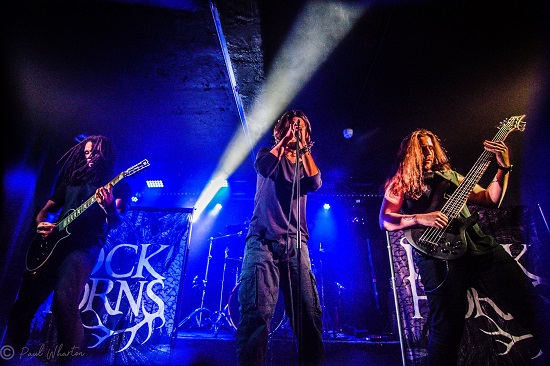 Despite frontman Dan having earlier told me he was so nervous he was worried he might faint of stage, nominal headliners (solely by virtue of the fact that they are last on) Lock Horns hit the stage with the impact of a 100 kiloton nuclear device being rammed down your bags!  They absolutely decimate the remaining crowd with their brand of aggressive brand of progressive, groove-filled metal – no, make that METAL \m/ With Dan constantly cajoling and encouraging the crowd, and Junior wearing a smile bigger than the Atlantic Ocean, the Horns vent all the fury, anger, frustration and rage we've all experienced over the past two years into a set of "post-apocalyptic shit" that is simply awesome in both its delivery and its impact.  Like Skypilot, they also show they haven't been idle during the Covid era, previewing two powerful and declarative new songs alongside traditional crowd favourites such as the ever-impressive set closer, 'Wendigo'. Bring on the album boys…
PHOTO CREDIT: Photos © Paul Wharton. Copyright remains with the photographer.
All content © Über Rock. Not to be reproduced in part or in whole without the express written permission of Über Rock.