By Jase Walker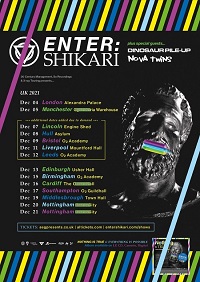 Another cold Manchester night sees me return to Victoria Warehouse for Herts EDM-metalcore heavyweights Enter Shikari. Oddly enough this is actually my first time ever seeing them, despite having many chances in my hometown of Middlesbrough. Better late than never, eh?
After delays due to the pandemic, Enter Shikari bring along Trash Boat and the increasingly popular Nova Twins. Sadly Chris (bass) from Enter Shikari couldn't make the tour after having caught Covid, but the band pushed ahead with the tour.
Nova Twins' first note is so bloody loud it genuinely scared me, but I'm instantly tuned into this bombastic, punky, noise. I'd not actually heard anything from them beyond their appearance on the last BMTH EP, so seeing them live is a solid intro. For what is a three-piece band, and from what I can tell, not using a backing track, they're making a really surprising variety of sounds.
At some points they sound strongly like Rage Against The Machine but even then it feels like that is a bit unfair because there's so much more to their sound. There's unabashed funk vibes, the anger of punk, fat riffs that would make any metalhead gurn, all wrapped together with a penchant for experiential noise and guitar filters.
I can really see why Nova Twins are making waves in the way they are. They're unique in a lot of ways, they've got the right attitude to strut around on a stage this size like they own it, and they've got the crowd wrapped around their little finger. What an introduction this has been to their music, their style and a fantastic opener.
Nova Twins tour in February/March: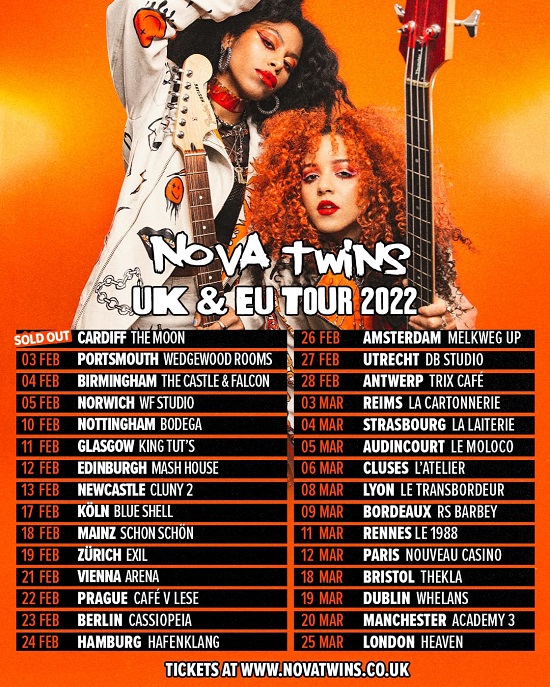 Second tonight was supposed to be Dinosaur Pile-up, but it turns out, it's actually Trash Boat! GET IN! Opening with 'Silence is Golden' – absolute banger and I'm hanging off every word, I have been ragging their new album on repeat for weeks! Ah man, this was unexpected, I'm absolutely over the moon with this!
Another new album banger with 'Bad Entertainment', just keep it coming, I am eating this up. Superb crowd participation sees the crowd going absolutely bloody wild with a massive moshpit and my view from the Mezzanine is amazing. Even more hype with 'Alpha Omega' and one of the most simple and easy to shout choruses of, "idiot, ya fuckin idiot!", what's not to like? I really enjoyed these guys at Slam Dunk but I can say without any doubt that I am way more into them now. What a band.
For a more serious tone, 'He's So Good' with its heavy subject matter, amazing song and I was really hoping that they'd play it! I mean the whole album is filled with great music, seriously give it a listen. Shame that Dinosaur Pile-up couldn't make it, but as you can probably tell, I'm not exactly masking my joy that Trash Boat filled in!
Trash Boat tour in March: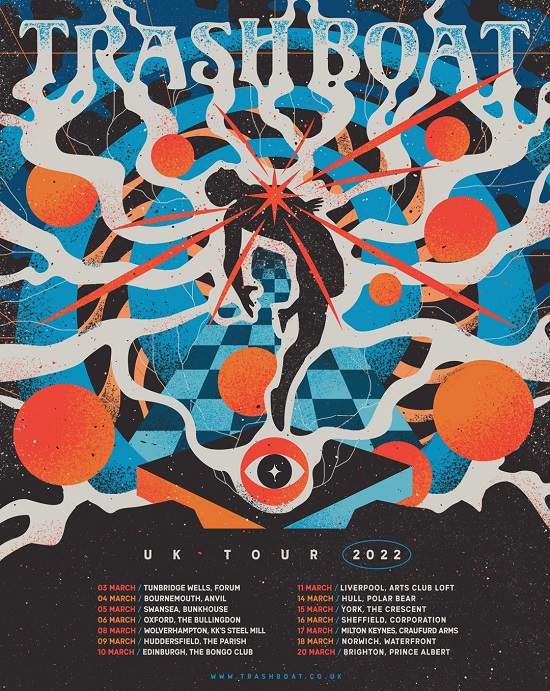 Prior to Enter Shikari going on, we're treated to a funk/Motown medley with periodic time notices for 'entering the great unknown', bizarre but on brand for these.  I can't help but feel a slight fear because I can see I've got a strobe light aimed squarely in my direction. Just as they walk on, the entire stage lights up with the most blinding light show I've ever seen!
This stage production is seriously unreal but looks like we've hit a bit of an issue right in the middle of the first song, which seems a bit unfortunate, but the crowd doesn't seem to care at all and just carries on singing it! These guys have a really bloody committed fanbase, never seen anything like this before. The crowd demands a drum solo, and they gladly oblige and carry back on after sorting the issue out.
I shouldn't be surprised but this feels halfway between a rave and a metal show, the lighting using lots of neon colours and flashing strobes and man is it gorgeous to watch. We're barely three songs in and the audience is a sea of movement, there's almost nobody who isn't bouncing around like their life depends on it. I honestly thought I'd seen most of the light effects but there's moments of blackouts and lasers! Mind blowing!
It's hard to put into words the sound of 3000 people all doing the three claps for 'Sorry you're not a winner' all in time, even breaking from the moshpit madness for a brief second before going back at it. Hitting 'Mothership', the crowd almost completely drowns out Rou's vocals and the laser show intensifies further and the mosh out spreads the length and breadth of the venue.
Moving towards the finish line with Rou taking a solo guitar and playing 'Constellations', a quiet singalong number with the crowd in step with him the whole way. Following it up with 'Tina' to bring the full band back and get the crowd's blood pumping again, my mate next to me is clearly pleased about that! Last stop on the set list is 'Live Outside' and this brings to a close easily one of the best live shows I've seen this year and probably ever.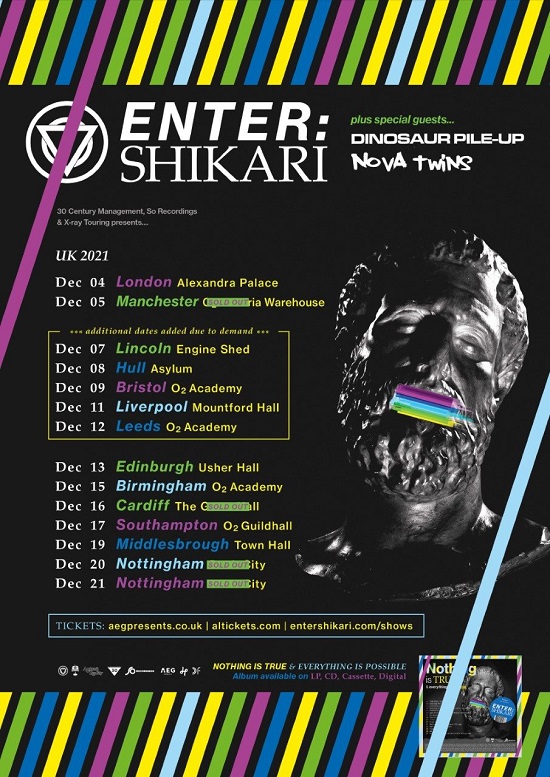 All content © Über Rock. Not to be reproduced in part or in whole without the express written permission of Über Rock.