By Monk
Riffs. Big, crunching, fuck off heavy riffs. Boy, how have we missed them… well, the riffs don't come much bigger, crunchier or fuck off heavy than those delivered by the three bands who came together to mark the return of Belfast's only specialist heavy metal promotion, The Distortion Project, to its spiritual home after 20 long, riff-barren, Covidicated months.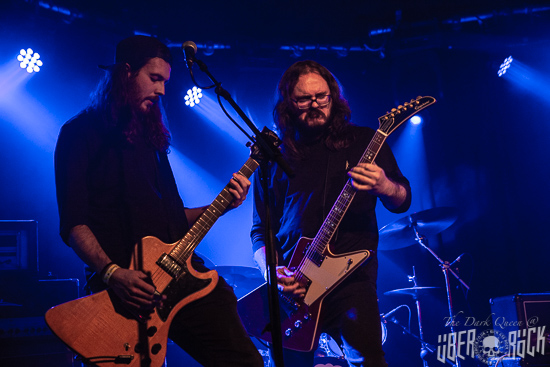 Dressed from head to foot in black, openers Psychedelanaut casually climb the steps onto the stage as if they'd been doing so all this time, oozing quiet confidence as they equally casually pick their guitars of their resting places on the stagefront wedges. Within seconds of strapping them on, the quartet live up to their name, delivering psychedelic-infused space rock based on thick stoner grooves. A particularly impressive aspect of their set is how they use the fact that all three "frontmen", for want of a better description, can sing, with their triple-part vocal harmonies bouncing off and around each other and lending a unique feel to their underlying southern rock groove and rich doom-inspired vibes.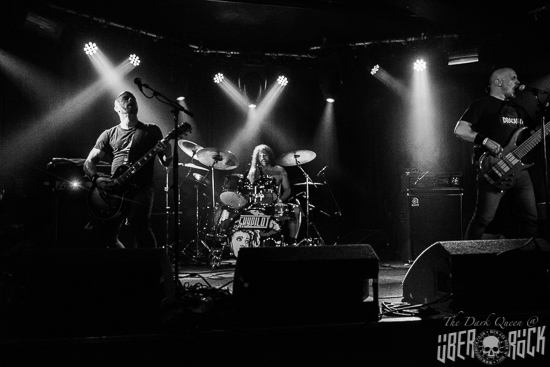 To the best of my knowledge (I stand to be corrected – and probably will be), Haint had managed only one live appearance – at the subsequently Covid-aborted 2020 'Metal 2 The Masses' competition – before the world was plunged into music-starved darkness, but once again it is as if the past 20 months haven't happened… The energy is palpable as they launch into a set which proves heavier than having a tonne of concrete dropped on your head. Their dense grooves are infused with dark psychedelic melodies underpinned with dense, six-string bass harmonics and overtopped with surprisingly high-pitched, almost shouty vocals that add an acidic edge to the overall sub-hardcore groove.
Haint return to the Limelight 2 on Saturday 22 January when they support Puresonic Outcasts at their 'Reflections On This Present Condition' album launch.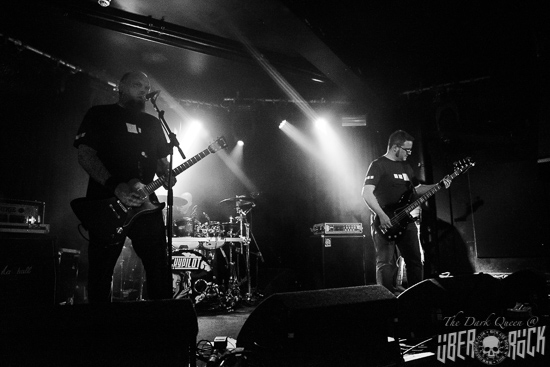 "In lockdown, you lay down riffs," declares Skypilot frontman David as they immediately prove that the Covidications haven't stopped them from keeping busy, as they open up with the first of a number of new songs from their freshly recorded new album, 'Simple Beasts', which is due to be released in March: on the basis of these previews, which are jam-packed with fucktons of even more heavy grooves, I'm not sure if I can wait that long… I want it NOW! Of course, there are still room for "the hits", such as the sublime 'Superdupernaut', which fills the dancefloor without a second invitation from David, as the trio deliver yet another thrilling and hypnotic set which injects dense stoner/psyche grooves deep into the darkest recesses of your soul from the first note to the last.
Fuck yeah. Riffs. Riffs. And more riffs. What more could you ask for on a Saturday evening? Not much really…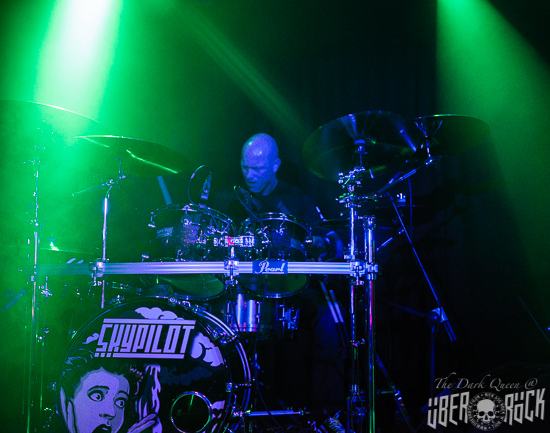 Skypilot play Voodoo in Belfast on Friday 3 December, alongside Lock Horns and Bakken, to mark the relaunch of The Distortion Project Records. They then play The Railway Bar in Cookstown on Saturday 27 December alongside Cursed Sun, Puresonic Outcasts, Blurred Reality, The Victory and Hannemans. Skypilot will also be heading to the mainland for a series of co-headline gigs with Blind River in April; see their Facebook page for further details.
PHOTO CREDIT: All photos © The Dark Queen/Über Rock. You can view our full gallery of photographs HERE.
All content © Über Rock. Not to be reproduced in part or in whole without the express written permission of Über Rock.