By Jase Walker
Hot off the back of their latest album, 'This Place Will Become Your Tomb', Sleep Token have embarked on another sold out tour, or as they like to say it, "rituals", around the ÜK. Tonight's stop at Manchester Academy 2 sees them bringing along A.A. Williams as support, another artist I had the pleasure of seeing many times in 2019.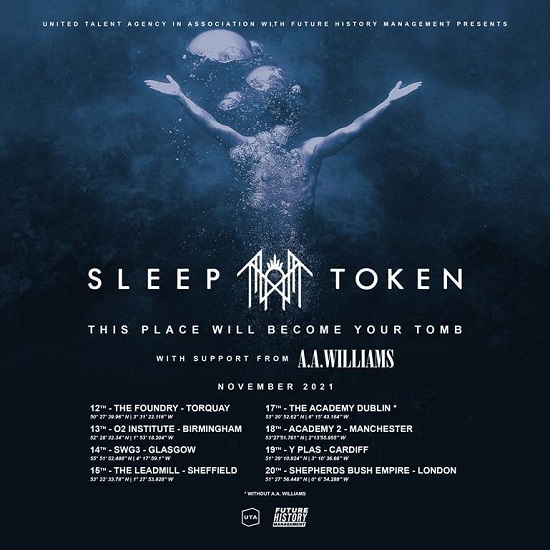 Sleep Token are quite a unique show that often comes off as sombre, or melancholy and also seem to have a tendency to avoid larger venues that they would probably have little issue selling out. Considering their last show was upgraded from Manchester's Night & Day venue to Academy 3 when they easily could have sold out Academy 2 at the time, they definitely have a shrewd approach to keeping people chomping at the bit to see them.
A.A. Williams arrives on stage and for this show she has a full band ensemble with her which is great to see, for context, she has a habit of fitting her band size to different shows. The stage is barely lit to start, filling the room with her melancholy sound, even at the start this is probably the best I've ever heard her!
Having her along as support for someone like Sleep Token was a fantastic choice, the slow, pulsing beat of the band is a treat to behold. Annoyingly the dull roar of conversation from the audience drowns out some of the quieter segments which is a little frustrating. Despite the chatty audience though, the soaring crescendos of each song smashes through and I really have to give whoever's doing lighting for this show props because they are absolutely killing it.
I do hope I get to see her do a tour with someone like Chelsea Wolfe in future, it'd be a bloody treat. This show is without a doubt the best I've seen her so far and witnessing the refinement of her craft with each passing tour shows that she's going to be on much bigger stages very soon and I can't wait.
The interval music stops, the stage goes dark, the crowd immediately goes wild as Vessel walks on solo to introduce the show on a piano, belting out a ballad in his signature voice. Sleep Token definitely know how to start their shows, even so, it doesn't stop someone shouting out "ya sexy bastard!" during a brief lull. A bit further in and a dramatic chord shows the rest of the band hiding in the darkness… what a start.
We are barely past the start of the show at this point and hands are waving, heads are bouncing, people are pushing around in the pit, the crowd is eating this ritual up and hungry for much more. Evidently the audience is a lot.more familiar with the new album than I am, I don't think there's been a single song they haven't sung right back, but with them hitting 'Jaws' I'm a bit more in tune with them.
Hearing the newer songs from the latest album really puts a different spin on them that compels me to listen to it a lot more than I did previously. The newer songs seem more experimental than the more ballad-like songs that are on 'Sundowning' but hearing them done live drives home the atmospheric style they were going for with 'This Place Will Become Your Tomb'.
Again, with Sleep Token the lighting is absolutely on point. I don't think people really realise just how much a good lightshow adds to a live show, especially with a band like Sleep Token. It also continually surprises me just how much movement this crowd is doing, I've seen great crowds in the amount of shows I've been to but seeing almost entire crowds move like this is very rare even for big metal bands.
This whole show has been fantastic but starting the encore with my favourite, 'The Night Does Not Belong To God' is a real special one for me and if that's going to be an encore special for gigs to come then I'm not going to complain at all. Sleep Token have demonstrated why they're sought after with a show like this; get their albums in your ears, get along to the next ritual near you and gather in worship.
All written content © Über Rock. Not to be reproduced in part or in whole without the express written permission of Über Rock.