By Phil Cooper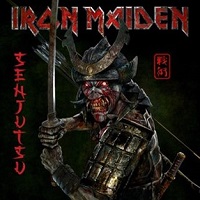 A band that needs no introduction, Iron Maiden continue their 46-year career with album number 17, 'Senjutsu'.  Roughly translated to meaning tactics or strategy, they employed a highly tactical approach to drip feeding information to the legion of fans in the release build up.  The hype generated a fevered sense of excitement that culminated in the release of lead single 'The Writing On The Wall' and then finally the album details proper.  Maiden fans can be divided into a number of categories, there are those that prefer any one of the three vocalists over another, those that prefer earlier Bruce-led Maiden to latter day. There is regularly fierce debate over preferred line ups and best albums.  However, one thing that brings them all together is the chance to hear new music.
The two singles 'The Writing On The Wall' and 'Stratego' offered up a lot to whet the appetite. Certainly, with the former, we were introduced to a sound a little different from the norm with a southern, classic rock groove akin to Bad Co. taking centre stage.  There were still guitar hooks and harmonies aplenty that identified the music as Maiden but there was enough variation to entice.  With the release of the full album details it was shown that this release was going to be a mammoth one.  The song lengths indicated at epics in offering and the double album format comes in at one hour 20 in total.  Those that cling to the idea of wanting punch numbers like 'The Trooper', 'Aces High' and 'Wasted Years' were not going to get their wish.  This is a record that showcases Maiden in their progressive groove, a groove that has been building throughout the years but has certainly become more prominent in their creative resurgence of the last 20 years.
With the opening title track, we are given the first glimpse of that.  There's many of the elements that make up the key Maiden style from both lyrical content and musical composition.  It's a sweeping number that opens out to offer soaring guitar harmonies and powerful vocals all the while backed up by the powerhouse that is Steve Harris and Nicko McBrain.  While it has all this, 'Senjutsu' as an opener feels a bit lacking in punch.  When compared to previous album openers, even those albums that have been ultimately less well received than others, track one has always had a punch to announce the album's arrival. Is this a mark of more subtle Maiden, a more reserved approach? Nope, a quick drum fill and a galloping guitar riff and we launch into 'Stratego'.  Firmer ground for many and an excellent single choice.
As the album progresses, there's an undeniable heavy prog feel that has come to be the signature of 21st century Maiden; however, whereas it could be said that previous recent albums fell short and missed the mark, 'Senjutsu' has an atmosphere that ignites the excitement of what Maiden are all about.  There's plenty of subtle nods to previous incarnations with melodies and solos that conjure up 'Powerslave' and 'Seventh Son of A Seventh Son' eras. The blending of this is sure to please many and with tracks like 'Lost In A Lost World' and 'Days of Future Past' it's another big tick for the album.
On the subject of sound, the mix could present a bone of contention for some.  It comes across as almost too compressed and muddy in quality with some of Bruce's vocals becoming lost behind the wall of guitars. On an initial run through that is definitely how it could appear.  However, after a few run throughs, any misgivings fall away.  The mix works.  From start to finish everything has a clearly defined space and place within the production.  On occasion the vocals may come across as restrained; however, this allows for the moments when Bruce lets go to really stand out. Furthermore, the guitar work is showcased to such an extent that it's possible to pick out the three different players as they intertwine to deliver hook after hook and the precision solo work.
As previously stated, the track lengths may give some reason to balk at first sight. There have been tracks on past albums that could have benefitted with some editing to streamline both track and album runtime.  With 'Senjutsu' closing with three ten-minutes plus Harris epics, there is a danger of the good work being undone in a wash of over stimulation and repetition.  Happy to report, this is not the case.  Each track stands alone without bleeding themes into another.  This helps to break up the closing stages but also allows 'Hell on Earth', the crowning moment of what is a superb album, to shine.  With a dark, emotive feel running throughout, the band hits their collective form.  The introduction builds the layers before it bursts into life delivering one of the most memorable guitar riffs of the album.  'Hell On Earth' could stand alongside 'Phantom Of The Opera' or 'Hallowed Be Thy Name'.  If someone asked you to describe Maiden's sound, you could do worse than referencing 'Hell on Earth'.  Precision guitars delivering the hooks, pounding drums, galloping bass and howling sing along vocals.  This is what Maiden do best and they are peerless at it.
It is testament to the song writing that the hour and 20 minutes pass by without the music feeling stagnant or without purpose.  The album in fact moves at a fair pace delivering some of the band's best work in recent years.  Given the mix of their modern style with hints of their earlier work, there is something for all Maiden fans to enjoy.  It's also easy to envision how these songs will work live, delivering an intense feel and sing-along aspect by the bucket load.  'Senjutsu' is undeniably a hit and will go down as a classic of the modern Maiden era.
All content © Über Rock. Not to be reproduced in part or in whole without the express written permission of Über Rock.