By Bona Pjarren and Gordon Goligher
Having just about recovered from the previous evening's exertions, we arrive bright and early on Sunday afternoon for more pogo-tastic action and in good time to enjoy the first band on the main stage. Unfortunately, a few Covidications have led to some changes to the day's billing, but that's a minor issue, as well as a sad fact of life for many events such as this… As per yesterday, we're splitting the action between the two stages, so up first here are the Gordon's thoughts :on what wend down in the second room…
Coming is as a last minute addition to the bill to kick off the second day's action are the wonderfully named King Effers, a four-piece band from Macclesfield/Sheffield – the first, and as it turns out, only local band on the bill. Originally known as the Fuckwits they changed their name when people consistently tried to alter it to avoid offence. They woke us all up after Saturday night with a ska/reggae/ trad punk sound. All songs tight, what a joy, a fan from Düsseldorf loved the sound from this great band.
Delivering their second set of the weekend, MC16 are as good as Saturday's main stage performance, but I feel that both the band and audience warmed more with an intimate smaller room.
Desperate Measures were a New Zealand answer to pop punk, a few years after the whole Sex Pistols thing, but they were fun and had a few good songs for all the punk posturing. They had a reasonably heavy following in their hometown of Christchurch, or it seemed so at the time. Now London based, this rock/punk band's Kiwi vocalist does not disappoint. The audience and I had a great time.
Kid Klumsy are a five- piece band based in Coalville who have served their time on some juicy support slots, have ventured into Europe, and now headline their own shows (as well as still doing supports). They also have their fourth EP, due out before the end of this year on STP Records, also obtainable on their first vinyl. They are a very entertaining band with both guitarists at times playing in the audience and a Jack Daniels fuelled vocalist wearing various improvised head gear and researching male undies with audience members in the front row. They had a super take on punk with a great three vocal sync. A unique time.
Department S are a British post-punk/new wave band formed in 1980, who took their name from the 1960s TV series and are best known for their debut single, 'Is Vic There?', which was originally released in December 1980 and reached No. 22 on the UK Singles Chart the following year. Their disconnected, suited vocalist stares into the distance 'til it is time to go. Then, rhythmic chants with some skiffle style guitaring and a totally reliable bass, their first songs were from the '80s and they finished off with new stuff. The band is heading in a great direction, and the audience and I loved their performance despite numerous feedback issues.
And now back to Bona and the main stage…
Knock Off are a hard-hitting trio taking their influence from the early '80s UK punk scene. Thirty years on and the country's still a mess and Knock Off's sound is fuelled by anger and disillusionment at a country going down the pan and life in general. Live this band are an unpolished diamond. They have decent, if not particularly traditional punk, vocals which at times had almost a Levellers quality to them. They're also accomplished musicians delivering driving distorted guitars with a hint of melody. Knock Off are a good choice for a first band of the day.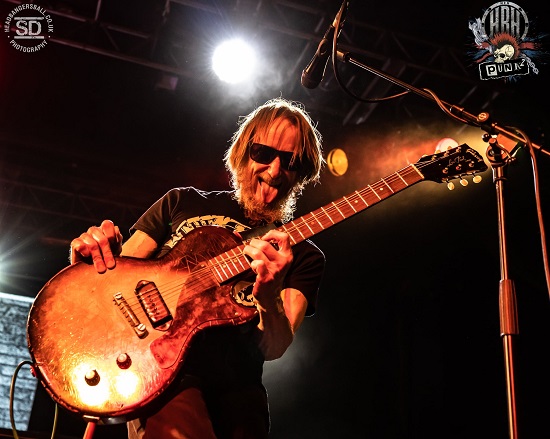 Alvin Gibbs and the Disobedient Servants are Alvin's first solo project. They have a certain tunefulness about them. There is a definite Stooges feel to some of the band's tracks, Alvin did serve as bassist for Iggy Pop for a while. On that note Alvin has also written a few books which include his memoirs of his wild times with the afore mentioned Iggy Pop. Alvin is perhaps most famous for having been a member of the UK Subs and this too comes across in the Disobedient Servants' music and delivery. The Disobedient Servants have a wry sense of humour on stage which endeared them to the audience. When the drummer messed up, playing a different song to the one they had intended, they had to restart. Alvin laughed, assured the audience that they would get there eventually, and then asked the audience if anyone out there played drums? Alvin is a great frontman and had me laughing out loud on a couple of occasions. It is so refreshing to see a band that have fun and don't take themselves too seriously. All in all, a thoroughly entertaining set from a wonderful band.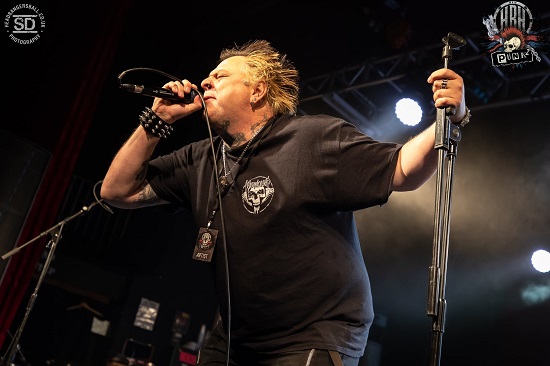 In the early 1980's, The Varukers were part of a broader trend known as 'UK 82', 'Second Generation Punk', or 'UKHC'. Bands such as The Varukers, Discharge, Chaos UK, Amebix, The Exploited and GBH took the existing 1977-era punk sound and melded it with the incessant, heavy drumbeats and 'wall of sound' distortion guitar sound of NWoBHM bands such as Motörhead. The new, harder-edged style also tended to use much darker, more nihilistic, and more violent lyrics, and vocals were often shouted rather than sung. The Varukers' live sound is a real assault on the senses. It is a relentless wall of sound delivered at frantic pace. It did take me back to my early days of death metal as the Varukers must have surely been an influence on this scene. Yes, there are Motorhead comparisons, but The Varukers have their own brutal edge to the way they do things.
TV Smith and the Bored Teenagers were probably one of the best bands today for me, and that is high praise because there have been some excellent bands performing. They did have a problem halfway through with a guitar, but after a brief break they came back. And what a comeback! The Bored Teenagers are an incredible band live. They are so tight changing tempo mid song is second nature and flawless. Believe me this is not an easy thing to do. In fact, musically they are the best band of the day. TV Smith's vocals are halfway between shouts and sung and there are some great vocal harmonies going on in places. And yet they still manage to retain their punk edge. They did their own distinctive take on 'Looking Through Gary Gilmour's Eyes' which if anything is better than the original Adverts version. They finished with 'The Good Times Are Coming Back', a real crowd pleaser, and they left the stage to rapturous applause. I'd definitely go and watch TV Smith again given the chance.
Anti-Nowhere League are yet another of those legendary English punk bands who are weighing the top end of this weekend's bill. They're possibly best known for their teenage anthem which they did a version of early in their set entitled 'Who Cares?' Rough growly vocals and rolling heavy rhythms combine to give ANL their distinctive sound. With a reputation for being a biker punk band, I can easily see their attraction to that community. Songs like 'Charlie Harper' really got the crowd clapping and joining in. Then it's on to 'Woman', a more contemplative side is displayed before shifting gear to crank up the inevitable angst. The nursery rhyme London Bridge is used as an intro to their take on the classic 'Streets of London', with suitable changes to make it truly one of their songs. 'Fucked Up And Wasted' has an unusual vocal harmony to it alongside the usual punk shouts which is very effective. And, of course, they had to finish on 'Anti-Nowhere League', their signature song. A great set from a great band.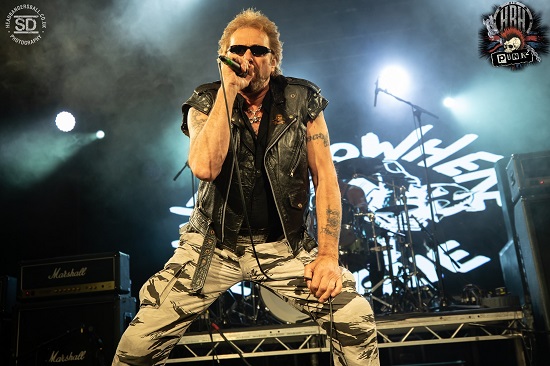 It is no wonder that Ruts DC are billed as the headline act, as they are consummate professionals. Apart from anything else they are a great little rock and roll band and the audience responds accordingly. Years of being together has really honed them as a unit. 'Staring At The Rude Boys' is played fairly early in their set and nicely sets the scene for what is turning out to be a thoroughly entertaining night. Another of the first songs played is 'Mighty Soldier', which includes perfect three-part vocal harmonies and their distinctive reggae and punk inspired grooves. They continue through their set playing some real crowd favourites, including 'Jah War' and 'Music Must Destroy'. Eventually they get round to playing arguably two of their most famous tracks, 'In A Rut' and, of course, 'Babylon's Burning'. The audience have had a great time and were not going to let Ruts DC get away without doing an encore. After much raucous encouragement they eventually returned to deliver versions of 'Lore In Vain' and the great 'Was It Something That I Said?'. What a great set and a fitting end to a superb weekend.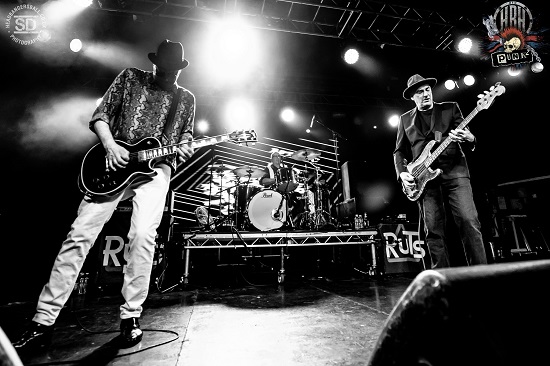 PHOTO CREDIT: All photos © Simon Dunkerley/Hard Rock Hell. Copyright remains with the photographer.
HRH Punk will return to the O2 Academy in Sheffield over the weekend of 1/2 October 2022.
All content © Über Rock. Not to be reproduced in part or in whole without the express written permission of Über Rock.