By Jase Walker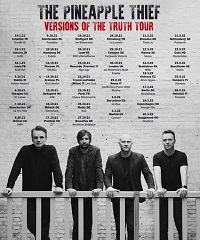 The Pineapple Thief have been on my radar for a while now but I've yet to actually get round to giving them a proper turn on my music rotation. Tonight, serves as an introduction and with a two hour set on the cards, this is inevitably going to be a fairly comprehensive experience.
Walking into one of my favourite venues in Manchester, the O2 Ritz, I'm greeted by a stage setup that looks incredibly busy with not one, but two drum kits, and probably the most cables I've ever seen on stage here.
As the time for our first act, Alex Henry Foster, approaches, the dull roar of conversation from the crowd steadily gets louder as more people appear in the venue. Looking around I certainly feel like one of the younger people in the audience, not that it matters much, quite used to this sort of age divide with some of the more niche artists I've seen over the years.
After a small delay, Alex Henry Foster and his ensemble band begin and seeing a four-string guitar played with a bow right from the outset, I can tell this is going to be a bloody interesting set. So, a bit further in, I was expecting something jazzy from the looks of what was on stage prior to this show, what I actually got was swelling Tool-eqsue crescendos and post-rock ambient passages. The amount of layering that's going on through this set is astounding, when the heavy parts hit, they're thick with bass heavy, pounding riffs and when the lighter passages return, there's a subtle drone and pulse which keeps you sucked into the experience.
I am really blown away by this set. It's no exaggeration that I've spent the whole set staring at them with my mouth completely agape. I feel like I've seen something really special here, absolutely sublime on all fronts, sonically fulfilling on all frequencies – including a low end so thunderous I've not felt the air vibrate around me like that since seeing Gary Numan… bloody hell.
Prior to The Pineapple Thief coming on stage, the amount of equipment is by far much more stripped back in comparison with their supports. The five-piece approach to rapturous applause, the crowd already bopping away and singing along right out the gate. The sound balance is fantastic too; every single part of the band is crisp, balanced, every nuance is audible, even the keys.
So far, the main thing that sticks out, other than the very slick, crisp performance, is that while this is very definitely prog, it's got all the rock sensibilities of a good hook and a catchy chorus.  Often labelling a band with "prog" is enough to turn a lot of people off because it's not uncommon for the genre to be inaccessible due to the nature of the beast, but The Pineapple Thief 'get' the art of a solid riff while still having the technicality to draw in prog purists.
One thing I absolutely love seeing is when bands absolutely nail harmonizing vocals, and these guys have this down to an art form. This whole show is oozing with professional style, there's no real gimmicks here or overdoing it on stage, it's very tame compared to some of my other gigs where I've had to watch out for all manner of objects or *people* flying at me and it's been a great change to stand and really soak up the sound and experience of the show.
All in all, this has been a great double bill and I'm especially impressed with Alex Henry Foster. I'd heard from others that he was one to watch out for and it blew me away. This show served to be a fantastic intro to both of these acts and if you can catch them before this tour ends, I would urge you to get along to at least one of them, superb stuff.
The tour returns to the UK at the end of the month, with dates at the O2 Empire Shepherd's Bush on 30 October and Bristol's O2 Academy on 5 November.
All content © Über Rock. Not to be reproduced in part or in whole without the express written permission of Über Rock.