By Jase Walker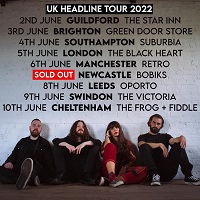 It would seem I can't stay away from this place in 2022.It was only a short while ago since seeing Codices and their ensemble supports here. Not only that, Civil Service, who were supporting that Codices show are actually now the main support for Giant Walker tonight too!
I seem to recall Hangnail were supposed to be on support tonight but sadly looks like they weren't able to make it so it's just the two bands on tonight.
Local Manchester lads, Civil Service put on a solid show last time despite some of the sound issues muddying things up, but that is absolutely not the case here tonight. The instrumental post-rock quartet sound absolutely bang on with their sound balance, it really brings out their beautifully melancholic vibe. Channelling many of the bigger post-rock giants that came before them such as Explosions In The Sky, And So I Watch You From Afar and This Will Destroy You, each song roars into a grand crescendo and fills the room with sound.
One of the more interesting influences that seems to shine through in their sound is a lovely smattering of Joy Division with the Peter Hook style bass tones and reverb laden arpeggios. There's a lot of different bits going on here, sometimes bordering on doom in parts with slow, pounding passages and droning guitars. On the whole, definitely a much better sound and tighter experience than before, to their credit. Next stop hopefully a spot at ArcTanGent? I hope so!
Giant Walker get straight into it with the opening track of their album and I'm singing along already. I've been rinsing that album constantly! 'The Fact In Fiction' is every bit as chunky as it on the album and then some, Giant Walker sound bloody fantastic right from the outset! Every song sounds gigantic, every riff cuts through, the bass thunders along and the drums support it all without saturation all the while the vocals are dead centre, excellent.
My eyes keep being drawn to their bass player: he's got a fantastic technique, no massively busy fills, just exactly what's needed to give the songs texture but adding that extra oomph to the chunky riffy bits. The vocal harmonies shine through in a sublime fashion too, it's hard to believe that it's just her in some parts but seeing this live, it most definitely is!
We're barely at the halfway point and Giant Walker have been so much more than I could have anticipated. The stage performance has been bombastic, so much movement to see on stage in addition to how massive their sounds been, a fine example of how to put on a great show, even with quieter songs like 'Past The Peak' with its dreamy soundscape, still maintains a wonderfully full sound that permeates every corner of the room. This right here is quite literally why since reviewing their album, that I have not shut up about them for weeks, and this only adds to the reasons why I will continue doing just that.
Finishing off with one of their biggest singles, 'Katoomba', with its fat bouncy hook ends a set that I feel very privileged to have seen in such an intimate setting and being able to witness the debut albums songs are their most raw.
Giant Walker are a rare find of a band that has a strong artistic vision so early on in their career and have poured every single drop of that into 'All In Good Time' and produced an incredible debut album. Not only that but, in this show, I've basically got to listen to the entire thing in full which is a rare treat. They should be incredibly proud of what they've done here. and I thoroughly hope I get to see these live again regularly over the coming years on ever bigger stages!
All content © Über Rock. Not to be reproduced in part or in whole without the express written permission of Über Rock.