By Jase Walker
Here it is, the official start of 2022's festival season and I literally couldn't stop myself from waking up at half five this morning from excitement. All ready in my "festival outfit" and picked up by a good mate of mine bright an early and accompanied by a few other close friends, it's time to throw the worldly cares to wind for a day in Temple Newsam Park. The forecast looks decent despite a rainy start, but I don't feel like it'll do much to dampen anyone's spirit for today's forthcoming shenanigans.
I got myself into the arena and sorted with my press bits early to save running around doing it later and I was about to go find the rest but got distracted by Nova Twins doing a sound check with 'Choose Your Fighter'. After a short while I rejoin the others waiting for the arena to properly open at 11 and make straight for the rock scene stage for the first act of the day, Beauty School!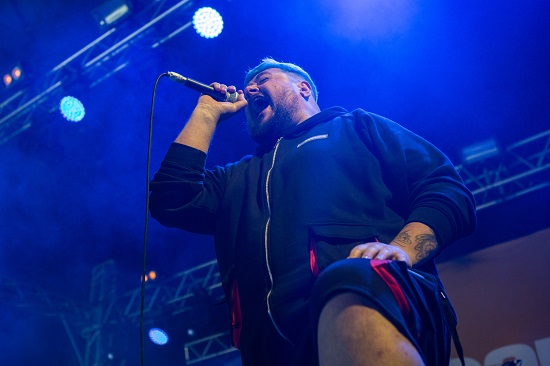 The local Leeds lads came to my attention after being booked by friends of mine back in Middlesbrough and I really liked what I heard so wasn't going to miss this. These guys are just some real feel good rock that's a good old slice of post-hardcore, paying homage to the likes of Funeral For A Friend. It's not just that though, there's definitely some math rock overtones here, they've got a solid crowd going for the first band of the day here too!
Beauty School shows how much they appreciate being able to play a show like this, they've done amazingly well so soon in their career and for good reason. This stuff is all just great song writing, catchy riffage and just a massively happy vibe, what a great bunch of lads. They've mentioned a number of times they've got an album due out in September and I will most definitely be rinsing that, can't wait for it!
Following this a quick zip across the arena to get across for Cassyette since they made quite a splash with supporting My Chemical Romance recently and hearing many good things about the performance. Honestly, they're well backed as well, it sounds fantastic and her vocal style reminds me very heavily of Pink, backed up by the similarly punk sound of songs like 'Just Like A Pill'. The sun has made itself known and gone are the dreary grey clouds and cold wind, we are officially basking!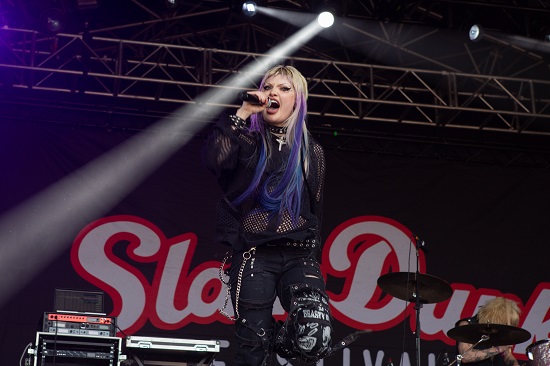 Cassyette blows me away with the sort of riffage they're kicking out, the show errs between punk rock and some of the meatiest metal riffs, what a show! I'd heard a couple of tracks prior to seeing this but the variety here is outstanding! I fully love this pop infused rock and metal stuff that's becoming more prominent recently and Casyette are a great example of this.
Sticking around at the Jägermeister stage to catch a bit of Counterparts, would be rude not to after seeing them lay waste to Manchester's Rebellion venue a while back! Oddly they're probably the heaviest band on today too, and no doubt they'll be causing some ruckus! They've got a massive crowd here too and there's a pit going mental already, pulling no punches here.
Also taking this chance to unveil a new song and it's a bloody ripper with a bloody filthy breakdown in there, Counterparts displays how metalcore can be absolutely fucking brutal when it wants to be. Sadly I can't stick around for the full set since I'm already fully committed to getting the full set from Hot Milk which I'll be heading to shortly.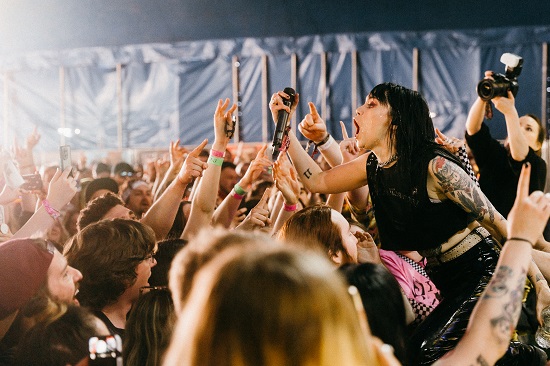 A quick dash over to the Rock Scene stage barely missing the start of hot milk, currently one of the hottest bands in the up-and-coming circuit right now. Despite sounding a bit croaky in between songs, she's digging deep and throwing everything she can at every song. The crowd in this tent is absolutely massive, it's still sort of early in the day and they've packed it out front to back so it's easy to see how popular they are. The Manchester pop rock duo are smashing it here, infectious choruses, catchy riffs, hot milk have got it.
They err between uplifting punky bits and full-on gurn worthy riffs, and the best part is that it's so accessible and easy to get lost in it all. I'm actually quite glad that Slam Dunk has been my first chance to really see these, there's something special about getting to see them with such a huge crowd that loves them so much that screams the words back as loud as they're doing here. In such a brief show, I've gone from knowing of hot milk, straight to being full of adoration for them. Oddly I think I'd describe this experience as wholesome, it's left me with a warm feeling and a satisfied grin on my face. I'll be making sure I don't miss any of their shows in future!
So, we have a bit of a break, time to get some food in me as I'm absolutely starving and take this opportunity to go for a bit of a wander around. Poking my head into the Guest area, I bump into the TPD TV guys which is actually what I was hoping for and had a bit of a chat, lovely guys. But this doesn't last long before I need to make my way to the Jägermeister stage again for one of my main draws for today, Electric Callboy!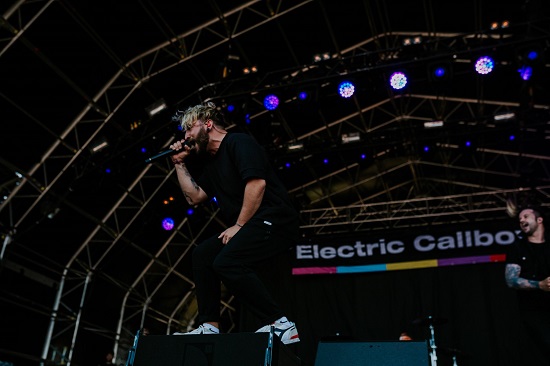 I've managed to snag myself a great spot right at the front barriers, I'm absolutely baking at this point under the brutal sun; not that I'm complaining! Opening with 'Pump It' everyone immediately loses their mind and I'm right in the middle of it! Sadly, their drummer couldn't make it but they still got here and I'm glad for it. The amount of movement I'm having to stabilise myself through is crazy, I'm having to be careful when I take notes since I've literally had the Queen crowd surf over my head.
Admittedly it's clear that a lot of people here are similar to myself in that they're definitely more familiar with the most recent singles since 'Hypa Hypa', myself included. This hasn't stopped everyone bouncing away to the older stuff mind, but the older songs are definitely very different to the newer, rave infused stuff. 'Spaceman' sees even more crowd surfers coming over my head while everyone around me bounces non-stop through the whole song. But next is 'MC Thunder' and here we go, even more bouncing time and the security is doing a great job of keeping the crowd surfers from wiping us out at the front!
I don't think I've ever been forced to do eight jumps to the left and back to the right before but here we are. 'Hypa Hypa', the song that started this new era gets even more crowd surfers coming overhead, the mix of German rave and metalcore whipping everyone into a frenzy. But one last song, it's 'We Got The Moves', this is the end game here, getting everyone to do some 'pigeoning' just like the video, amazing.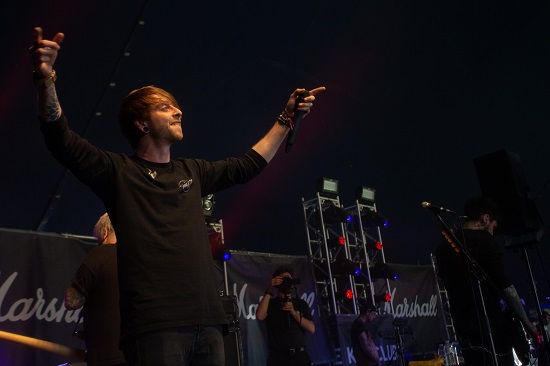 Sadly, I barely got to catch any of Amity Affliction due to rescheduling so for me, the next on today is Caskets. These guys released a fantastic album recently so getting to see these was something I wasn't going to pass on! On the smaller Key Club stage, and another local band here, it's great seeing local representation! It's also nice to get a bit of shade too while watching one of newer favourites and they are smashing it! Album opener 'The Only Ones' is going down a storm, and I'm so glad that,in a similar fashion to hot milk, Slam Dunk is my first time seeing them.
'Lost In Echoes' with its massive chorus is another favourite off their album and I can feel my voice straining trying to keep up with singing the chorus. Finishing off a set that leaves me hungry for much much more with 'Glass Heart', I think it's sad that they didn't get longer but that's why I'll be making sure I never miss a chance to see them at their own show. Top job lads, you should be proud of yourselves.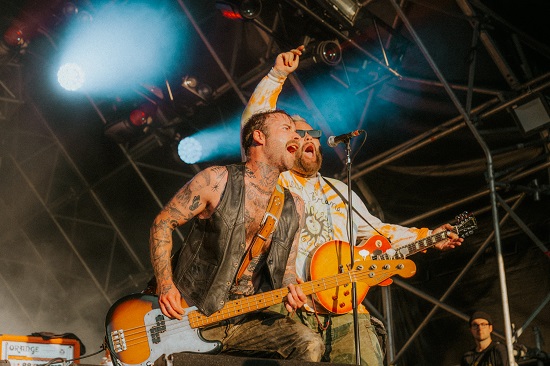 For my penultimate band of the day, Alexisonfire on the Jägermeister stage to get a bit more in touch with my earlier post-hardcore days! They chose to play 'Boiled frogs' at a very inopportune moment while I was having a nightmare at the bar, legitimate banger though! I do wish I was a bit better at knowing their back catalogue despite them being one of my main draws! Not that it's impacting how much I'm enjoying this set so far!
Alexisonfire keep going with their set, it's been a fantastic headline act for the Jägermeister stage.
Despite Sum 41 being the big one, Nova Twins are my preferred band to wrap up with for today. I've been thinking about them constantly since the sound check this morning and knowing that 'Choose Your Fighter' is in the set makes me so excited! Finally, Alexisonfire rock out with 'This Could be Anywhere' before I go for a quick break and get a beer ready for Nova Twins!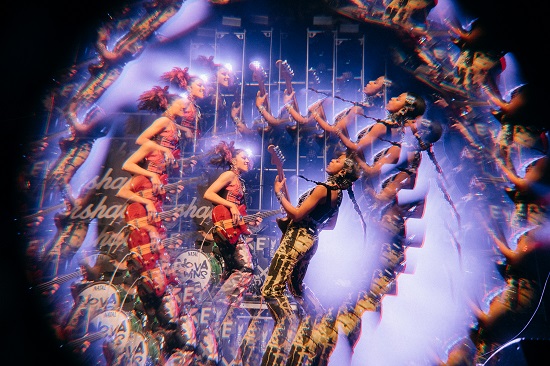 The Key Club stage Left is set to bounce with the Nova Twins, the best raw energy to finish the day with. This pair blew me away with their performance supporting Enter Shikari a short while back and I've been eager to see them live again. This time with a bit more of a bit more of an intimate show, and I'm getting so much more out of it than that first experience!
Nova Twins may have a smaller crowd than the other larger bands I've seen today but the crowd they've got are more than making up for it in raw enthusiasm. Nova Twins are brash energy incarnate, every single song dripping with style. The vocals, sodden in attitude, the melodies, infectious, the bass, fat as fuck. The moment they hit 'Choose your Fighter', a new song off the album, I was right in there because that chorus is big. Nova Twins may have had a shorter set as a headliner, but the impact they had was massive. This pair are going to go further than anyone right now is anticipating and getting to witness this in its early days is something that I'm going to carry with me years from now when seeing them headlining far bigger stages than this.
This wraps up a fantastic day at Slam Dunk North, it's been an amazing day where I've seen a couple of acts that I've seen a number of times before as well as quite a few that I've experienced for the first time. Same time next year then eh?
PHOTO CREDIT: Photos courtesy of Slam Dunk/Bethan Miller/Eddy Maynard/Jamie Macmillan. Copyright remains with the individual photographers.
All written content © Über Rock. Not to be reproduced in part or in whole without the express written permission of Über Rock.