As I was driving to the Avid Xchange Music Factory to my familiar haunt The Fillmore, the following song lyric was stuck in my head.  "We some money! (We need some money!) I'm talkin' about moolah y'all (I'm talkin' about moolah y'all!)"  Now, if you're a fan of a certain band then you absolutely know at this point who I am going to see.  That's right, I'm headed to see Clutch and it's been a while since I've seen them so I was definitely pumped up for the show.
In an interesting turn of events, as I made my way up to the box office, my favorite security guard started yelling my name before I even crossed the street. It turns out the show had already started, even though my arrival time was 6:54 and the doors were set to open at 7pm with the show kicking off at 8pm. Luckily there was no line and I breezed right in to see what was going on. For whatever reason, the show started at 6:45 and the opening act Nate Bergman was already on stage, about midway through his set. Since this was a shoot from the crowd gig, I quickly strapped on my camera to grab a few shots of Nate.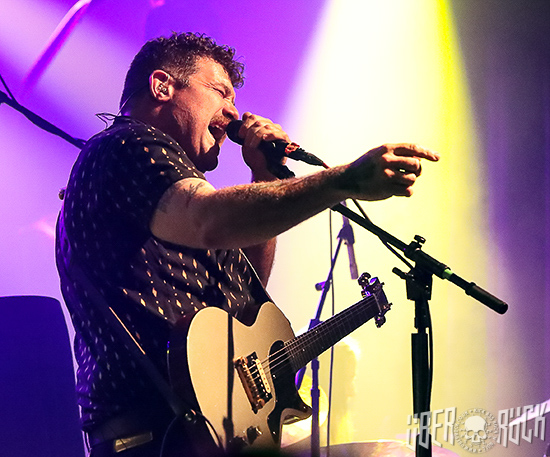 Although I didn't get to see and hear much, about two and a half songs, I was incredibly impressed by Nate's performance. He has a real singer/songwriter vibe to him, and his music was a great blend of blues and rock with a bit of a country twang. What really stood out was Bergman's vocals which were astounding. His voice soared over the early arrivals and filled the venue with a passion that could not be ignored. I may have only witnessed a little more than two songs, but Nate won me over in that short amount of time and I hope I get the chance to catch his performance again, in full next time.
Almost as soon as Nate exited the stage, The Sword made their appearance. Everyone down front was extremely hyped up for this performance and The Sword did not disappoint. With the stage awash in red lights, the band quickly kicked off the night with 'Freya' from their 2006 debut album 'Age of Winters'. Vocalist John D. Cronise had his spot behind the center mic, guitar in hand while bassist Bryan Richie was quietly off to his left. The lights were changing color and contrasting with the music but the focus was not the stage show but the music and the band.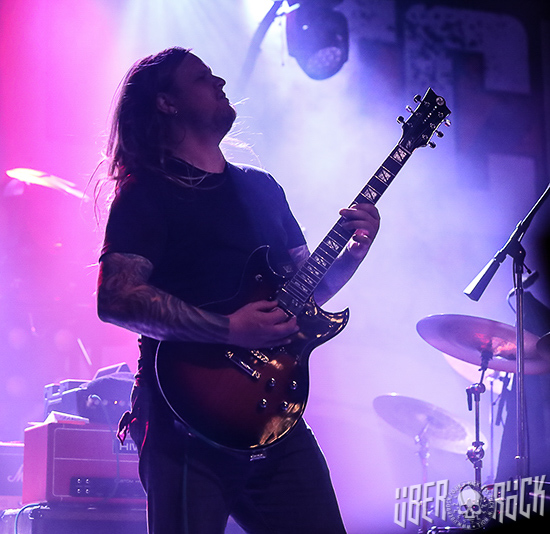 Kyle Shutt is an absolute master on lead guitar letting his fingers do the talking all set long.  Santiago "Jimmy" Vela III was a force of nature behind the kit, bringing the thunder louder than Zeus himself. It's a bit hard to categorize the music of The Sword, some call it stoner rock, some call it sludge or doom but I'm just going to call it heavy as hell because that's what it is.  Their songs have amazing structure and outstanding lyrics with a lot of melodic appeal. The crowd was in tune with the musical vibes as The Sword held them in their grasp. If the evening ended there, I could have gone home happy but there was still much more to come.
This time there was a bit of a break between sets before the lights dimmed and we heard the all too familiar sounds of Chuck Brown and The Soul Searchers' 'We Need Some Money' over the loudspeakers. Instantly, we were all in the groove, bopping our heads and singing along as we waited for Clutch to hit the stage . Drummer Jean-Paul Gaster was the first one out taking his spot behind the drumkit with guitarist Tim Sult making his way stage-right followed by bassist Dan Maines who was set up stage-left and a bit to the rear.  Then the one and only Neil Fallon comes out and we are off and running with two tracks off the 'Psychic Warfare' album, with 'X-Ray Visions' and 'Firebirds' back to back.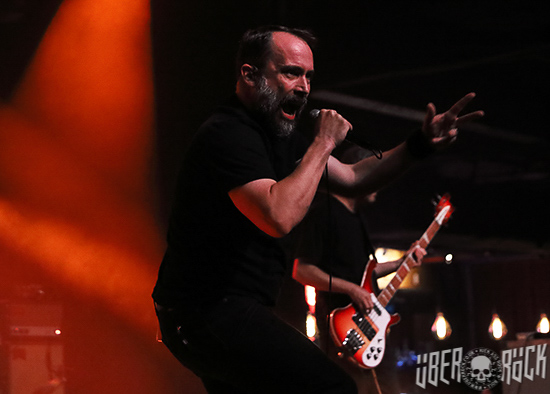 There are some bands that possess such a unique sound that one can instantly recognize their music and no description is needed. Clutch is one of those bands. There is nobody else who sounds like they do and in today's day and age, that is a magnificent thing. The focal point of the show is the music. You won't see any pyro or fog machines at a Clutch show. What you see is what you get and leading the pack is Fallon whose every facial expression and body movement is nuanced, feeding off the energy of the crowd. When he sings 'Streets on fire, the mob goes wild,' the crowd certainly went crazy.  He is a ball of energy, gliding from one end of the stage to the other at a frenetic pace as he pumps up the crowd even more.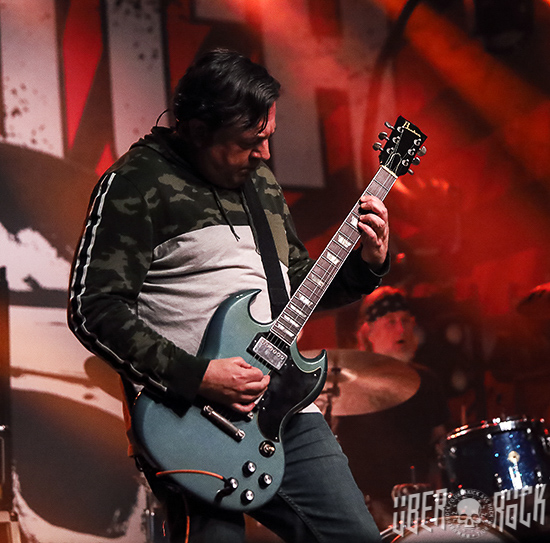 Ever since their 1993 debut record, 'Transnational Speedway League: Anthems, Anecdotes, and Undeniable Truths', Clutch have been doing things their own way, setting the bar high for every rocker that comes after them. Tonight's show was no different as we were sonically amazed with a setlist that covered ten different albums, a single, and a cover of Black Sabbath's 'Lord Of This World.'
What a night! If you haven't been to a Clutch show, you may not understand why Clutch fans are some of the most loyal in the world. So get to a show and find out…
'Robot Hive/Exodus' has just been released as a 7,500 limited Collectors' Edition double vinyl album.
Clutch play Limelight 1 in Belfast on Tuesday 26 July (sold out) and The Academy in Dublin on Wednesday 27 July. They then return to the ÜK in November for shows in Glasgow, Newcastle Upon Tyne, Leeds, Exeter and Brighton, and again in December for gigs in Bristol, Manchester, Birmingham, Nottingham and London.
PHOTO CREDIT: All photos © fiascokris/Über Rock. You can view our full gallery of photographs HERE.
All content © Über Not to be reproduced in part or in whole without the express written permission of Über Rock.