By Jonny Bakes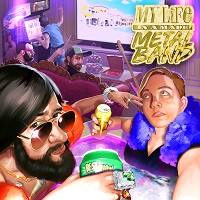 Everyone knows that I'm a bit of a sucker for a gimmick and love my metal to come with a healthy dose of comedy, so that whenever something a little left field drops in the ÜRHQ inbox I find myself pouncing on it. This time I was drawn in by the concept of chapter two of life in extreme metal, which follows the first chapter 'My Live In A Mediocre Metal Band' that documented the struggles of the band trying to make a break in the tough metal world. Lo and behold though, the band did indeed make it and became something pretty big which naturally leads into 'My Life In A Made Metal Band' which promises to be just as tongue in cheek as its predecessor.
The result is something that toes the line between Nekrogoblikon and Dethklok to bring a pretty scathing look at the familiar tale of your local band becoming successful. Just some of the topics that crop up over this album is the general sense of being better than anyone else, charging stupid amounts of money for meet and greet packages, forgetting former friends, launching a hot sauce brand and hiring stand in musicians when you can't be bothered to play. These, and many more tropes, are wrapped up in some pretty brutal riffs and chunky bass lines that would stand out well without the comedic elements and are generally pretty catchy as well!
The music is interspersed with short skits that further embellish the story that is weaved through this album (and continues from the debut album), some of which really tickled me! Particularly the mention of bass string shavings to add extra flavour to the branded hot sauce which is so ridiculous that it's conceivable that some band will (or has) attempted to do the same.
To get the full impact of 'My Life In A Made Metal Band' you really need to listen to the album in full to catch the theme of success followed by the inevitable self-destructive decline. It's a real rollercoaster of a ride from the heights of finally breaking out, to the struggles of being able to stay relevant, the hidden despair of success, the fall from grace and then ultimately redemption. However, there are a couple of tracks that stand out well on their own and could be listened to in isolation (in a way, it's similar to the 'Joris' albums from The Hell).
'Better Than You' is definitely one of those songs that sticks in your head, with its slow brutal riff and tales of grandeur. There's a brief snippet of synth that crops up from time to time that really does remind me of Nekrogoblikon. The chorus of this one is pretty simple and self-explanatory with the repeated line of "we are better than you" as Timōrātus drum in how much the success has gone to their head!
All in all, this is an album that had me chuckling throughout and was far too relatable! Definitely something for fans of Metalocalypse and Belzebubs as the humour is very similar, and the music bears a similarity to Dethklok. I wonder what the next album of this story arc will be: perhaps something like 'My Life In A Has-been Metal Band'? Either way, I'm definitely here for it and will be spinning this, and the debut album, back-to-back for a while!
'My Life In A Made Metal Band' is released today (Friday 10 June). You can get your copy HERE.
www.facebook.com/timoratus.music
All content © Über Rock. Not to be reproduced in part or in whole without the express written permission of Über Rock.