By Monk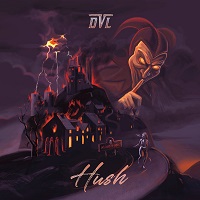 We first crossed paths with Glaswegian mob DVL (yeah, we get it!) at the beginning of April, when their embracing of their love of horror movies earned them our coveted title of #VideoOfTheWeek with their entrance into 'Eternity', the first in a trilogy of clips telling just some of the dark tales now extrapolated further via the release of this, their second full-length album.
And it is in an album that has been a long time in the making, as they released their debut, 'The Pawn That Took The King', under their original moniker of Devil May Cry 'way back in 2013. So, has it been worth the wait? Well, I'm glad to report that, whatever travails the band have been through in the intervening period, the answer is a very affirmative "yes" as 'Hush' defies its title by being packed to the brim with raucous rock 'n' roll 'bangers of the most superior order.
Sonically, a very obvious comparator on an initial listen is to Trivium, as the band very much plough that melodic groove furrow that Heafy and co have virtually made their own. But, as should be the case, that is not where the story ends, as there is so much more going on, as the album opens more and more musical envelopes as it progresses along its aural journey.
Opening track 'Among Us', for example, starts off with a Megadeth-style snarl, while 'Dead Man's Switch' has some neat alt-metal memes bubbling under its Sabbath-infused sub-thrash surface. 'Parasomnia' sees them pummel their way into almost 30STM-meets-Manics territory before the totally fucked up 'The Pitch' takes things totally left field, melding stoner, gothic noir, jazz and proggy psychodrama into one insane package that is both confusing and intriguing, complete with suitably haunting saxophone interjections and mournfully retrospective torch-style vocals.
This latter point is reinforced when the band immediately return a sub-operatic alt-prog meets post-punk vibe with 'Hallows', which utilizes background gang vocals that come across like a cross between 'November Rain' and 'Black Parade'… Yes, there are some heady mixtures being concocted here, but it is definitely a case of "shaken not stirred" – or the other way around – as this particular cocktail of musical blendings slips down as easily as a perfectly crafted Daiquiri.
It may sound, from my comments above, that DVL have taken a random list of ingredients and thrown them the wall, then sat back and watched what fell into the mixing bowl. The result, however, is an impressive collection of songs that keeps your attention and interest for the duration of the album and then has you immediately hitting the repeat button to catch up on the subtle little ingredients and morsels of eclecticism that you missed first time around… or even the second… or the third…
'Hush' is out now. You can get your copy HERE.
All content © Über Rock. Not to be reproduced in part or in whole without the express written permission of Über Rock.