By Jase Walker
It's not often I get the chance to go for a massive city festival that's quite literally in my own backyard, but Outbreak Fest is going to be it for 2022. Three days of some of the heaviest, most face-melting bands in the scene right now and I'm going to be stuck right in the middle of it in Manchester's Bowlers Exhibition Centre, so I'm going to shout out what my most anticipated acts of the weekend will be!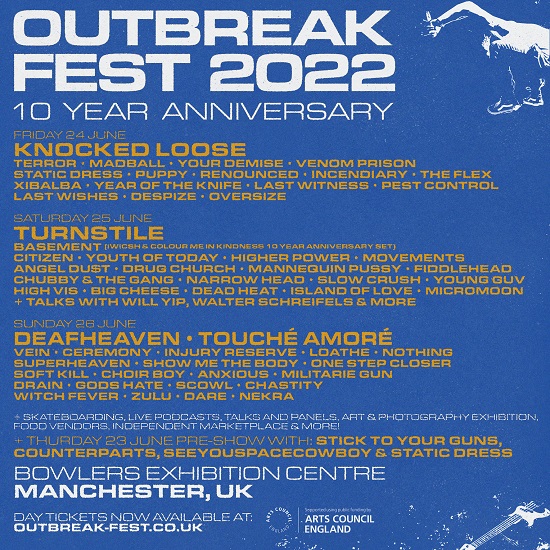 There is also a Thursday pre-show as well with its own pretty stacked line-up featuring Stick To Your Guns, Counterparts, Seeyouspacecowby and Static Dress. Hopefully I can make it along to this as well, maybe get a chance to double-dip seeing Static Dress too!
Friday
Puppy
Still relatively new to my list of bands that have wowed me, this band absolutely smashed it when I saw them at Deaf Institute in Manchester just two weeks ago. The London three-piece have a sound that's far bigger than the sum of its parts and it's just some great, feel-good rock. There's no chance that I would pass off a chance to see these live again.
Static Dress
Static Dress have come on in leaps and bounds over the past few years and released one of my favourite albums of 2022 so far, so it'll be fantastic getting to see them again with a much better familiarity with their stuff. It was clear after seeing them with Funeral For a Friend a while back that they're on the up and up, catch me in their pit!
Venom Prison
'Erebos' is one of the finest death metal albums you'll ever get in your ears, there's no other way of putting it. Venom Prison are both terrifying and exhilarating to watch, their live performance feels like they just want to lean into your face and scream the bloody thing off your head.
Saturday
Slow Crush
Beautiful, melancholy shoegaze. The type of band you don't need to go crackers to, you can stand there and take in all of the intricacies of their music and let it wash over you like a warm blanket. A breather if you will amongst the wild ride of everything else this weekend.
www.facebook.com/slowcrushband
Movements
Again, another band easier on the ears, championing the post-hardcore era sound of bands like Alexisonfire or Taking Back Sunday. Good old fashioned, easy to sing along stuff. They're a solid example that Outbreak isn't just for hardcore, there's so much more variety here!
Turnstile
These really took me by surprise when I first listened to them. From what I'd been told by friends prior to listening to their latest album, I didn't expect to get taken through a journey that sometimes ends up sounding like the Pixies in some parts. I missed a chance to see these live with Higher Power recently, so Outbreak is going to be my first experience!
Sunday
Deafheaven/Touché Amoré
Sunday for me is all about this double headline slot. No doubt I'll be doing some digging to find some gems across the day on Sunday (I'd recommend checking out Loathe – Monk), but I cannot overstate just how much this booking makes me incredibly excited. I missed the chance to see both of these on their co-headline tour back in 2019, so this is going to be me making up for that and hopefully being able to go to work on the Monday.
Outbreak Fest takes place at Manchester's Bowlers Exhibition Centre over the weekend of 24-26 June. Tickets are available HERE.
All written content © Über Rock. Not to be reproduced in part or in whole without the express written permission of Über Rock.