By Jase Walker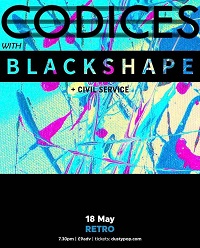 The weather's hotting up finally and so is the amount of gigs going on in Manchester, so I think it'd be daft to say no to seeing Codices again but this time at Retro Bar. I'd caught these previously a short while back with Poly-Math and it was a great show so I wouldn't pass off the chance to see Codices do it all over again.
This time they're the headline act and they've brought along Blackshape and a guest support, Civil Service. As usual I've arrived bang on doors (OK, maybe a bit earlier) ready to catch any goings on, and gotta support the supports!
Post doors, people steadily start filtering in just as Civil Service take the stage and get ready to start us off for the evening. I've not heard of these or Blackshape so I'm going in blind and excited to see what they do! I've just spied that the bass player is armed with a drumstick so that's always a good sign of a more left-field approach to playing. They start off with a droney bit of noise with a slow, discordant arpeggio before kicking into a sort of stoner-rock meets The Cure type passage.
This is definitely without a doubt a nice chunk of post-rock here, long but dynamic passages which add up to lengthy songs. The guitars sound ever so slightly out of tune however which marres the set a bit, the levels of each guitar are a bit all over the place too so the sound's a bit muddy. I do have to say when the main two guitars are focusing on separate roles (Rhythm and melody) the sound of the band really shines, just when they're both trying to do similar things it becomes a bit more fuzzy. On the whole solid act to open, quite enjoyed them as despite some of the sound being a bit off, the good bits were really good.
After a nice quick changeover, it's time for Blackshape, all the way from Utah in the States and describing themselves as Post-Mathcore. Three guitarists as well, all Gibsons too, all going through some pretty meaty looking pedalboards. I think I get what they're going for by saying Post-Mathcore already though, all the disjointed time signatures, rhythms and bizarre discordant riffs all mixed with that lovely post-rock atmosphere building. The bass is a bit quiet in comparison with the rest, or rather, I can hear it but not feel it so the rhythm doesn't quite seem as punchy as i'd like but nevertheless, I'm already sold on this (no, seriously, I've already followed them on Spotify, it's going to be my gym music tomorrow).
The further we get along in the setlist, the more I'm getting sucked into it. Blackshape masterfully weaves atmospheric layered guitars over the top of the rhythm being driven by the bass and drums, there's no overplayed passages. Every segment they're playing is interesting, infused with a unique identity, almost feeling as if it's telling a story purely through the emotions of the phrase. Some sections are more panicked, anxious even, others are dreamy and a bit playful, some tense and leaning straight into straightforward mathcore that'd tickle the fancy of any Rolo Tomassi fan.
I don't think I can overstate how much these guys have blown me away here, I want to watch them all over again already!
After some brief technical issues, Codices get started, the bass player looking a little bit rattled by the pedalboard problems but hopefully the gremlins will stay away for now. It's great seeing these guys again as they stood out to me a lot at the Poly-Math show so seeing them back so soon with a headline slot wasn't going to be something I'd pass off. In-keeping with the post-rock theme of tonight but bringing their own brand of often upbeat and fun riffage, they're playing up to the full crowd now.
Admittedly this time round I'm finding myself paying a lot more attention to the interesting stuff their bass player is kicking out. The guys got a hell of a sense for a groove and a good knack for really subtly intricate licks here and there, also that Spector bass… lovely. Tonight, we're being treat to a new song by the name of… 'New Song 1': given this is post rock I'm actually a bit unsure if that's a working title or not but the crescendo of this song is a superb example of post-rock and its ability to create some real tension and then break it with a really bloody tasty riff.
Sadly, it seems they've had to cut a couple of songs out due to the issues before the start of the set, shame but it does happen sometimes but being professional about it, they're making do. Pushing on with the set it's clear that Codices excel at using sweeping, busy drums, against juxtaposed guitars while the bass carries everything else along, but not just that, they've got a great ear for when to just smash it all up with a big breakdown. Another new song, 'New Song 2' showing a bit of a theme here, and not just that, we're getting some vocals!
Codices are genuinely all fantastic at what they do, and the end result is a joy to listen to and watch, there's not a chance in hell I'd miss these coming around anywhere near me. Been a great gig tonight, Blackshape are going to get their album rinsed over the next few weeks.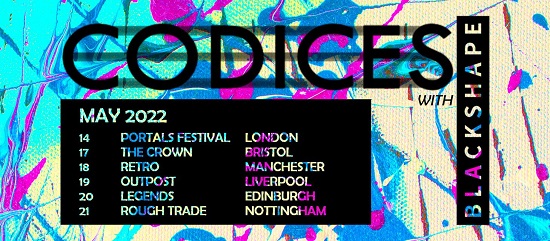 All content © Über Rock. Not to be reproduced in part or in whole without the express written permission of Über Rock.