By Jase Walker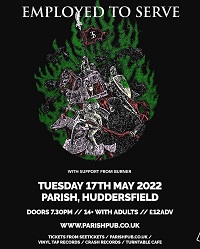 A stupidly humid day in the middle of May brings me to a new place and a new venue, The Parish in Huddersfield. I've been meaning to come here for a while now and sadly wasn't able to see Modern Error play here a short while back due to health issues. Employed to Serve took my attention a few years back with their style of hardcore laced with catchy melodies and some really bouncing grooves and they're touring in support of their latest album finally! 'Conquering' has been on my heavy rotation for a few months now, it's a bit more of a mature effort from these lot and I'm super excited to see how they put these songs across live. I don't have any doubts I'll be needing to keep an eye on the crowd at this show too in case I have to dodge an errant foot here and there.
After finally arriving at The Parish and grabbing myself a quick drink, I can hear the soundcheck from what I suppose is Burner and it sounds bloody terrifying: it's literally shaking the floor where I'm sitting! I'm also a bit taken back by how lovely this venue is, definitely making a note to come back, gig or not!
As Burner does their final checks and starts stepping up, people begin filtering into the room from downstairs. I'm looking forward to seeing what they've got in store after hearing the ruckus they were causing in the sound check earlier! I've not heard of these before but this is why I'm always here for support! They kick off and my god, the low end from these guys reverberates throughout the room and pounds my chest, off to a good start then! I ended up standing next to the Employed to Serve lot oddly enough, good to see them watching their own support.
Admittedly because the low end is so loud it somewhat saturates the sole guitar a bit so it's hard to make out what he's doing. By the mid-point this seems to be a bit better so the balance sounds more even, but despite the sound being much better by this point, the band (with the exception of the singer) are a bit stiff to watch – this could be just down to first date nerves though. As the show goes on, I gotta hand it to them, they do sound solid now the balance issues are fixed up, they've got some real solid grooves, gurn-worthy riffs and above all, a massive sound. Their singer's entertaining as well as animated to watch to boot too.
They mention that this is only their third show, and, on the whole, they've done well here. Just a bit less looking down at the guitars and standing still when playing and they'll crack it easy.
And, finally, we're onto the main guests of the evening, Employed To Serve. Here to shake up The Parish on a warm Tuesday evening, I've been looking forward to this for a while and the hype only builds as they walk on to the tune of the opening track off 'Conquering' – 'Universal Chokehold'. Justine immediately in people's faces screaming for them to move forward and the crowd gladly obliges. The thundering riffs bounce off every wall and shale the floor, Employed to Serve are always up to par, and then some, every time I've seen them; this is no exception.
Another new one, 'Exist', follows the album track order; I mean I'd be happy if they just banged the full album out honestly! Something really bloody catchy about the verse riffs in this song, the constant upwards chug and harmonics all over the shop, banger. Third track on the album, 'Twist The Blade', is up next, and I'm quite liking this setlist order. Justine's vocals sound stunning tonight, nevermind the rest of the band delivering the grunt behind her. Skipping over a track on the album to 'The Mistake' now, I'd like to hope they don't miss 'Sun Up, Sun Down' though!
As expected with this show, we're leaning super heavily on the newer material with 'Mark Of The Grave' on next, but we can't go without a bit of older material now and then! Finally we get the one I've been waiting for, 'Sun Up To Sun Down', and by now the crowd's suitably warmed up and going harder with each passing song and good god it's getting warm in here, I'm barely moving and I'm dripping!
'We Don't Need You' gets the crowd going in a singalong, probably one of the most massive tracks on the album and were in the home stretch of the last few songs so it's time for the big bangers now! Employed To Serve really know how to write a tasty bloody riff, and the new songs from 'Conquering' are sounding bloody huge, love it! Finishing with 'Party's Over' the crowd gets one last moment to go absolutely mental and what a finish it is to a solid gig and my first ever trip to Huddersfield.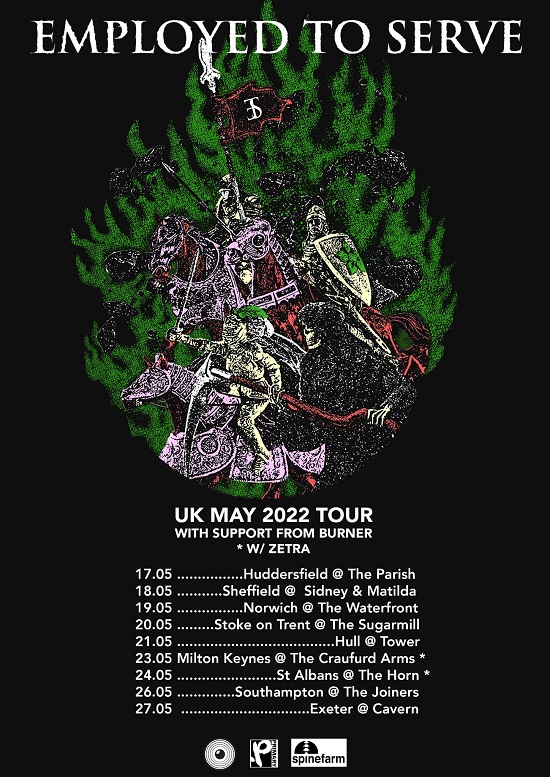 All content © Über Rock. Not to be reproduced in part or in whole without the express written permission of Über Rock.