By Monk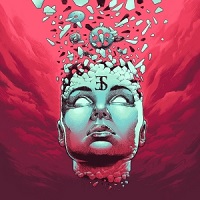 For the best part of the past decade, Employed To Serve are a band who have stood at the forefront of those acts reshaping the British metal scene, pushing back generic boundaries both in terms of their music, which has seen them criss-cross soundscapes with a vigour and bravura which would have many lesser bands quaking in their retro baseball boots, but also in terms of gender-specific role modelling, with vocalist Justine Jones having been a powerful voice, both literally and figuratively, in placing women firmly front and centre in terms of driving the artform to its next level.
Having initially started out as a two-piece grindcore project, ETS have gone on to intermingle elements of hardcore, grind, groove and progressive metal into one beautifully bestial harmonious whole, constantly pushing both their own boundaries and those of the listener to the limit, and then some. This development has been coupled with insanely intense live performances which have helped to build the band's reputation as one of the most seriously impressive acts in their field… not that they actually have one, if you've paid cognisance to any of the foregoing comments.
Now they seem set to, erm, conquer and dominate the metalscape even further, with what is ironically their most straightforward and easily comprehensible album to date, and one which, for the first time, sees the band wearing their influences on their sleeves and baring their roots for all to see. However, at the same time, they continue to push both their and our boundaries, by defying expectations and bending musical realities to their own mischievous ends.
A gentle guitar harmony, counterpointed with a simple string and melancholic piano arrangement, builds the opening tension before ETS deliver a characteristic 'Universal Chokehold' with fast and furious intent, the riff powering along at breakneck speed but the song still containing spade loads of melody, before a manic breakdown which will be guaranteed to open even the staidest of pits when the band get around to delivering it live. And as for that opening solo: well, it would sear a steak at 100 paces!
They slow things down, just ever so slightly, for the chugging, anthemic 'Exist', which sees them returning to their more grinding 'core roots, with its chantalong chorus and blistering intensity. Not for the last time on this album, 'Twist The Blade' has a very Slipknot feel, in both its stabbing (sic) main riff and Sammy Urwin's Corey Taylor-style clean vocal interjections, which themselves rise and fall with the ebb and flow of the song's structure.
Written and recorded against the backdrop of the arrival of Covid, 'Conquering' is understandably an angry album, which is evinced in the particular visceral vocals delivered Jones throughout and song titles such as 'We Don't Need You' and 'World Ender'. But, it also an album brimming with hope and passion, and a belief in the band – and, ultimately, their fanbase – to arise above the adversities with which we have found ourselves faced in the Covid era. 'We Don't Need You', for example, is a defiant, middle-finger raising declamation of those who seek to impose their will on the wider  populace, while the title track as a bold, brassy statement of intent of the power of the individual, and the collective will.
The result is a defiant, declarative album that undoubtedly emphasizes ETS's position as one of the most powerful and important bands on the UK metal scene, and a reward for all the hard work they have put into getting to that position. It is a vital album, in every respect.
'Conquering' is out now. You can get your copy HERE.
Employed To Serve will play five shows in November: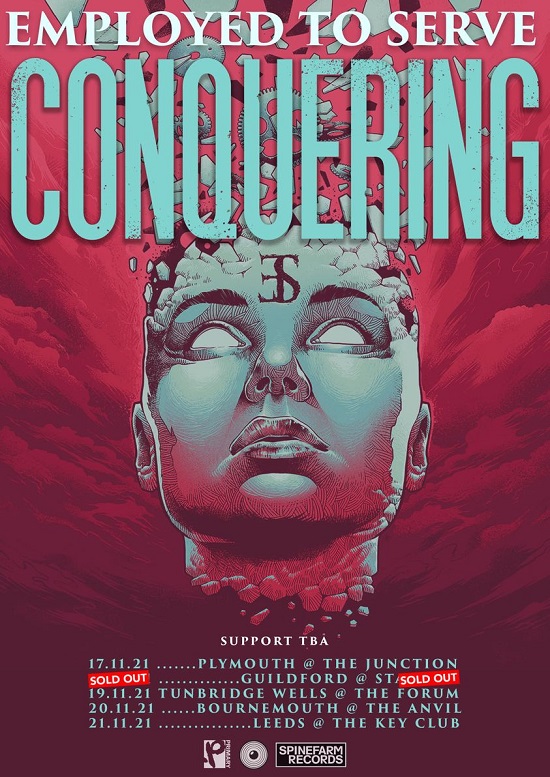 They will then tour with Gojira and Alien Weaponry early next year, hitting the UK and Ireland in March: 
www.facebook.com/employedtoserve
All content © Über Rock. Not to be reproduced in part or in whole without the express written permission of Über Rock.