By Jase Walker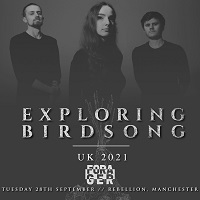 Exploring Birdsong first came onto my radar supporting the increasingly infamous Sleep Token at Manchester Academy prior to the Covid pandemic. With new songs on the horizon, and after a date adjustment on this show, tonight's ensemble is an eclectic combination of bands including my good mates in Forager.
Take Breath are on first tonight, opening to a somewhat sparse crowd with a song that's closer to a ballad? No, wait, a little bit further in this is very much metalcore. Introducing themselves as from "the middle of fucking nowhere", they pick the pace up with a much louder and heavier number. Sadly, it sounds a little bit out of time and the vocal balance is out of whack with the supporting vocals often being louder than the main singer. They're clearly putting in a lot of effort for this show but I'm not really feeling that the performance is translating very well in terms of how it sounds, which is a real shame because they've definitely got some solid chops.
Local lads Forager aren't wasting any time blowing the roof off the bloody venue with a loud and punky one, with their singer Oli looking like he's wanting to grab someone's head and scream the song right into their ears! These lads are anything but boring to watch, for every riff in each song there's a corresponding level of thrashing about on stage, in the crowd, on the speaker stack, bundle of energy this lot. I mean to get this across; I managed to catch a small video of Oli, their singer, crawling away under the stage at one point. There really are no limits on this, I'm half surprised I haven't had to dodge a guitar or two yet. Part-way through the set we're treated to a familiar banger in the way of 'Pine' – I actually got in the music video for this too, great fun.
Evidently, I spoke too soon with Oli swinging around Naithan's old guitar after it broke mid-set, with one of the Take Breath guitarists letting him borrow his to save the rest of the show. During 'Contact High' Oli ends up going full on office space on it, then gives the mic to an audience member, limbos underneath the cable and finally, jumps into a bin – like I said, anything but boring.
Finally, after some date setbacks, the piano driven prog trio, Exploring Birdsong take the stage opening with a very Pink Floyd sounding intro. One thing I truly love about these guys is that they embody "less is more" in a literal sense as there's only three of them, but also each instrument fills a specific role in the overall sound and isn't muddied with overlap from too much going on at once.
Displaying a range of new songs that they're due to drop with their forthcoming EP, each of these showing a definite growth in songwriting and musical direction, whets my appetite for it. No sooner than I had written the previous sentence, they kick into 'The River', an outstanding ballad from their EP, 'The Thing With Feathers'. Following this up is 'The Sinking Question', another EP special, it's great hearing these again and being brought back to the first time seeing them supporting Sleep Token.
"See if you recognise this one" Lynsey says, it takes a little while before I recognise it, it's only a bloody cover of Mastodon's 'Oblivion'! Oh, hell yes, taking a song like that and making a dreamy ballad out of it? Genius. Exploring Birdsong have done a wonderful job of reminding me why I love them so much, a very unique experience to behold, keep an eye out for their new EP, no set date on it yet mind!
Now if I could just get a show with these and Nordic Giants on the same bill, that would be bloody lovely.
All content © Über Rock. Not to be reproduced in part or in whole without the express written permission of Über Rock.