By Monk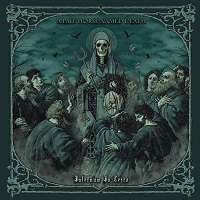 When A Pale Horse Named Death released their third album in 2019, Sal Abruscato could not have foreseen the prophetic nature of its title: 'When The World Becomes Undone'.  Now, two years on, and against the backdrop of a world that did, indeed, become undone, APHND are back with another suitably titled offering, as the title of this, their fourth album, translates from Latin as "hell on earth". But then, the band's very name could also be seen to echo many of the events of past 18 months or so, when death has visited nearly every aspect of our daily lives in one shape or another…
Perhaps unsurprisingly, 'Infernum…' is APHND's, and Abruscato's, most intense and introspective work to date, its dense, traumatic soundscapes reflecting both the internal and external turmoils of the recent past. In many ways, it is also Abruscato's most experimental offering, integrating different sounds, such as psychedelia and orchestration, to a much greater extent than he has attempted before, adding a surprising clarity and almost joyousness to the overall audio experience, as deft of touches of lightness accentuate and counterpoint its darker, deeper moments to great effect.
Weighing in at an epic 55 minutes, 'Infernum…' is also a beautifully considered album, with a natural flow and an omnipresent feeling of homogeneity. Despite its length, and those of the songs, not one note sounds out of place, not one second sounds extraneous, and the mixes of darkness and light, layering and texturing, are perfectly balanced.
As APHND mark a decade of creating ethereal darkness, Abruscato has described 'Infernum…' as "a new beginning, turning a new leaf". Certainly it is an album that sounds fresh and vibrant: yes, it retains the darkness, the broiling density of its three predecessors, but there is also a clarity and richness which highlights a re-invigorated musical force. The result is a huge-sounding album that just demands to be heard.
'Infernum In Terra' is out now. You can get your copy HERE.
All content © Über Rock. Not to be reproduced in part or in whole without the express written permission of Über Rock.