By DJ Monk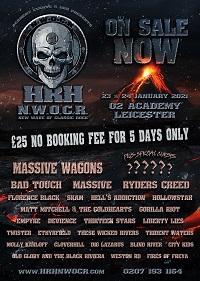 With a large degree of uncertainty remaining around when live music may be able to return in any shape or form, and it looking like it being 2021 before any sense of normality as we previously knew it could be restored, the team behind the Hard Rock Hell brand have announced their intention to kick off the new year in style, with a brand new festival weekender dedicated to the New Wave of Classic Rock, as it has become known.
HRH NWOCR will take place at the O2 Academy in Leicester on Saturday 23 and Sunday 24 January.
First headliners to be confirmed are perennial festival favourites Massive Wagons, who themselves are about to release their latest album, 'House Of Noise', next month.  They will be joined by a plethora of NWoCR stalwarts, and ÜR faves, such as Bad Touch, Massive, Ryders Creed, Florence Black and Skam.
Also billed to appear over the weekend are Hell's Addiction, Hollowstar, Matt Mitchell & The Coldhearts, Gorilla Riot, Empyre, Devience, Thirteen Stars, Liberty Lies, Twister, Ethyrfield, These Wicked Rivers, Trident Waters, Molly Karloff, Cloverhill, Dig Lazarus, Blind River, City Kids, Old Glory And The Black Riviera, Weston Rd and Fires Of Freya.
Early bird tickets, and other packages, are on sale HERE.
For those unable to make it to Leicester, the entire weekend will be broadcast live on Hard Rock Hell Radio.