By Maria Glover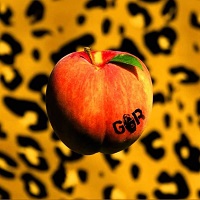 After a phenomenal couple of years, Manchester's Gorilla Riot release their debut full length album, 'Peach' at the end of this month, very wisely after payday, which follows up from their immensely popular and lauded EP, 'American Honey Vol 1'. The "five-piece dirty rock n roll blues machine" wanted to push the envelope a little with their new release, demonstrating more of their influences as well as the filthy southern rock we know and love the for, and having had the album on repeat all week I can say you will not be disappointed.
'Riders I' opens the album well, a short sharp burst of instrumental with pervasive chords and resounding beat, followed by 'Riders II' which is a six-minute marathon, a sultry groove, some ultra-sexy licks and those deep, grumbling vocals that reverberate in my chest and match perfectly the mood of the music. GR deliver some of the dirtiest southern rock around. Authentically doused with JD and attitude, the repetitive chords invading my brain. My body moves under its own steam and the instrumental section illustrates beautiful the superb talent and energy of the track.
'Half Cut' is a standout track for me, a strong opening with bold riffs and those earthy and soulful vocals are so powerful. The killer beat drives you and the world-class musicianship is evident throughout. This is my kind of song! HELP THE GUILTY is a slow burn epic tale of woe, almost seductive in tone as it pulls you in. The pace change half way through burrows unto my soul and takes root, quickly awakened by some stunning guitar work and a pulsing drumbeat. What these guys do best, an earworm interwoven with a pounding beat and stellar riffs, this track brings you up and down like a fairground ride, this is truly music you feel rather than just hear.
'Still Doing Time' is incredibly catchy with some impressive riffs and a delicious growling quality to the vocals, and 'Young Guns' is a southern romp and with eyes closed I'm transported. 'Reckless Till Death' has more of the repetitive and vibrant chords and lyrics we know and love GR for, and that voice! 'Mind Your Head' is addictive and sexy: "I knew that you were bad…". The track builds and builds towards a catchy chorus, the vocals and music consistently strong, the layering is very effective, but I'm left 50:50 on whether i want it to go that little bit further and become a true wall of sound. This is a grower for me and i like it more and more with each play. It just threw me in being unpredictable I guess. The chorus will be huge in the live show.
'Black Heart Woman' is darker and more sombre, with a seductive bassline and added drama throughout. This is classic rock with a tinge of blues and is classy as hell, while 'Beat Your Bite' has a lighter, cheekier feel, and is melodic and great fun. 'Prayer For Suckers' is another stand out track for me, illustrating some great harmonising in the vocals. This is a tad grungy which i love and the growling lead vocal is well-matched with three huge guitars. The guitar solo is sublime. I could do with this song being twice as long as i can't get enough of it.
Closing the album, 'Chuggin'' does not disappoint, a snarling beast of a track which morphs in and out of a stoner-type feel. It takes some getting used to and was a slow burn for me but is immensely satisfying.
In all, this is a great mix of songs, enough to capture the hearts of existing fans and garner the interest of new fans. There is a slight twist that i hadn't seen before, more of the influences coming out and less of a focus on blues, though the southern roots are definitely a predominate characteristic. This band never fail to deliver, and this will be a contender for best album of the year i can predict this now.
'Peach' is released on Friday 31 January. You can get your copy HERE.
Gorilla Riot play an album launch show at Rebellion in Manchester on Saturday 8 February.
All content © Über Rock. Not to be reproduced in part or in whole without the express written permission of Über Rock.