By Jonny Bakes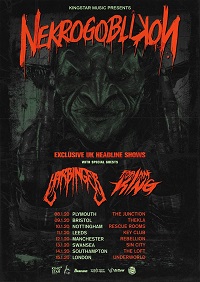 What better way to start the year than with a trip to a city that I've not been to for a good few years, and also a visit to a new venue? So, I made my way across the country to Nottingham's Rescue Rooms in search of goblins… and boy did I find a few!
After navigating my way through the labyrinth that is the Rescue Rooms, I finally found the little venue tucked away at the back of the bar in time to catch For I Am King and I'm certainly glad I did. This group from the Netherlands did a great job of warming up the crowd with their melodic riffs, heavy breakdowns and Alma Alizadeh's impressively brutal vocals. She manages to pull of a real Jekyll/Hyde transition between her speaking voice and those brutal growls during each track. Having come into this not knowing much about them, I can safely say I'll be giving them more of a listen after this performance.
Next up are London lads, Harbinger, bringing their technical deathcore to this little backroom in Nottingham. It takes the crowd a little while to warm up to these guys, with the first couple of attempts to start a circle pit met with barely a bounce from the crowd. But eventually, after many frantic gestures from the band, the crowd pick-up on this and finally get a bit of a shove on, much to the delight of the band. There's breakdowns and china cymbals galore throughout the set, with drummer Joel Scott really showing his skills and teaming up well with the groovy basslines of Kris Aarre who is full of energy for the entire set! Towards the end of the set, more and more people filter in the room to pack the place to the rafters in what must be a near sell-out for tonight.
But let's face it, we came here tonight for goblins, and specifically the band known for their own self-aware song 'We Need a Gimmick.' That's right, we're talking Californian goblin-themed metallers Nekrogoblikon who are joined by none other than John Goblikon. Mr Goblikon quickly steals the show with his incredibly enthusiastic dancing which helps distract while the sound techs iron out the early issues with the vocal mixing. If you're going to be a band with a gimmick, you have to do it well, and it's easy to see that Nekrogoblikon have it absolutely nailed with their…err…mascot?
More silliness ensues with vocalist Nicholas Von Doom brandishing a paper bag of "gifts" for the eager crowd which quickly turns out to be a bag of fruit as apples, satsumas and even grapes are launched into the crowd for those who have been good (or just been okay in order to earn the grapes). Following this, the band launch into the song that first caught my attention years ago with 'No-one Survives' which is accompanied by even more enthusiastic dancing from John Goblikon, and by this point the earlier sound issues become a distant memory as the band are playing tight as fuck as they belt this one out!
A 10pm curfew at Rescue Rooms means that the guys have to power through their set, even threatening to play some of the tracks in double time to squeeze them in. But it doesn't stop them from bringing out some classics from their back catalogue including 'Bears' which is met with great enthusiasm from the crowd. Around this time, the guys have completely run out of big fruit to dish out to the crowd and it's down to just the grapes to be launched at them. I hope whoever managed to catch some was grapeful for them…
'Darkness' and 'Prince of the Land of Stench' both find their way into the setlist, with the latter resulting in Mr Goblikon suddenly appearing at the back of the crowd to dance with the stragglers at the back who weren't quite getting involved enough for his liking. I've got to say that this is a pretty great way to make sure everyone gets stuck into the set! The regular set ends with a very tongue-in-cheek lead up to the encore with a simple "That's it, we're done" before the band return to the stage for the very jazzy 'Magic Spider' and fan favourite 'Powercore'
Finishing with time to spare, Nekrogoblikon provided a fantastically silly end to this solid night of various forms of metalcore and a great start to the 2020 gigging year.
All content © Über Rock. Not to be reproduced in part or in whole without the express written permission of Über Rock.