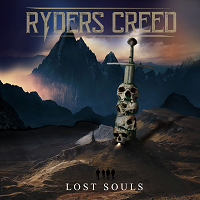 This is the second album from the Midlands quartet of rockers. The first album was received to a great deal of acclaim, netting them several awards and a hardened band of "Creedlings" since its release in 2018.
So, what have the quartet of Ryan Antony (vocals), Myles Cooper (guitar), Richard Clark (bass) and Lee Gilbert (drums) come up with in this offering? For those of you who have bought it and streamed it already, you know what you've got.    However, for those of us on the periphery of the "creedlings" it would be useful to have an idea of whether it's worth our time and money in these hard times.  Well, there is no doubt in my mind that it is.
Having taken several days to listen to it repeatedly, it is obvious that the guys have laboured long and hard on possibly one of my favourite releases so far this year.   Whilst it is not my usual genre, I can understand the fuss and furore surrounding these guys. They have crafted a very classy album with multiple layers, but after the time spent listening you can also see the link throughout – it is essentially the journey of anyone struggling for recognition and appreciation for their time and effort. Time taken to listen to the lyrical quality and musical light and dark within and between songs is worth it.
Whilst they profess NWoCHM, there is a darker emo underbelly to some of the lyrics which in no way detracts from the musical talent demonstrated from all the members if the band.  The guitar playing of Cooper is of the top order with variety of style and technique which carries the marital of the tracks exceptionally well underneath the vocals of Antony, although for me the vocal mix could have sat a bit more on top of the instrumentation as it sometimes gets lost in it, which is a shame because he has a very strong voice.  The rhythm section of Clark and GIlbert also get their opportunity throughout but no more so than in the opening section of 'Chasing Dreams'.  The highs and lows of a struggling band of musicians can be found throughout the lyrical and musical offerings of this album.  It deserves critical acclaim. I just hope that in these difficult times it gets what it deserves.
From the airy hollow shim-verby guitar opening on the opener 'Memories' to the last second of 'Money', it is worth the time effort and hard-earned cash you decide to shell out on it.
I await the tour (along with everyone else) with bated breath.  9/10
'Lost Souls' is out now. You can get your copy, and loads of other Ryders Creed goodies, HERE.
All content © Über Rock. Not to be reproduced in part or in whole without the express written permission of Über Rock.