By DJ Monk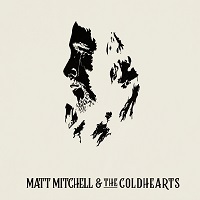 Regular ÜR readers might recognize Matt Mitchell's name as the former singer with Furyon, Pride and, most recently, the now defunct Colour Of Noise. Now, he has decided to stretch his not inconsiderable talents, especially vocally, with his debut solo project – something he apparently started on while still a teenager – which not only draws on the diverse sounds of the bands with whom he has been previously associated but also edges into what may seem to be more unfamiliar territory with a diversity of material that covers traditional hard rock, blues and even (the gods forefend) country. But, then, if the likes of Danny Worsnop can wander down that latter dusty road, then why not someone like Mitchell?
The album kicks off in what could be argued is pretty much expected NWOCR mode, with the crunching opening riff of 'Black Diamonds' quickly joined by a beautiful swelling Hammond motif – and regular readers will be cognizant of my love of a swollen organ (sic) – before Mitchell's gruff vocal asks us if we have found what we're looking for… indeed, sir, we have, and it's a damn fine collection of diverse rock 'n' roll songs, as is immediately exemplified by the complete change of mood that brings us the laconic and almost mournful 'Home', which is also another great example of how a good songwriter can inject a sense of joyousness into an otherwise lyrically regretful tune.
The use of light and shade continues as the album progresses: the hard bluesiness of 'On & On', once again accentuated by a beautiful use of the Hammond, is followed by the more indie pop-meets-Nashville Americana jauntiness of 'Dare You To Watch' with its earworm chorus and main hook and sweet little solo, while 'Kings & Queens' sees Mitchell stretching both his lyrical and vocal eloquence with a catchy, jig-like slice of power pop that lingers in your aural memory banks long after the final noted has faded from the speakers.
'Unavailable' winds up the first half with a lounge-lizard loucheness to its initial NWOCR vibe, with its winding guitar mien wrapping itself around both the infectious melody and the raspy seductiveness of Mitchell's vocal. 'Do You Wanna Be My God' continues that louche noir sound into the second half, with its vibrant tribute to the fallen heroes of yore delivered with a loose vibe that is immediately contrasted by the country vibe of the reflective 'Old Enough & Ugly Enough' (yeah, tell me about it bruva, I get that feeling when I wake up every morning!), which again demonstrates the rich diversity of Mitchell's lyrical and vocal ability.
The title of 'Wave Goodbye' suggests it should be another ballad, but Mitchell again surprises by twisting expectation on its head a presenting us with a lively little blues-fuelled celebration of leaving all the bad shit in your life behind and waking up to the brighter prospect ahead: the longest track on the album – it's the only one to breach the five-minute mark – it's also one of its livelier and more rewarding contributions, at least until the mournful string outro. 'Everything To You' is, to me, the least effective song, as I can hear strong overtones of one of my least favourites bands, U2, especially in the Edge-like guitar riff, but thankfully Mitchell restores the balance with the simple refrain of 'Keep Me Safe', which features just his pleading vocal, an acoustic guitar, a solo string and a snappy snare, before closer 'Waiting For The Sun' rounds things off in suitably, rowdy, alt-rock style, re-emphasizing some of his earlier lyrical themes in a joyful spirit of the celebration of the healing power of rock 'n' roll.
All in all, this self-titled opus is an enjoyable and, in places, powerful and thought-provoking listen, with some really good songs and intelligent insights into the issues that inspired its creator to do just that. It also clearly demonstrates that musicians should not be afraid to explore different sides of their persona and not rigidly stick to one style of music for which they have become known.
'Matt Mitchell & The Coldhearts' is released tomorrow (Friday 31 May). You can get your copy HERE.
Matt Mitchell & The Coldhearts support Hollowstar and Florence Black at the Star and Garter in Manchester tomorrow, although the show is sold out, and the Junction 2 in Cambridge on Monday (3 June).
www.facebook.com/mmitchellmusic/
All content © Über Rock. Not to be reproduced in part or in whole without the express written permission of Über Rock.