By DJ Monk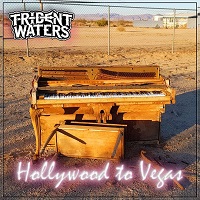 London combo Trident Waters epitomize, and summarize, the essence of the NWOCR tag that has been appended to so many acts over the past half-decade or so, and helped to keep festivals such as Steelhouse, Ramblin' Man Fair and even HRH alive and thriving during that period. Now, this is not meant in any form of denigration, as anything that helps keep the illustrious format of rock 'n' roll alive has to be applauded, right? The problem is that it is becoming increasingly hard for bands to lay down unique markers which set them apart from the likes of Rival Sons, The Answer, Bad Flowers, Florence Black or Blackberry Smoke in bringing something genuinely exciting to a revived format – or even help them rise above dross like Inglorious, The Treatment and the totally inane Greta Von Fleet in the fight for not only our attention but also our hard-earned dosh.
Now, I listened to 'Hollywood To Vegas' immediately after revelling (several times) in the genius of the new album from Savoy Brown, one of the bands that ploughed the furrow that our modern generation of blues-rock revivalists, such as Trident Waters, seek to reinvigorate. It certainly was a hard act for this young trio to follow, but to be honest, they (just about) manage to do so, and with aplomb and confidence in equal measure.
As referenced in the previous sentence, ÜR prides itself on its honesty: we do not pander to the wants of the music industry, and we get more pleasure out of kicking asses than kissing them. So, with that in mind, I have to say that Trident Waters most definitely do not bring anything new to the ÜRHQ deathdecks: yes, I've heard it all before, from the cascading guitar riffs to the bluesy harmonies, the thumping rhythms to the vocals that lie somewhere between Plant, Rodgers and Robinson. Lead single 'Eva Lane', for example, could be ripped straight from the Black Crowes' back catalogue, right down to the solo slide.
Having said all of that, there is an energy and a clarity about 'Hollywood To Vegas', and they also manage to do something a little bit different – which you'll pick up if you listen carefully: there is a desert rock vibe that underpins the songs and echoes the dustiness of the highway that links its two titular destinations.
As I said above, 'Hollywood To Vegas' is a confident and accomplished offering. Does it give enough to set it out from the crowd of all the other NWOCR acts cluttering up the scene at the moment? I'm not sure… maybe if they took the more alt-rock road they pursue on 'Futility' rather than the Zeppelin rip-off route exhibited on 'Desert Road', they might have more of a USP… Having said that, closer 'Gallows' is titanic and hugely impressive in it's blooze vibe, rounding off what is an interesting and entertaining listen.
'Hollywood To Vegas' is out now. You can get your copy HERE.
www.facebook.com/Trident-Waters-987208894645478/
All content © Über Rock. Not to be reproduced in part or in whole without the express written permission of Über Rock.