By DJ Monk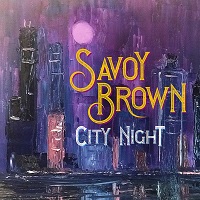 While The Rolling Stones may be regarded as the most enduring (and, of course, successful) bands to have emerged from the British rhythm and blues boom of the early- to mid-Sixties, one of their most consistently proficient and under-rated contemporaries undoubtedly has to be Kim Simmonds, who formed Savoy Brown in 1965 and has now released what amounts to the band's 40th album in a singularly impressive half-a-century long career.
The sign of a great blues guitarist is how they can make their instrument sing for joy and weep with sadness: many have tried, but few have truly succeeded. You can rank among those alumni such as Rory Gallagher and Peter Green, arguable THE two best masters of their craft to have been produced by these islands. Gary Moore could do it, as could Clapton before he sold out to the pressures of the music business executives and their quest for bucks. Latter day heroes such as Alan Nimmo, my old friend Pat McManus, Danny Bryant and Kris Barras all fit into that bracket. But, as 'City Night' proves, this 71-year old kid from Caerphilly can still teach each and every single one of them a lesson in how to wrench every ounce of emotion from a few bits of steel and wood, and do so with conviction, honesty – and a sense of how to write a damn decent tune or 12!
'City Night' is old-school blues brought smack up to date, staying true to its roots while at the same time acknowledging the need for it to be fresh and vibrant in order to remain relevant in the shit-encrusted modern era of disposable pop and throwaway anthems. Each and every single one of the dozen tracks grunts and grinds their way into your darkened soul, extracting what little joy is left therein and pulling it out to dance around the floor along to their infectious grooves.
From the opening triptych of the classic, slide-fuelled blues rock of opener 'Walking On Hot Stones', with its crunching groove and acidic undertone, the whiskey-soaked southern vibe of 'Don't Hang Me Out To Dry' and the stomp 'n' grind of 'Payback Time', Simmonds (accompanied, as he has been for the past decade, by Pat DeSalvo on bass and drummer Garnet Grimm) lays out his stall early, and keeps it open until the last note of 'Ain't Gonna Worry' dies in the speakers. Along the way he rips up the rock 'n' roll highway with the rambunctious tale of a certain 'Red Light Mama', which is as lascivious as its title suggests, invites us to 'Conjure Rhythm' a la the late Dr John et al, while enjoying a doorstep jam of 'Neighbourhood Blues', mourning a 'Selfish World' (which has a very Gallagher quality to it and is my favourite track on the album, closely followed by the beautiful 'Hang In Tough') and introducing us to a 'Superstitious Woman' (no, not DQ), all of which demonstrate the diversity of the blues sound which Simmonds produces but also the level of brilliance displayed throughout.
Whoever said that you can't teach a new dog new tricks obviously has never set at the feet of Kim Simmonds, as this is one hoary old cur who definitely still has a load of magic up his sleeve.
'City Night' is out now. You can get your copy HERE.
https://www.facebook.com/SavoyBrownKimSimmonds/
All content © Über Rock. Not to be reproduced in part or in whole without the express written permission of Über Rock.