Written by DJ Monk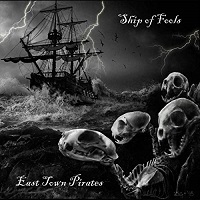 Three years in the making, this third album from Ipswich-based East Town Pirates actually landed on my desk a few weeks before Christmas. After just a couple of spins, it impressed me so much that it muscled its way into my 'Albums Of The Year' list, elbowing quite a few other worthy contenders out of the way in the process.
The reason for the protracted delay between their last album and this one is twofold. First of all, they rejected a hefty chunk of the recordings when they heard them, unsatisfied with the quality of what they had laid down. Then, guitarist Jonni Murder left the band.  The remaining four members – vocalist Rikki Rumoldew, drummer Rayna Terra, bassist Shameless Seamus (who I have to thank for winging this damn fine opus my way) and guitarist Kutthroat Kev – soldiered on, and even got around to laying down the 12 tracks which make up the album. Then new guitarist Sam Shackle joined in the fun – and, yo ho ho and bottle of rum, we're now, albeit belatedly, climbing aboard the 'Ship Of Fools'.
The band describe their sound as "Voodoo Pirate Rock n Roll", and this is summarized in the album's second song proper, which first featured in their live sets more than four years ago but now finally surfaces in recorded form. Before that, however, we have the virtually obligatory intro track, featuring a tolling bell and a haunting female vocal (courtesy of Kris Moore from Endgames), which segues straight into the title track, a scurrilous jig in the best rum-quaffing sea shanty style and a no-nonsense scene-setter for what is to come.
'Voodoo Pirate Rock n Roll' itself is built on a Sweet-meets-Quo opening riff before erupting into a riotous, full-filled power pop-meets-street punk anthem, resulting in a guaranteed floor-filler which pressgangs into dancing along to its infectious immediacy. 'Libertalia', telling the tale of mythical pirate party haven somewhere in the Madagascar region, is another joyous jig with a sense of devil-may-care don't-give-a-fuck fun.  And that statement alone, sums up the overall feel of 'Ship Of Fools': yes, it does address a couple of serious issues – 'Rat City' looks at how "the town you grew up in has changed and the people have changed with it" (and not necessarily for the better) while closer 'Betrayal' speaks for itself) – but, like all good rock 'n' roll albums it does so in a way that makes you smile with delight rather than frown with consternation.
If you think that "pirate rock" begins and ends with the likes of Alestorm and Red Rum, then you seriously need to sign up for the crew of the 'Ship Of Fools', as ETP truly evoke a buccaneer spirit that would have good ol' Cap'n Blackbird himself smiling in approval before leading another burl around the poop deck while setting the course for 'Dead Man's Cove'.  At the end of the day, it's all about how you punk 'n' roll and ETP do it with a sense of panache and enjoyment that gets your feet a tappin' and your head a noddin' from the first note to the last.
www.facebook.com/easttownpirates.1/
All content © Über Rock.  Not to be reproduced in part or in whole without the express written permission of Über Rock.