Written by DJ Monk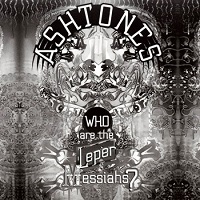 Despite this being their fourth album, I have to admit that I had never heard of Lille street punks Ashtones until this CD landed on the doormat at ÜRHQ over the recent holiday break (despite having being released a whack of weeks previously), complete with a nice handwritten note, penned on a piece of graph paper, from vocalist Gé, asking if we'd mind reviewing it. Hey, he even threw in an early Christmas present, in the form of a split album featuring two other bands from their label's roster… and, like most people, we're partial to the odd freebie now again – as well as open to a spot of bribery.
With ten tracks spread across slightly more than half an hour, it's obvious from the outset that this is very much from the old school of punk 'n' roll, and so it proves, as opener 'We Are Your Leper' hits with fast and furious hardcore intent, from the stabbing riff, the staccato rhythm and the acerbic vocals. There are no airs or graces: just hard-hitting punk ripped straight from the heart of the Seventies and transplanted forward four decades. Yes, it's a time-travelling punk 'n' roll freight train, full of gobby, snot-nosed attitude and fuelled to the brim with high-energy pogo inducement.
There are also enough mood and tempo changes to keep the listener doing what they're supposed to do.  'Ballad Of The Lower Fives Side', for example, has an extremely pop edge, driven by a catchy riff and a rumbling bass line, in it's intro section before exploding with that level of energy which maintains the album's momentum: and there's enough fretboard scraping going on to ensure even a diehard metallian such as myself sits up and pays attention.
Other standout moments on this fine collection are the punchy 'Victims Of Rock 'n' Roll' (ain't we all, messieurs?), the noisome rallying call of 'Let The Monkey', the wonderfully titled 'Porcupine Gigolo', which honestly wouldn't sound out of place on a Wildhearts album, what with it's jangly power pop feel, the suitably monikered 'Rattlesnake', which shakes and shimmies like a Moulin Rouge dancer on speed and the surprisingly remorseful 'Success'.  Indeed, the fact that the album has more highs than lows is a testament in itself. If anyone tries to tell you that the spirit of '76 has long since passed on, slip them a copy of 'Who Are The Leper Messiahs?', tell them to turn it up to 11 and watch them eat their words.
'Who Are The Leper Messiahs?' is out now. You can get your copy HERE.
www.facebook.com/ASHTONES-248213901871057/
All content © Über Rock.  Not to be reproduced in part or in whole without the express written permission of Über Rock.