Written by DJ Monk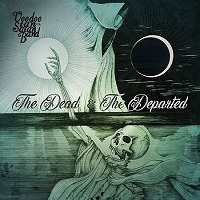 Well, pickle me liver and flog me with a dried codfish… you wait ages for a decent pirate-themed rock album to come along and then, all of a sudden, like those buses that go to that mysterious destination known as "Not In Service", along come two within the space of as many sleepless nights.
Built around the core of guitarist Voodoo Stan (well, that sort of makes sense, doesn't it?) and Peter Watchout, VS&TSB draw much more influence from the swamps of Louisiana than they do from their native Finland. With the two songwriters claiming HP Lovecraft, King Diamond and Ron Gilbert (creator of the 'Monkey Island' game series) as their main story-telling influences, 'The Dead…' is, by an large, a much darker proposition than, say, the East Town Pirates, whom I reviewed yesterday.
The album's grimmer feel is evinced right from the opening chords of 'Time To Bury Them', which is a gloomy gothic grimoire that would make Nick Cave sound like a circus clown, while 'The Dead' maintains the dark voodoo groove, but manages to add a surprisingly anthemic chorus that wouldn't sound out of place on one of those 'Pirates Of The Caribbean' spin-off collections that Johnny Depp curated a whack of years back; but at the same, especially in the lengthy instrumental section, wouldn't sound out of synch if placed alongside the likes of Fields Of The Nephilim or classic Sisters Of Mercy on a playlist.
As these comments might indicate, Voodoo Stan and company aren't afraid to mix things up stylistically. Lead single 'Ship Of Black Bones (Ohoy My Love)' starts in what could best be described as Damned terror-tory (sic) before exploding into a riot of rolling guitar riffs and general metallic mayhem, while 'Bones Of The Dead' is a nicely crafted homage to the traditional sea shanty, complete with drunken piano plonking and call-and-return vocal on the choruses, albeit with another contrasting metal riff-fest in the second third.
VS&TSB very clearly have their roots in heavy metal, as shown by how many of the tunes change direction quicker than Jack Sparrow trying to evade Commodore Norrington. In some ways, this presents for a confusing listen, as just as you think you're getting the hang of a tune, it tacks off to starboard, only to return to its original course, often in extremely distorted form.  It works best when the tunes are allowed to maintain something approaching homogeneity, such as on the aforementioned 'Time To Bury Them', the acoustic led 'Rains In The Caribbean', the zestful 'The Grand Louisiana' and the sprightly 'Charles Vane'. In fact, it is its very consistency that makes the second half of the album a much more rewarding experience that the first. My only other criticism would be that, apart from the gloominess of the first two songs, the production is a bit too crisp for a band who describe themselves as "swamp rock": it could have been done with being dragged through that bayou a couple of times.
Still, an interesting, if in in places confounding, listen.
'The Dead & The Departed' is out now. You can get your copy HERE.
https://www.facebook.com/voodoostan
All content © Über Rock.  Not to be reproduced in part or in whole without the express written permission of Über Rock.