Written by DJ Monk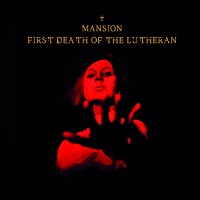 Hailing from Finland, Mansion – the brainchild, it would seem, of co-vocalist Alma Kartano – presently epic stoner-edged doom with a very twisted religious narrative, treading as they do the more left-hand path more favoured by their black metal counterparts.  Expounding their own "alternative doctrine", they portray Satan as the true "Lord Almighty" and Christians as the real sinners, led blindingly into damnation by the religious leaders who promised them an entirely different version of eternity from that which is the reality, as emphasized in the lyrical snippet "You think you are on your way to heaven/As the reverend promised you/Sheep to the slaughter in the name of Satan". It's not exactly new terror-tory (sic) lyrically or philosophically, but it does suit the dank and gloomy nature of their material and their sound; or should that be the other way around?
Spanning five tracks that stretch to almost 43 minutes in duration, 'First Death…' is a highly atmospheric album, richly layered and intensely delivered: the former effect is undoubtedly helped by the fact that Mansion have seven permanent members, including two vocalists, who then are augmented by an assortment of studio session musicians, covering additional percussion as well as a saxophonist, a violinist/trumpeter and a hurdy-gurdy player.
The result is a very appropriate soundtrack to the apocalyptic day of reckoning which centralizes the album's message, which is the portrayal of "the end of the insidious sinners' earthly serpentine path as their life ends and they pass on to face the Final Judgement… No doubt in our minds that they will end up horrified by their fate." It's a very Dante-influenced version of said judgement, but one which works extremely well on every level, from Kartano's ethereal, melancholic, almost Marianne Faithfull-like vocals, which almost evoke a sense of pity for the "victims" as they descend through purgatory to the lower depths of Hell, to the dense, hypnotic musical scores.
If you like your doom with plenty of sludge on its boots, and presented in a way that challenges as much as it enthrals, then 'First Death…' is probably the perfect way for you to kick off a new year of musical exploration.
'First Death Of The Lutheran' is out now. You can get your copy HERE.
All content © Über Rock.  Not to be reproduced in part or in whole without the express written permission of Über Rock.