Chosen by Monk

It's hard to believe that it's been seven whole days since we last awarded our coveted 'Video Of The Week' title, and, despite the ongoing, and some cases renewed, lockdowns in many parts of the Überverse, we are still receiving a healthy bundle of submissions for our coveted 'Video Of The Week' title. Many of them are produced against the background of continuing quarantine conditions in some countries, while others reflect artists being able to return and flex their creative muscles once again.
Our chosen offering this week comes from a band who are no strangers to these pages, and who are well known for their dramatic musical storylines and theatrical stageshows, which recently they have been replacing with a series of gloriously ambitious videos. We are talking, of course, about Midlands high concept goth-horror rockers Ward XVI, who once again have ventured deep into the recesses of Whittingham Asylum to present us with perhaps their most chilling video yet, in the shape of 'Shadows', which brings the epic final song on their forthcoming second album, 'Metamorphisis', to traumatic life.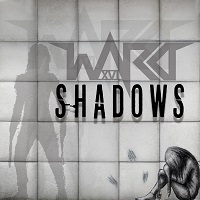 Ward XVI singer Psychoberrie told us the background to the song – which also exists within its own special concept story with 'Ward XVI', the final song on their debut magnum opus, 'The Art of Manipulation':
"This was one of the songs that had sat there there longest without me putting any lyrics to it. I'd tried on several occasions and I just couldn't do it justice. I had an intro, nothing more.
"My great nana fell ill with pneumonia and I went with my sister to see her in hospital. Unfortunately, she died whilst we were both at her bedside and I came out of there kind of not knowing how to feel. What I'd witnessed was both beautiful and horrible at the same time, everything seemed very still and calm following her death but there was also a huge part of me that was angry at the way she'd been treated.
"At some point in the week that followed I played the demo and recorded the vocals in one take, a lot of it I made up on the spot. I then went back later and recorded another vocal layer. I must stress that these lyrics are completely fictional, in no way relevant to the events that happened a few days prior but the emotion that was present I knew I could never capture that again, which worried me because I had to re-record this in the studio.
"We got the first set of mixes back for the album and I listened through what I'd recorded in the studio for this track and I immediately said I didn't like the vocals, the demo was just perfect. There were imperfections on the demo, I had a cold for one, my home recording mic isn't very good, but there was no way I could capture that emotion again and I hadn't, so we took the new vocals out and dropped the demo vocals in so what you hear on this track are the actual vocals I recorded that day alone, at home.
"These lyrics genuinely disturb me. If there's one song that makes you understand why Psychoberrie became so evil, it's this one…"
Look out for a guest appearance from Russ from Footprints In The Custard, who also contributed vocals to this BoRhap evoking slice of madness:
We venture across the Irish Sea now, to Dublin city, where we find female punk quartet Pillow Queens, who are celebrating the river that runs through the heart of their native city, and of the city and its people, with their latest single, the appropriated titled 'Liffey', which is taken from their forthcoming debut album, 'In Waiting', being self-released this coming Friday (25 September).
"A few weeks ago, we did a call out asking for selfies to include in our new video," the band explained. "We've really missed the community element of gigs, so the aim of this project was to make us feel a part of something again."
Visual artist David Balfe, who compiled the submitted images into the final video, added:
"The whole thing for me is this video being an effort to maximise direct engagement with fans (which I think is a beautiful thing to do and also really beneficial) and it just seemingly being impossible to make films at the moment if you're adhering to the guidelines in place. I think this kind of video is one of the few alternatives in place to make film pieces fully socially distanced while also engaging with the human form and not just fully falling into the realms of animation. At its heart, this video is a re-imagining of the story of Medusa, building from its mythology and offering an alternative and contemporary take on it. Tying together the real and surreal into an immersive and psychedelic look at modern isolation in uncertain times."
We head to the land down under (sic) for our next two honorary mentions, the first of which is a middle-finger raising slice of glunky, sleazy, snotty garage-raised punk 'n roll from Melbourne's The Mercy Kills and their latest single, 'Fall', taken from their forthcoming EP 'X', being released by our friends at Golden Robot Records at the beginning of next month:
There must be something in the beer in the Melbourne bars, as the city is producing some feckin' fine rock 'n' roll bands, including our latest 'VOTW' inductees, and regular Singles Club alumni, Shotgun Mistress, who needed no better excuse to head down to their watering hole to film the hysterical video for latest single, the seriously tongue-in-cheek wig and nipple-teasing 'Glorious Machine' – and we at ÜRHQ just love how the bassist and guitarist turned up for the shoot in matching King Diamond T-shirts….
Our final choice this week is not a new song, per se, and will probably be our most controversial in quite some time, especially given the outrage after they topped the Über Rock 'Albums Of The Year' poll a couple of years ago… We are, of course, talking about those Marmite alt-rockers Alter Bridge, who are emerging from the hibernation of lockdown with a 'Walk The Sky 2.0', an EP of six live recordings of songs from last year's album of the same name plus one newly-penned tune, 'Last Rites'. The band have prefaced the EP's November release with a re-imagined, western-themed animated video for the track 'Native Son', which brings our latest round-up of the best videos to have come our way in the past week in suitably artistic style:
Well, there you go. That's your lot for this week. Hope you have enjoyed the new sights and sounds we have brought to you this week. Until next Sunday, keep 'er lit, keep 'er between the hedges and #StaySafe…
All written content © Über Rock. Not to be reproduced in part or in whole without the express written permission of Über Rock.