By David O'Neill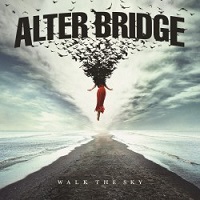 This is the sixth album by AB. On first listen, it didn't have any of the grab you by the throat tracks of the previous five ('Metallingus', 'Blackbird', 'All Hope Is Gon, 'Cry of Achilles' and 'Poison In Your Veins' all come to mind); but then on reading the bio, this has been written separately by Kennedy and Tremonti, so both had a different take on the songs before committing them to record for posterity.  This is a 14-track pearler from the AB camp, demonstrating the art and craft the protagonists have developed in their various guises over the past 15 years (really, has it been that long since 'One Day Remains'?)
Then, on second listen… BAM!  'Wouldn't You Rather' makes you sit up and take some notice.  Typically AB musically, but lyrically a much more positive approach telling people to live from the heart and do what you want to.  Still with typical Kennedy vocals (and there's nothing wrong with that in my eyes); one of the most unique vocal ranges and styles makes any song he sings instantly attributable.
'In The Deep' continues on the positivity which is obviously associated with a significantly positive relationship, full of soaring guitar licks from both protagonists it gives a more positive vibe than you could originally think. 'Godspeed', written for a close friend of Tremonti and the band who died around the time of recording and writing, also has a more positive note on loss and grief than my all-time favourite AB track, 'Blackbird', so it seems that so far this album is coming from a much more positive mood in the AB camp.  However, the breakdown has a superb guitar solo.
'Native Son' is a much heavier track than the four that precede it, but then this is not at all unusual for AB to do.  Thumping drums and deep low bass grooves underpin the driving rhythm of the track, and this is where I'm going to be playing this track mostly, while driving. A virtual acapella opening ("so sorry, so sorry but you're going down')  to 'Going Down' is then thrown into chaos by the growling thick guitar and bass tracks which continue to carry Kennedy's vocals before the crying, rapid fire solo of Tremonti, who remains one of my favourite contemporary guitarists whatever band he is playing with… talent will always out as they say!
'Indoctrination' has a hypnotic feel to the guitar and basslines at the opening which continues throughout the track and you can see the rhythmic headbanging at any AB concert to this track Indoctrinated? Afraid so!
'Bitter End', is surprisingly more positive than you would think from the title, while recognizing that it comes to us all it revels in living in the moment-a mantra for many who may have a negative outlook on life, I can only assume this positive aspect comes from a position of significantly improved lifestyle associated with being a successful multi million selling band and solo artists.  Which obviously feeds into the next track, 'Pay No Mind', so the band are obviously more resilient after 15 years in the business.
'Forever Falling' is driven along by some thumping drums before the tempo change just before the last chorus; the slightly distorted guitar throughout is a very catchy sound then the crying end solo is typical Tremonti.  This is going to be a belter on tour!
Sudden change of sound to an ethereal guitar opening to 'Clear Horizon' seems to give everyone the opinion that whilst you may not be able to see your way forward "there is beauty to behold" if you "take the risk".  Again, typically AB sounding instrumentation helps the song take its meaning.
'Walking On The Sky' has a heavy thrumming guitar/bass rhythm throughout that has a slightly Eastern European feel to it, but the vocals continue to soar above the instrumentation – typical of Kennedy's style – lyrics like "tempting your faith on the line" gives you an impression that the band are finding their spiritual sides.
The penultimate track, 'Tear Us Apart', continues to extol the virtues of inner strength of passion and integrity-treat others as you would be treated appears to the message here. It is a much lighter track than many of the others and could potentially break into more mainstream music scenes with the right promotion.  God knows there are a whole lot of worse tracks that are currently doing this! (I'm not saying it is a bad track either!).
The final track 'Dying Light' is in a similar vein to some of the tracks on 'Fortress', with soaring sky high vocals and the typically anthemic AB style of instrumentation punctuated with staccato riffs before the whole shebang gets loud, and reaches the crescendo of the solo and breakdown, carrying you on a breathless level of emotional positivity.
Fan-Tas-Tic – but it may take one or two listens to get there… after that AMFYOYO (Adios My Friend You're On Your Own)!
'Walk The Sky' is released tomorrow (Friday 18 October). You can get your copy HERE.
Alter Bridge play the following dates in December:
Saturday 14 – Nottingham, Motorpoint Arena
Sunday 15 – Manchester, Arena
Tuesday 17 – Glasgow, SSE Hydro
Wednesday 18 – Birmingham, Arena
Friday 20 – Cardiff, Motorpoint Arena
Saturday 21 – London, O2 Arena
All content © Über Rock. Not to be reproduced in part or in whole without the express written permission of Über Rock.